Friendly Fridays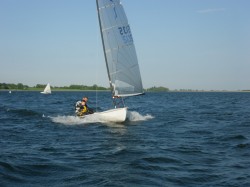 Friendly Fridays are relatively informal summer evening events (from May 4th through to August 10th). They are intended to give the opportunity to:
introduce family and friends to sailing and Grafham

try different boats

sail with different people

improve your skills with help from our on-water coaching

start the weekend with a sail when there's other Club activity on the water

optionally, join in racing, with plenty of help for newcomers who want to join in.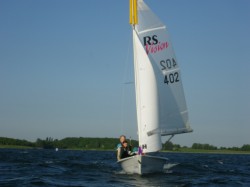 Racing is relaxed and optional: many people new to racing find our popular Friday pursuit race a very helpful 'pathway' into the more serious racing offered on Wednesdays and Sundays. Even if you choose not to race, there'll be coach boats on the water to offer advice (if you want it) and there'll be rescue boats on hand should you get into difficulties.
Click here to view an RYA promotional video, featuring the past summer's 'Friendly Fridays'.
Friendly Fridays
2018
We meet in the Cafeteria on the ground floor of the Clubhouse from 18:00 for an evening of social sailing with an optional coached pursuit race. With the race finishing at 19:45, there's time to head to the top-deck bar for a drink and maybe a meal whilst we debrief on the sailing. Whatever your tastes, it's a great way to start the weekend!
Dates
4 May-10 Aug

Times

18:00 onwards

Price

FREE

NB Hire fees apply for use of club boats. Boats need to be booked and paid for at the office prior to going on the water.