Boats for Sale
The Club is pleased to advertise details of boats that are for sale. This service complements existing arrangements via the Club notice boards. You are expected to make a donation to the Club in the same way as is customary for advertisements posted on Club premises.
Boats currently available
Note that Grafham Water Sailing Club accepts no liability for the following advertisements: responsibility for their accuracy lies entirely with individual advertisers.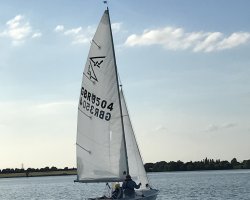 Class: Flying Fifteen Ovington Mark 9 Smoothy.
Built:
Length:
Price: £5000
Location: Grafham Water SC
Contact: John Clifton, 01234 352189
Email: johnclifton@dsl.pipex.com

Very lightly used and in first class condition.

Pinal and Bax sails.

Road Trailer and two good top covers.

A perfect starter boat that is competitive with the newer marks.

Class: Dart 16 Catamaran
Built:
Length:
Price: £1500 ono
Location: Grafham Water SC
Contact: Alan Platt, Tel: 07771 524279
Email: apex@empyrion.co.uk

Comes with the tramp-launched gennaker kit, launching trolley, cover, full rigging and sails.
Condition is reasonable. Everything works and she sails well. The gennaker chute is in need of repair and the gennaker has been repaired, but it still flies well.

No road trailer.