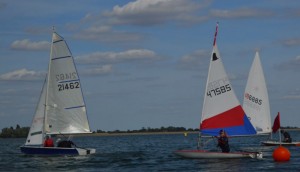 Our leisure and training sailing season kicks off next Saturday 1st April.  Activities are:
For Adults:
Sailing Clinic in the Morning – book with the Office if you are interested
Club Coaching: 12 noon until 2pm – free for Club Members
Sociable Saturday: – meet in the café from 2:30pm for briefing, followed by one or two informal handicap races.
For Youths and Juniors:
 

Team Grafham

– our expanded programme for Youths and Juniors. Meet in the café from 2:30pm.

A charge of £10 per session per boat applies, with discounts for booking multiple sessions in advance. Book with the Office.
This programme begins on Tuesday, 4th April from 10:30 through to 12:30. There will be a pre-sailing briefing at 10:30 in the café – but you should rig and change in time to go afloat immediately this has finished.
And don't forget the programme #thisgirlislearninghowto (also open to boys!) This is aimed at the less experienced sailors who wish to progress through the RYA National Sailing Scheme Adult Level 1 and into Level 2. The course consists of six weekly sessions on Tuesday mornings (10:30 – 2:30) between 25 April and 30 May. #thisgirlislearninghowto is also new to 2017.
For further details of all these activities see the Club Programme.