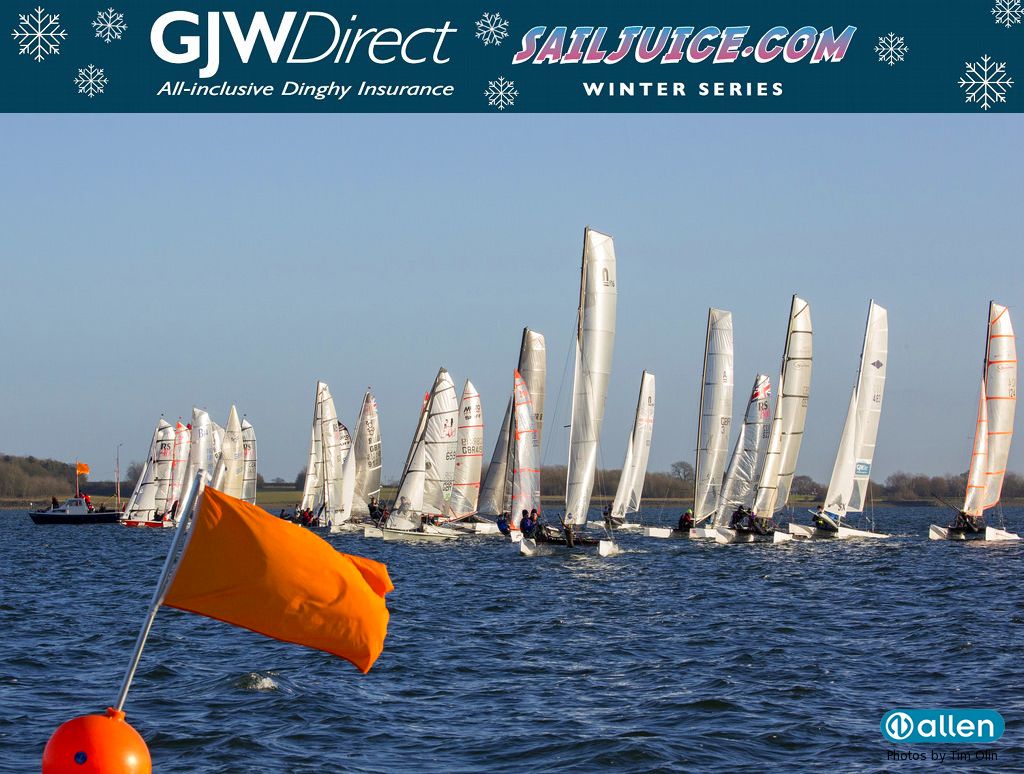 The 36th Grafham Grand Prix, the 4th event of the GJW Direct Sailjuice Winter Series, was held on Monday 2nd January.
192 boats entered, the largest entry for this event in this century! The home club swelled the entry lists with an impressive 50 entries. Racing was split across three tracks, a fast fleet (42 boats) sailing an upwind/downwind course and medium (73-boat)and slow (77-boat) fleets each sailing trapezoid courses.
In all, 50 different classes were represented, both monohulls and catamarans. D Zeros made up the largest complement, with 22 entries (a particularly strong showing for a class in only its third year), followed by Lasers with 20.  There were good turnouts from some of the traditional classes – 11 Merlin Rockets, 9 Fireballs and 9 Solos, and also from some of the RS classes with 9 each of RS400s, 200s and Aero7s. The resurgence of the RS600 continued with 8 entrants.
Though conditions were cold, the sun shone all day. The wind was a moderate 8 to 12 knots from the North West, pretty much blowing straight down the lake and meaning courses were spread over the whole of Grafham's 3 mile length.
A feature on all three courses was that the faster boats seemed to come out on top after handicap adjustment. Winners of the fast fleet, and winners of every race, were David White and Jon Sweet from Grafham Water SC sailing a Formula 18. The medium fleet was won by David Goudie, also from Grafham Water SC, sailing his RS600 and counting two firsts.  Completing a clean sweep of winners for the home club, the slow fleet was won by Ben Saxton and Izzie Hamilton in an RS200, also counting two firsts.
Special thanks to the three race officers, Peter Saxton, Graham Louth, and Peter Baldwin, and their teams who skilfully kept things moving throughout the day, with the last competitor finishing at around 2:15 after three back to back races.
Click through for full race results and to view more photographs from the GJW Direct SailJuice Winter Series gallery. Also at Sharkbait (Medium and Fast Fleets)