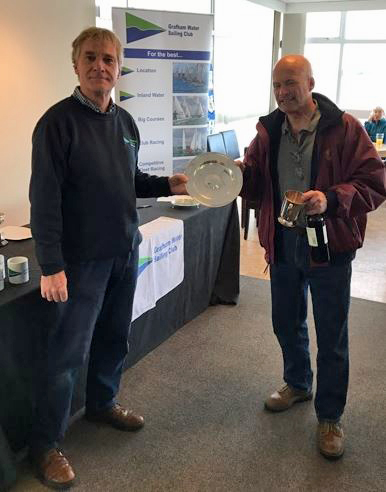 Commodore (John Aston) presents the DoE trophy to 2016 winner David Summerville
After three years of Flying Fifteen hegemony, the D-Zeros took full advantage of an ideal planing breeze on Sunday morning, finishing 1st (David Summerville), 3rd (Neil Washington), 6th (Alisdair Kames) and 9th (John Aston) to dominate the top ten places. Dave Maclay (Laser) eased into 2nd, ensuring it was not a D-Zero clean sweep for the top three placings, while Allen Cave & Ashley Painter led the FF challenge in 4th place. Full results here.
The entry (47 boats) was encouraging – just two down on last year – and the racing was typically competitive throughout the fleets.
Racing started on-time in around 15 knots of northerly breeze. PRO Peter Saxton set a trapezoid course, using special marks for the windward and first reach. Both reaches were tight, to the delight of the D-Zeros and Lasers and to the occasional discomfort of the lighter FF crews.
Race 2 was another trapezoid, with some changes to the mark placement (to accommodate a wind swing to the right) and to the downwind marks (in an attempt to open up the first reach). No sweat for David Summerville – another 1st place in the bag!
After lunch, the wind dropped closer to forecast 8-9 knots and the PRO responded by setting a shortish windward-leeward track, with a leeward gate downwind of the Committee Boat. David Maclay promptly claimed top spot and the Fifteens (Mark & Ben Longstaff and Julian Clarke / Colin Burns) began to look more of a threat.
The final race was a figure-of-eight. As the breeze softened, it became possible to fly spinnakers on all three downwind legs, giving us some much-needed gybing practice!
Altogether, a challenging day for competitors, and race team – including the ever-efficient mark layers. If you didn't make the event this year, look out for the advance publicity for 2017 and get the date in your diary!