The Club held its second Refresher Day for Committee Boat and rib volunteers on Saturday, 29th October. 14 participants came along to attend sessions on our Committee Boats Moon Shadow and Grafham Belle, on a rib to practice safety-boat procedures, and on shore to run through VHF radio procedures and the basics of using one of the Club's GPS sets for mark laying.
And this time we did a drill to test our on-water emergency procedures. A man-overboard dummy was recovered from the water to the jetty and met by a shore party. The "casualty" was placed on a stretcher and lifted into the Coxswain's shed where first aid was given. Several learning points arose and we will be adjusting the emergency procedures accordingly.
As on the first Refresher Day, feedback from the participants was positive. We will  incorporate the emergency exercise into future Refresher Days and open up this training opportunity to all Club members.We are very grateful to the instructors who helped throughout the day. So, thanks to: John Aston, Sue and Peter Saxton, Jim Hibbert, Nige Morse, and Bill Parish.
With the 24 club volunteers who came to the first Refresher Day held in July, 38 members of our race and safety crews have now been to a Refresher Day. This day is not only a great way to learn about GWSC ways of working but also a great way to bond with other volunteers into a team. And a great way to meet new people and make new friendships.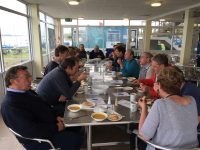 Soup as a team builder!