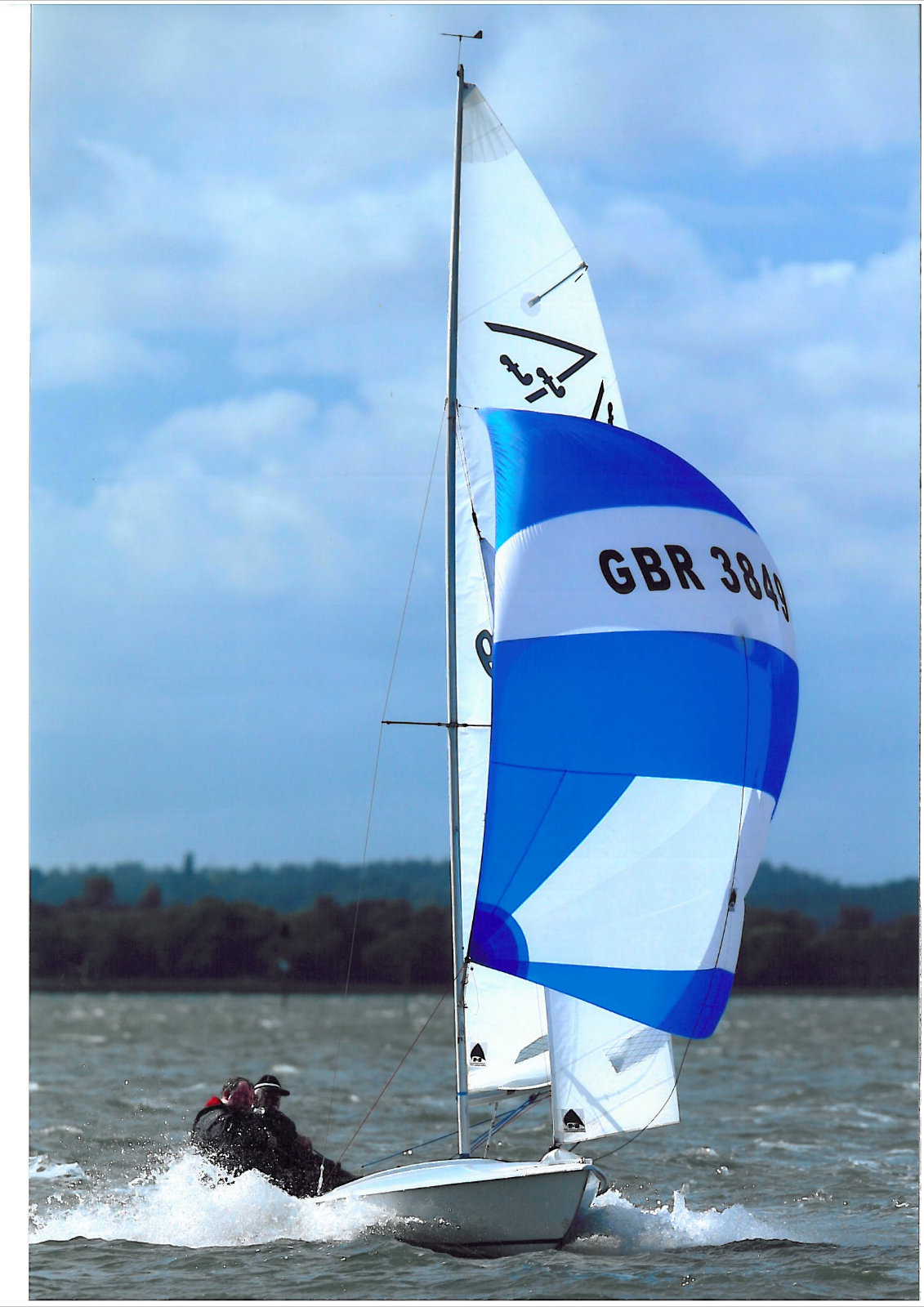 It is with great sadness that I bring you the news that Brian Thake has passed away, a few days short of his 87th birthday. He had been ill for some time, and unable to sail for the past few years. However, his great enthusiasm for getting afloat stayed with him throughout much of his life. Brian joined the Flying Fifteen fleet in 1988, having previously raced a 505 and Fireball. "Sidewinder" (number 2936) was followed by 3210, "Raving Mad", which was the (appropriate) name that Brian retained on each of his subsequent boats, 3464, 3627, 3849 and 3966. He sailed for many years at Northampton SC, who voted him as President for his work at the Club with Sailability and the junior sailors. In the late 90s Brian moved to Grafham Water SC, and continued to sail Fifteens, still travelling to open meetings and relishing the competition.
Brian became more frail in the past few years, but retained his renowned sense of humour, and his very distinctive laugh – familiar to all who knew him. Daphne and he had been married for over 60 years, but when she died in 2012 Brian's health began to deteriorate. He moved to Reading, so that his son's family could support him, but he was always a Leicester lad, so that will be his final resting place. Brian's funeral will be at Great Glen Crematorium, Leicester LE8 9DJ on Friday, April 27 at 12:30.
No flowers, please, but if you would like to give a donation we suggest Northampton Sailability, which Brian founded, and which offers facilities for disabled people to enjoy a wide variety of sailing activities. Website: www.northamptonsailability.org.uk
Or cheque made out to: Northampton Sailability, Northampton Sailing Club, Pitsford Reservoir, Brixworth, Northants NN6 9DG.
Thank you.
"The Unknown Shore" by Elizabeth Clark Hardy
Some time at eve, when the tide is low,

I shall slip my moorings and sail away,

With no response to a friendly hail,

In the silent hush of the twilight pale,

When the night stoops down to embrace the day

And the voices call in the water's flow.
Some time at eve when the tide is low,

I shall slip my moorings and sail away

Through the purple shadows that darkly trail

O'er the ebbing tide of the unknown sea,

And a ripple of waters to tell the tale

Of a lonely voyager, sailing away

To mystic isles, where at anchor lay

The craft of those who have sailed before

O'er the unknown sea to the unknown shore.
A few who have watched me sail away

Will miss my craft from the busy bay;

Some friendly barques that were anchored near,

Some loving souls that my heart held dear,

In silent sorrow will drop a tear;

But I shall have peacefully furled my sail

In mooring sheltered from storm and gale

And greeting the friends who have sailed before

O'er the unknown sea to the unknown shore.
Or, to quote Spike Milligan:
I must go down to the seas again, to the lonely sea and the sky,

I left my shoes and socks there – I wonder if they're dry?
Richard Ledger
Proud friend of, and crew to Brian Thake
FF 3966 – "Raving Mad"