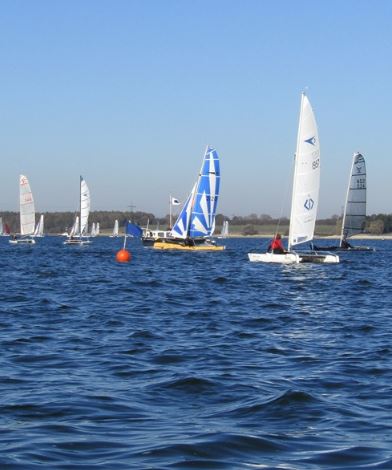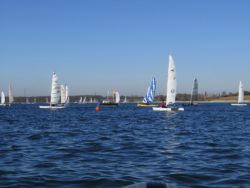 70 catamarans took part in the Grafham Cat Open which happily (after the storms of last year) took place on a sunny weekend in a force 2-3 light Southerly breeze. There were 18 Club boats taking part. The following is a summary of the results.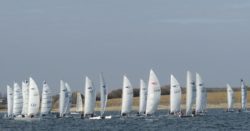 The Sprint 15s were the largest fleet with 28 entries for the Inland Championships. Isle of Wight sailor, Liam Thom, won the event (4,1,1,6,1) from David Ball (2,4,6,2,2) of Marconi. Top Grafham sailors places were Stuart Snell 4th , Thomas Sandal 6th , Christian Mash 7th and youth sailor, Rhys Atkins 23rd.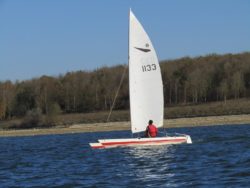 The Fast Double handicap class had 21 entries including 10 Formula 18s. The F18 of Simon Northrop and Caleb Cooper from Minnis Bay were the winners (1,1,1,1,1) and top Grafham sailors were John Sweet/ Olly Dwight 4th and Tony Stokes/Sam Curtis 5th. The youth contingent in their Nacra 15s fielded 6 boats and the winners were Theo and Jasmine Williams from Restronguet. Nacra 15 Runners up were Abigail Clarke/Alfie Cogger from Grafham. Other Grafham Nacra 15 places were: Megan & Will Smith 3rd and Abigail Clark/Alfie Cogger 4th.
The Fast Single handicap class was once again won by the Shadow X of Robin Leather (Gurnard) who won all 6 races.  The top A Class sailor in second place overall was Peter Boxer of Clacton. Cat Fleet Captain, Neil Klabe of Grafham was 4th.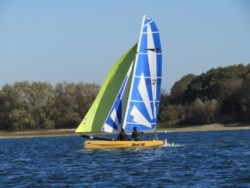 The Medium handicap class of 14 boats included 8 Catapults. The overall winner was Prindle 15 sailor Gerry Reeve of Grafham. Well done Gerry. Second overall and Catapult winner was Gareth Ede of Yorkshire. Mike Gough of Grafham was 10th. Grafham Youth Sailors Robert Addinell and Emma Skillett sailed a Dart 16 to a credible 12th place in their first ever Catamaran race!
The Club was a buzz for the whole weekend and the sailors enjoyed an excellent dinner and a drink in the bar at the Club on Saturday night. Thanks go to Lisa and Co for an excellent meal.
Report: Bob Carter