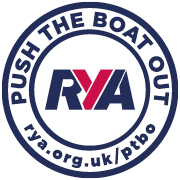 Ever wanted to try sailing? Then come along to Grafham Water Sailing Club on Monday, 7 May.  As part of the nationwide Push the Boat Out Initiative from the Royal Yachting Association (RYA), we are offering free sailing and windsurfing taster sessions for children and adults.  Don't worry if you have never sailed before; there will be an experienced sailor on board with you.
The day starts at 11 am and ends at 4 pm.  All of the club's facilities will be open.  There's plenty of free parking.  Just turn up and follow the signs to the clubhouse, where someone will greet you and get you out on the water.  There is a fantastic cafe in the clubhouse for drinks and lunch (and cake!), with plenty of seating inside and out and there will be a barbeque throughout the afternoon.
Bring trainers or beach shoes that you don't mind getting wet. You may want to bring a change of clothes in case you get damp and particularly if you want to try windsurfing. And don't forget the sunscreen!
Sailing can be as physical or as relaxing as you want to make it, you can sail with others or on your own, do it competitively or potter about and just enjoy the gentle escape of being outside in the elements.  Whether you're completely new to the sport or looking to get back on the water, this is the perfect time to give it a go.
For those who already have some experience of sailing, we are also offering taster sessions in Flying Fifteen keelboats and various catamarans, both well established at Grafham, on the same day.
If you are interested in a Flying Fifteen keelboat taster session, please click here for more information.
We are Grafham Water Sailing Club at Perry, PE28 0BU.