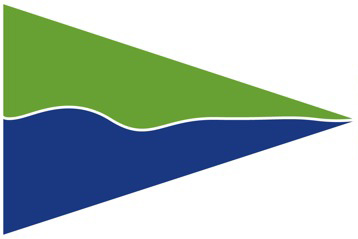 The intention of this blog is to keep a history of announcements made by the Club, but also to provide a way of helping members to keep connected. It will be a mix of factual posts and more light-hearted items and will also include links to items that may be helpful. Click here for the FAQ.
22nd May – Anglian Water Parks Update
Anglian Water have posted this update today.
21st May – Launching Keelboats
The following is a clarification on the procedure for launching keelboats when sailing restarts:
the coxswain can provide launching assistance
when asking him for help maintain 2m distancing
only the coxswain will drive the tractor (this is to prevent the possibility of cross contamination from others getting in the cab), sailors hook the trailer onto the hitch themselves (the boom is more than 2m long so that conforms to social distancing from the cab).
It will also be necessary for sailors to unhitch the trailer themselves
If assistance is required when coming back to the jetty i.e. someone to grab the forestay, this should be worked out amongst the fleet
20th May – Letter from the Commodore
We do not yet have a date for the re-opening of the Lake; Anglian Water have not published anything definitive.  However, based on our discussions with Anglian Water we do believe this will be reasonably soon and so I am writing to you now with details of the way in which we expect to return to sailing initially, and the measures to which we will need to adhere.  To put this in context I want to stress three things up front:
1) This will not be a return to "normal" as we knew it before "lock-down".
2) We will need to abide by a number of restrictions, most notably that relating to social distancing and personal hygiene. You will be responsible for your own safety on shore and on the water.
3) We intend to do things progressively.  We will start onshore with the barest minimum of facilities and on water with informal leisure sailing only.  Over time, as restrictions are eased, we hope to be able to open up more of our facilities onshore, and on the water move to more structured activity, including some form of racing.
General precautions to ensure the safety of yourself, other club members and the general public
Here is the link to the latest Government guidelines on social distancing. Please take the time to ensure you are absolutely familiar with them before visiting the Club site.
https://www.gov.uk/government/publications/staying-alert-and-safe-social-distancing/staying-alert-and-safe-social-distancing
If you are unwell with the symptoms of Covid-19 do not attend the Club.
If you have had contact with a family or household member who is unwell with the symptoms of Covid-19 do not attend the Club for a minimum of 14 days.
Wash your hands after touching common surfaces – and always after coughing, sneezing and before and after arriving and leaving the Club.
Cover your mouth and nose when sneezing or coughing, and avoid touching your face, nose and eyes.
Keep your distance and avoid being face to face with people from outside your household.
Do not share water bottles or food with people from outside your own household.
We suggest you bring some disposable gloves with you and use them if touching common surfaces.  We also suggest you bring a first aid kit with you so you can attend to minor cuts and such like yourself.
Accessing the site and opening hours
Revised opening hours will apply.  Initially the site will be open from 10 am each morning and will close each evening at 19:00 (including weekends).  The water will open from 10:30 and will close at 18:30 each evening.  Over time we may be able to relax these hours so keep an eye on the website for details.
The barrier will remain down during the time that the site is open.  It should open automatically for you.  If not, ring  07950 590754 from your mobile phone for admission.  Do not use the keypad at the barrier.
Parking
We are fortunate to have a large site so parking even with the current restrictions should not be a problem.  But please make sure you park well apart from the next car, sufficient to ensure social distancing when getting in or getting out.  That may mean you need to park further away from your boat than normal.  If we have a lot of people on site it may also necessitate using the top (visitor) field.
Clubhouse
The clubhouse will be closed, except that there will be restricted access to the toilets.  There will be signage at the toilets indicating the procedures to follow.  You should enter the toilets by the outside doors on the half landing facing the roundabout.
There will be no facility for changing on site.  You should arrive ready changed or change in your car.  You may want to invest in a dry robe or similar. Do not use the toilets for changing: this would be socially irresponsible.
Rigging and access to the water
Again, the key message is to adhere to the social distancing principle – 2m separation.  If you find that somebody in the adjacent berth to you is rigging their boat at the same time, come to an arrangement with them whereby you can both do this safely.  Please also remember that the Government guidance which we need to follow at this stage is to exercise in the company of only one person from outside your immediate household, and then adhering to the 2m separation guideline.  Larger gatherings are not permitted so please act accordingly in the boat park.
When launching also take care to adhere to the 2m separation guidelines.  Since dinghies are more than 2m long this should not be too difficult, but windsurfers take note, particularly if using the steps.
Do not touch other persons' boats or trolleys at any time.
The water level is particularly high at present so launching may be more difficult than usual, particularly given the need to do so unassisted.  We intend to reposition the small dan buoys just offshore to aid in this but if you use them please do so wearing gloves.
On the water
For obvious reasons, only single-handed sailing or sailing in the same boat by persons living together in the same household, is permitted.
There will be a coxswain on site, but safety cover will be extremely restricted.  If you are going out on the water, your sailing skills should be of a standard commensurate with the red & white flag ie. able to right your boat unaided and return to the shore under the prevailing weather conditions on the day.  We expect to operate the flag system more conservatively than in normal circumstances.  We also expect that the red & yellow flag will be used frequently ie Lake open with restrictions.  Where this is used the restrictions will be posted on the window of the café. You may wish to use your own VHF radio to make contact with the Coxswain. This should be a VHF marine radio, ideally with the ability to take an earpiece.
Initially the Lake will be open for unstructured leisure sailing only.  We will not attempt any kind of organised racing, nor should you try to do this on an informal basis – it is likely to be in breach of the guidance against "gatherings".  In due course we hope to introduce some form of racing and details of this will be posted on the web site.
Staff on site
There will be a coxswain on site all the time the site is open, based in the coxswains' shed.  If you need to talk to him, do not enter the shed and do not cross the 2m line marked at the shed entrance.
The Office will not be physically accessible.  The hours when the Office staff can be contacted are shown on the website.  The chandlery will not be open.
For hygiene reasons tools may not be borrowed from the coxswains.  If you need anything you should bring it with you.
Day Sailing
For the time being we will not be re-introducing day sailing.  We may do so at a later date.
Updates to this advice
It is very likely that over time our advice will be modified and updated.  Updates will be posted on the Club Web Site so please do keep looking there
Best wishes, and stay safe
John Aston, Commodore
19th May – Boat Park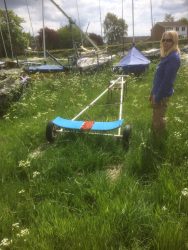 Members have been visiting the dinghy park to check on their boats and do maintenance. In some cases this has involved excavation from the undergrowth.
Nigel Denchfield's comment was that he would need a bigger strimmer. There is huge variation across the site. The Flying Fifteen to the east of the clubhouse is not too bad, and Tim O'Brien has done quite a lot of work there. Also the first block immediately to the west of the clubhouse is reasonable.
The worst affected area is the second block to the west of the clubhouse (F block) which has been overrun by cow parsley. If you are planning to come to mow your boat space and it is in F block you will need to bring shears as it is unlikely a normal strimmer will handle it. Also watch out for the stinging nettles!
16th May – Update on Water Closure
Some members have read the information on the  Anglian Water Parks website that says they have cancelled all events until 30 June and assumed this means that the water will be closed until then. The 30 June date relates to their organised events, they have not announced any specific date for the water to remain closed and we are in regular discussions with them to understand when the water will reopen.
13th May – Coronavirus Update Letter from Commodore
I am writing to update you on the latest news regarding the Club and the Coronavirus pandemic.
Following the Prime Minister's broadcast of Sunday 10 May and the subsequent Government announcements of the following day, Anglian Water issued a statement on Monday 11 May, which reads as follows:
Having reviewed the Government's announcement yesterday, because our water parks are tourism venues and draw large crowds, they will remain closed to the public at this time. 
It continues to be a difficult decision for us to make. We know how much the local community and visitors love our green spaces, but the health and safety of our local communities, visitors and colleagues is our priority.  We must be certain that when we reopen we can do so safely, meeting all the guidance on social distancing. 
We know this will be disappointing news. We are regularly reviewing our position and will continue to update this page with any changes.  However for the time being, like the rest of the hospitality and leisure sector, our attractions, activities and recreation services remain closed.
We are in regular contact with Anglian Water about their timescale for re-opening the Lake.  Also, on 12 May the RYA issued comprehensive guidance for Clubs on steps to take prior to re-opening and we will be mindful of that guidance to ensure that, when we do re-open we are ready to facilitate safe sailing activity with appropriate social distancing measures, hygiene procedures and the appropriate safeguards for our members and our staff.
We have though agreed with Anglian Water that members may now access the Club Site (though clearly not the Lake) to carry out work on their boats, to deliver or remove boats, and to maintain their berths.
For those of you who wish to do this the process will be as follows.  As the Club site will remain locked you will need to pre-arrange access; this will be managed by Hilary Talbot.  If you would like to visit the site, please email Hilary at hilary@htalbot.com, providing the following information:
Member's name
Mobile phone number
Date and approximate time you want to come
Boat park space(s)
What you plan to do
How long you expect to be here for
Hilary will then allocate you an appointment, as close as possible to your requested time. Appointments will be staggered to avoid people arriving at the same time or working in adjacent boat spaces, and to avoid general overcrowding.
Please be sure to bring everything you may need as the club will not be able to provide any equipment such as strimmer, buckets etc. You will be able to fill your own bucket if necessary from the outside tap. The clubhouse, toilets and coxswain's shed will not be open.
Best wishes, and stay safe
John Aston
Commodore
12th May – Update about Re-opening
Although the Prime Minister indicated that more outdoor exercise will be possible from Wednesday, on Monday evening, Anglian Water announced that they will not be reopening Grafham Water yet. The Commodore will be writing to all members on Wednesday afternoon with the latest update. This will also be published on the club website.
11th May – Latest Government Announcement
Following the broadcast by the Prime Minister yesterday evening, we are in discussions with Anglian Water and reviewing RYA guidance on the next steps.
Yesterday evening the RYA posted their latest information here. In their post they say:
"Until we have seen the Government guidelines in detail, we cannot speculate on when Clubs and Training Centres will be able to reopen their doors. We look forward to seeing the further guidance within the Government's three step plan."
Anglian Water also posted the following on their Facebook page:
"Following today's announcement Grafham Water remains closed at this time. For several weeks, while our park remains closed, we've been working on plans to gradually reopen it. We are currently reviewing the latest guidance and how we can operate within these safety measures. The safety of our staff, volunteers and public is our priority. We are following government guidance and will respond to any changes in this as quickly as we possibly can. Thank you for your patience and understanding."
11th May – British Red Cross Need Help
Roy Harold is helping the Red Cross to organise leaflet deliveries to shielded residents of Cambridgeshire & Peterborough, who have not yet responded to government attempts to contact them. He needs people able to knock on doors, this week, starting in Peterborough on Monday (today). If any members living locally would be willing to help, please contact him by email (roy.harold5@btinternet.com).
7th May – RYA Webinar #2
Here is the link to the second weekly RYA racing rules webinar. The topic is The Start and any limitations on the right-of-way boat.
1st May – RYA Webinars
The RYA are doing a series of webinars on the racing rules on Wednesday evenings at 8 o'clock. The first one was this week and you can watch it by clicking this link. YouTube has a whole playlist of RYA videos with something for everyone.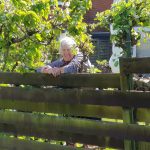 20th April: Member News – Ann Young
Former Laser sailor and now Topper owner Ann Young was spotted over her garden fence today. She and David are doing fine. She has been managing to get online delivery slots for groceries and also has a neighbour who is fetching shopping for her too. She has got a 1000 piece jigsaw puzzle to keep herself occupied and has been following the news on the club website as well.
19th April: Team Grafham take up eSailing!
The latest group to start racing in Virtual Regatta is Team Grafham. They will be racing at 4pm on Wednesdays and Saturdays. Yesterday was their first event with 4 races sailed by  Boo, Adele, Archie, Poppy and Denise Plant. Quote from coach Matt: "as you can imagine it won't be long till they're pretty good!"
18th April: Latest letter from the Commodore
John sent the following email to all members yesterday:
Dear Member
I am writing to update you on matters at your Club in the context of the coronavirus pandemic.  It is a little over three weeks since the Prime Minister's announcement of strict social distancing measures.  The Club site was closed on 24 March and has remained closed since then.  Yesterday the Government announced an extension to the social distancing measures (initially for a further three weeks when they will be reviewed again), and we should not expect any reopening of the Club in the near term.
Many of our members have renewed their memberships for the full year: thank you for your support for your Club.  In terms of subscription receipts we are a little behind where we were at the same time last year, but under the circumstances that is not surprising, and we hope more renewals will come in over the coming days.
We are taking whatever measures we can to reduce costs over this difficult period.  Today, operationally, the site is on a "care and maintenance" basis.  We have somebody visiting every day to check things, and the grass is being cut as required to keep the site tidy.  In order to reduce costs most of our staff are on furlough, taking advantage of the Government Coronavirus Job Retention Scheme.  There is a virtual Office working part time.  The "opening hours" are set out on the website and the Office can be contacted via email (office@grafham.org) or on 07950 590754.  Please understand if there is a delay in their responding.
It goes without saying that a Sailing Club without sailing is something of a challenge.  But in an attempt to fill the void, some of our members have taken the initiative and are organising "esailing", and there is an enthusiastic and growing group of participants.  You can read more about this activity, and how to take part, on the Club website at https://www.grafham.org/esailing/
Hilary's blog, also on the website, is regularly updated with information and anecdotes.  If you have something to contribute please contact Hilary.  A couple of our members have offered to run an online quiz – no doubt with a heavy sailing content.  Please watch the website for further details.
It is important to remember that we are not only a Sailing Club, but we are also a community of friends.  A number of our members are having to follow Government advice to adhere to rigorous shielding measures and therefore are in a higher degree of social isolation.  Please can I encourage you to support such people, where you know them, by ringing them up or otherwise providing encouragement or practical help where possible.  Local government is establishing online coordination hubs to bring together people who need, or can offer, help. The local one for Grafham is www.wearehuntingdonshire.org and there may well be others in your own area.
We do not know when the current restrictions will be eased and what continuing restrictions might apply thereafter. Nevertheless, I want to assure you that we are giving attention now to how we will restart sailing activities, whenever that time comes.
Stay well. Best wishes
John Aston
Commodore
17th April: Latest announcement from the Government
The Government announced yesterday that the current restrictions will remain in place for a further three weeks, so there is no change to the situation as described below.
The Prime Ministerial statement on 23 March places stringent restrictions on people leaving their homes.  Consistent with these restrictions we have closed access to the Club Site with immediate effect.  The buildings and the boat park are secured and closed. Access will not be possible until the restrictions are lifted; in the Prime Minister's announcement he said that they would be reviewed after three weeks   In the meantime, we will do whatever we can within the Government's restrictions to ensure the security of the site.  The office staff, who will continue working from home, will be able to remotely access email and phone calls, but please understand if there is a delay in responding.
Meanwhile Council continues to review the steps we need to take as a Club in order to deal with this radically changed situation.
The Government announced yesterday that the current restrictions will remain in place for a further three weeks, so there is no change to the situation with the grounds and water as announced previously. The site and buildings are being checked every day.
17th April: eSailing News
The Cat fleet had very close racing on Wednesday evening. You can read Julian Bosch's blog and check the results.
16th April
The Wednesday Lockdown eSailing event yesterday went well. The results are here and there is a report in the eSailing blog.
13th April: Update on eSailing

Today we have a virtual blue and white flag as the wind is 24 knots gusting 27. There is new information about the Lockdown eSailing event planned for Wednesday in the eSailing blog.
The Cat Fleet held their 6th event in the April series yesterday and the series is currently being led by Jon Sweet.
12th April: Happy Easter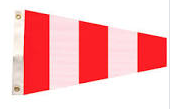 Happy Easter to everyone and we hope you manage to have a good weekend. The results for the eSailing are currently being processed and will be uploaded to the website when ready. Watch this space.
There is a virtual AP flying this morning as there is no wind at all on Grafham Water.
10th April: More on eSailing
There is now a separate post about Grafham's esailing activities. Click here.
9th April: Report on the Laser Lockdown Races Yesterday
Thirteen boats entered the Laser Lockdown Virtual Sailing Event held last night, 8th April.
We were racing Star boats around a windward-leeward course in Kiel, wind gusting 20 knots.
It was a lot of fun. There were many penalties, some technical issues, and a lot of user error. Even better, no one got wet and we did not need to drive home afterwards.
What's Next?
By popular demand, we will be holding another Virtual Sailing event at 7.30pm next Wednesday 15th April. This time we will be sailing Dayboats at Aarhus (spinnaker practice required!). Three races again starting with a preparatory signal at 7.29pm.
If you would like to enter please send an email to Peter Gee, Laser Fleet Captain at laserfc@grafham.org. This event is open to all Grafham sailors of any class and ability.
7th April: Local Authority Resources
Local authorities have set up websites with resources to provide local information and support to those who need it. The one for Huntingdonshire is www.wearehuntingdonshire.org and for example it says that council tax which is paid in 10 monthly instalments can be paid from June-March instead of April-January. The club is also here to try to provide help to any members who need practical assistance.
6th April: The Laser Lockdown Wednesday Virtual Sailing Event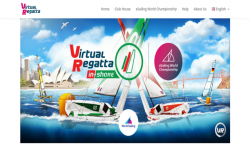 This is a one-off event being held online this Wednesday 8th April at 7:30pm. All sailors of any level are welcome. We will be using the Virtual Regatta Inshore game and it can be played on PC or smartphone (iOS or Android).
There are no Lasers in the game so we are racing Stars in Kiel Harbour.
Races last about 5 minutes and there will be 3 races:
Race 1                         7.30pm  prompt. Preliminary start signal at 7.29pm.
Race 2                         7.40pm approx
Race 3                         7.50pm approx
The game is limited to 20 entrants per race. We will be inviting the other Grafham fleets to join us so you will get a chance to race against old friends. If we get more than 20 entrants, extra races will be arranged. If the event is a success, further events will be held in different virtual boats and locations.
If you would like to join please email Peter Gee at laserfc@grafham.org and he will send you full instructions and login details. Before Wednesday, you will need to allow at least 30 minutes to open an account, customise your settings and learn how the controls work.
Happy (Virtual) sailing!
Many thanks to Laser Fleet Captain Peter Gee for organising this.
4th April: Beautiful Grafham Views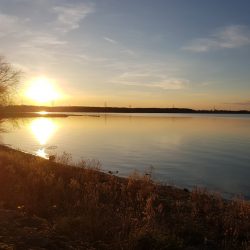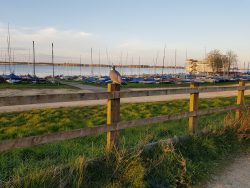 A couple of beautiful evening views to remind us how lovely it is here and to look forward to better times when everyone can be back here.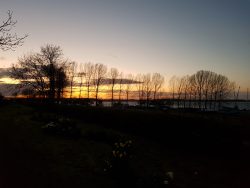 3rd April: Clapping for Key Workers
Yesterday evening Perry residents, like others across the country, came onto their doorsteps to clap for our key workers who are doing so much to keep us safe and well. They were rewarded with this beautiful sunset over Grafham Water.
2nd April: Restricted Office Opening Hours
From Saturday 4th April, the office will be manned on a restricted basis, please click here for full details of current office opening hours.
If you need to speak to us, please phone 07950 590754 and leave a message and we will get back to you. Phone messages and emails (to office@grafham.org) will be responded to during the office opening hours.
31st March: First Aid Online Refresher Courses
The Red Cross are providing free access to their online refresher course. If any instructors need to evidence a refresher, noting also the HSE extension of existing qualifications, Roy Harold would recommend they consider using this online facility.
Message from the Red Cross: To help ensure you and your team's first aid skills remain up to date, we'd like to give you free access to our online first aid annual update course. The course is designed for anyone who wishes to refresh their existing first aid at work skills and while it does not result in obtaining a formal certificate, it will provide you with a record of learning and help you to refresh your existing first aid knowledge. Please follow this link to access the instructions on how to enrol on the course
30th March: One Member's Answer to the Club Closure
Paul Murphy has come up with a novel approach to getting your sailing fix at home. View his video on YouTube.
30th March: More News of Members in Isolation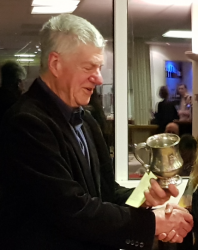 Also in isolation is Barry Wyatt, Flying Fifteen fleet captain. This photo was taken at last year's Flying Fifteen fleet dinner, where Barry was handing out the trophies. Unfortunately, this year's dinner had to be cancelled as a result of the emergency situation.
Barry sent the following message to Ian Rawet: "Started on the garden, but the weekend temperatures provided an excuse. Otherwise, shopping is a continuing challenge – as it is for most of us. Anyway, so far, we're pretty well and trying to stay cheerful. Katy has been a marvel – she's in school one day a week and is helping to keep us fed and watered."
If anyone wants to send a message to Barry his email address is b.wyatt@btinternet.com.
29th March: Membership Renewals
A letter from the Commodore has been sent to all members this afternoon explaining the Club's position. Here is a link to the 'How to' document referenced in the Q&A attached to the letter.
28th March: Another Member is Shielding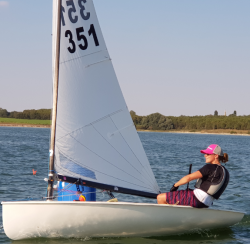 In addition to Richard Major (see below), Mandy Sweet is also having to stay in isolation.
She is being looked after by her mother Wendy Horton, founding member of the Sociable Saturday Cake Club so hopefully she will have plenty of cake to keep her spirits up. Wendy said: "Mandy has just been stocked up by her Mummy. Her shopping list
included Rose wine and mini Galaxy ice creams. I couldn't get the Walker's Squares."
Mandy wrote: "Luckily I've been keeping busy sorting all the online school stuff and tidying/cleaning so far. One week nearly gone!"
If you want to send Mandy a cheering email, her email address is mandyhorton44@hotmail.com.
27th March: RYA Videos on YouTube
If you need something to watch, here is a link to the RYA YouTube Channel
26th March: Protecting Those Defined as Extremely Vulnerable
Earlier in the week the Government announced it would be writing to 1.5 million people in the UK defined as being extremely vulnerable during the pandemic. They have issued this guidance.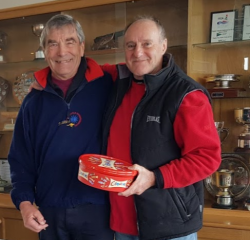 One of our members impacted by this is Laser sailor Richard Major (on the right in the photo), who many members will know. He sent this status update yesterday when asked if he would like members to keep in touch:
"I am fine but a few emails would be nice. My highlight of the day yesterday was hanging out my washing! Only another 11 weeks to go!"
So if anyone would like to send Richard a message his email address is rmajor2@btinternet.com.
If anyone else out there is in the same situation and would like to keep in touch, please let me know and I can include you here.
26th March: Information for First-Aiders from the British Red Cross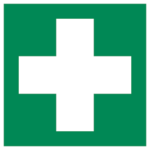 Roy Harold, the club's first aid trainer among other things, has provided this link to an article on the British Red Cross website, which he suggests may particularly be of interest to those who have attended his first aid course
25th March: Dead Fly Art
The son of one of our members is locked in because his daughter has a cough. He is a bit of an artist and generated this after only six days of quarantine. He called it dead fly art.
Drawn by Rob Kinnear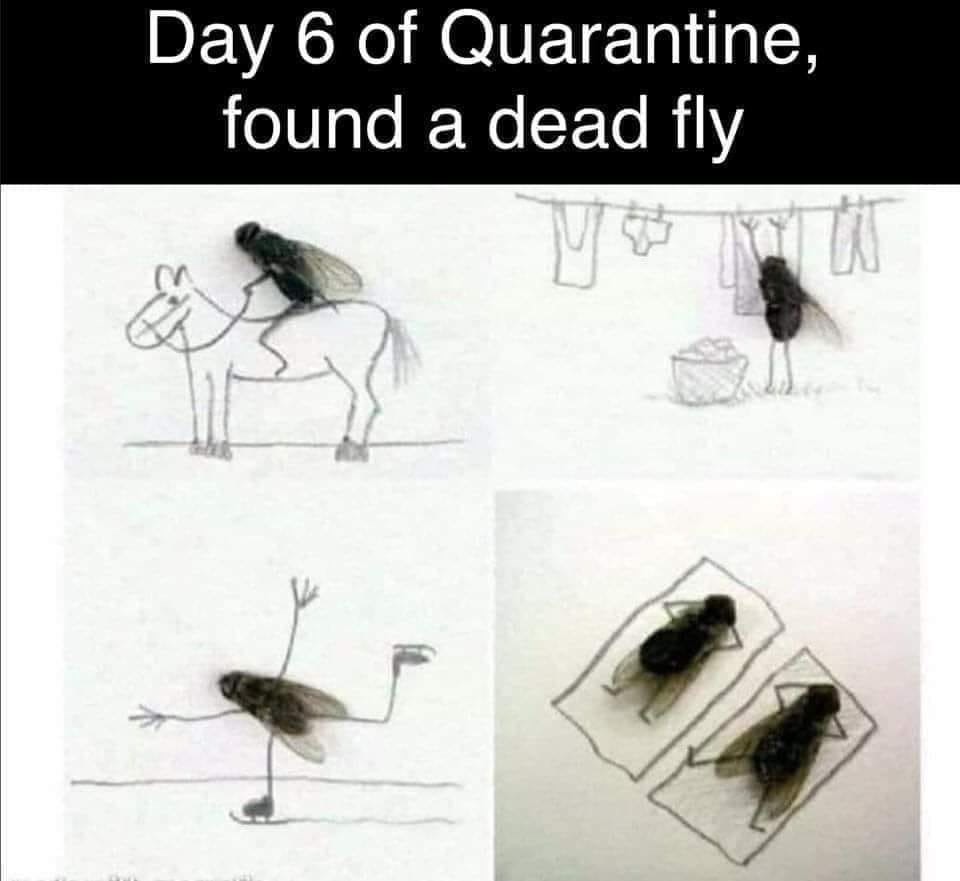 24th March: Announcement – Access to the Club Site
The Prime Ministerial statement yesterday (23 March) places stringent restrictions on people leaving their homes.  Consistent with these restrictions we have closed access to the Club Site with immediate effect.  The buildings are being secured and closed and the boat park is being checked before all staff leave site.  Access will not be possible until the restrictions are lifted; in the Prime Minister's announcement he said that they would be reviewed after three weeks   In the meantime, we will do whatever we can within the Government's restrictions to ensure the security of the site.  The office staff, who will continue working from home, will be able to remotely access email and phone calls, but please understand if there is a delay in responding.
Meanwhile Council is urgently reviewing the steps we need to take as a Club in order to deal with this radically changed situation and we will be writing to members with more details shortly.