Editorial
Personal circumstances have meant that it's been a while since the last of these fleet blogs appeared. My wife Denise unfortunately contracted a mystery infection while Katy and I were sailing at Poole and, since my return, I've taken on the more-or-less full-time job of carer. That statement glosses over my domestic incompetence, which means that I take twice as long to do any household chore as any self-respecting hausfrau. Anyway, Denise's health is slowly improving and I'm hoping to get on the water shortly: Katy and I certainly aim to sail the DoE on October 2nd.
Poole Week
| | |
| --- | --- |
| Photo © Sailing Scenes | Five Grafham crews contested the 2016 Poole Week. To be honest, although the organisation and social arrangements were well up to the usual standards, the weather was less cooperative and Team Grafham didn't really sail to its full potential. Congratulations go to the Mark Aldridge / Richard Ledger combination, who led the rest of us home by a comfortable margin. Tim O'Brien, crewed by local expert Ron Elliott, was next, while it's probably best to draw a veil over the performances of the remainder of the fleet. |
There were extenuating circumstances: as well as Denise's illness, Celia Gatton succumbed to a (different) mystery infection that necessitated an early return to the healthier climate of Cambridgeshire, while Jonathan's back led to his withdrawal after only four days racing. Well, that's not strictly true: 'racing' on days 3 & 4 consisted of a drift from the club to the race area, a couple of hours flapping around the Ron Cox in next to no wind and a return drift to the sanctuary of the clubhouse.
Royal Corinthian, 17-18 September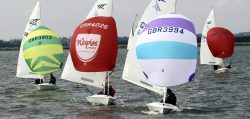 Tim O'Brien, this time crewed by Colin Ferra, enjoyed much better sailing at the Open Meeting at Royal Corinthian YC on the weekend of 17-18 September. Saturday provided plenty of breeze and conditions that clearly suited Tim (who won Race 2). There was much less wind on Sunday and Tim was hard-pressed to hold on to second place overall – not helped by his failure to restore rig tension after slackening things off overnight! Full report here of what appears to have been an extremely sociable weekend.
Club Racing
Grafham Fox
Tim has already reported on this: we congratulate Julian and Colin on their well-deserved victory.
Bart's Bash
Just two Fifteens took to the water last Sunday (September 18th) to contest Bart's Bash. The conditions (4-knot northerly with lots of holes) hardly favoured Flying Fifteens, so Dave & Jenny (6th) and Allen & Ashley (9th) should be pleased with their performance, if not with the level of excitement offered.
Things can't have been quite as bad as they appeared from the shore, since both teams ventured out again in the afternoon – but perhaps this was another case of unrequited anticipation?
DoE
The Club Championship for the DoE trophy takes place this year on October 2nd. There will be four handicap races with three starts in each for Fast, Two-handed and Single-handed fleets. Starts are at three-minute intervals. The warning signal for the first race will be no later than 10:55. Races 1 & 2 will be sailed back-to-back. The warning signal for race 3 will be no later than 13:55 and race 4 will be sailed back-to-back with race 3. Sailing Instructions here.
Please remember that boats starting later than two minutes after their scheduled start will be scored DNS without appeal.
You should also be aware that the on-the-water penalty has been reduced to a 360º turn (one gybe and one tack) and that this change carries forward into autumn and winter series racing. I understand that the principal motivation for this (other than bringing the club into line with the growing practice at championship events) is to encourage the resolution of right-of-way disputes when they happen. Of course, if there is a genuine difference of opinion, protest / arbitration are always available as an alternative.
Ovington Inlands
Ovington Inlands take place this year over the weekend of November 5th – 6th. Up to four races are scheduled on Saturday (first start at 11:30) and three on Sunday (first start at 11:00). In previous years, Sunday racing has shared the club course and I assume this will again be the case – though it's not obvious from the Notice of Race. Look out for on-the-water penalty rulings (see preceding paragraph). If we're sharing the club course, it would be logical for the new 360º penalty to apply, but we'll need to check the SIs before going afloat.
Do make the effort to participate in this event: we're slowly attracting greater interest from visiting boats, so it would be good to provide strong and numerous competition from the home fleet. The entry fee for the weekend is just £5.00 for GWSC members – a saving of £32.00!
Autumn / Winter Series
A number of changes in club Sunday series racing will take effect from October 9th.
the 360º penalty turn will apply to all club races
if you intend to protest another competitor, you should inform the RO at the earliest opportunity (probably on conclusion of the race in question) since the RO will be responsible for organising arbitration / protest committee
for this year only, the autumn series will be truncated and will be sailed over four Sundays only from October 9th. The race format will be four races each Sunday, with two fleet races (five starts) in the morning and two handicap races (three starts) in the afternoon.
From November 2nd through December and January, we're sailing a new Winter Series. This will comprise three fleet races each Sunday, each with five starts. The races will be sailed back-to-back, with the aim of getting everyone off the water by 14:00. The Café will be offering hot meals at that point – just like Wednesday evening with snow!