Fleet Dinner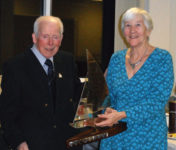 We enjoyed a well-attended and sociable Fleet Dinner on the evening of April 1st. After Lisa's customary spread, our Guest of Honour (Commodore John Aston) reported on recent happenings and planned developments in the club, both on and off the water: Tim O'Brien reflected on the strengths of the fleet and some notable sailing achievements, both home and away and John Clifton presented the prizes – in his one hundredth year!
The Prize Raffle, organised by Pip and Shawn, raised £130.00, while Pip's innovation for 2017 (estimate the number of dried peas in the bottle) gave rise to some wild guesswork: the solution took a cool, analytical Scandinavian approach – well done, Suzie! The Wakefield Trophy was deservedly awarded (above) to Freda Hibbert who, with loyal assistants John and Jim, ensured that, as usual, events proceeded with customary smooth efficiency.
Photo gallery, courtesy Jim Hibbert and Pippa Chapman
FF Worlds
Stale news now, but Steve Goacher & Tim Harper took the silverware after a last race protest. Local Grafham interest rested with the Nick Heath / Pippa Noon (Chapman?) combination, who took the Classic prize.
Sunday Racing
The fleet is slowly emerging from a long hibernation. The first week of April brought light airs, which attracted six boats. Allen & Ashley took a comfortable lead in Race 1. Dave & Jenny joined us for the second race but, sadly, the breeze decided to go elsewhere and RO Richard Keyworth drew proceedings to a halt after just one lap, with Dave & Jenny in front at that point. After lunch, all but two boats decided there were better ways of spending a Sunday afternoon (even if, in the case of Mark & Ben, that involved watching Arsenal grind out a draw). Dave & Jenny led John & Hannah home in Race 3 and John left them as the sole representatives of the fleet in the final race of the day.
April 9th, in contrast, provided sparkling racing, with 12 knots from the SSW, steadily building to 16 – 18. Conditions were quite gusty – but who was going to grumble with temperatures peaking at 25°? Just three boats woke up in time for Race 1. This was effectively decided on the start line: Barry and Katy won the pin end and from there defended the lead grimly through four laps of a classic Olympic course. Race 2 brought more serious competition, which really warmed up on the second lap. Richard & Geoff read the beat to perfection, playing the left hand side to take a commanding lead at the windward mark. Mark & Ben muscled their way past Barry & Katy at the gybe mark and proceeded to reel in the architects.
After lunch, we were joined by Sam Neal & Andy Johnson, sailing Tim's boat. There were some serious gusts to be had and most of the more circumspect sailors decided not to fly the kite down the second reach (which was now quite tight). Mark & Ben made light of the conditions butSam & Andy, following their example, visited Broach City and, in the process, sheared the gooseneck. End of race for them. The rest of us soldiered on and, on hearing the shorten course signal, my crew offered thanks to the Almighty and eternal devotion to the Race Officer. At which point, we all decided enough was enough – though Jon & Trish will say they had planned to stay out, had there been any competition!
Tim and his team deserve our thanks: Tim flew all the way from Singapore to be at Grafham – and I'm sure he'd have preferred to be sailing, rather than officiating.
Wednesday Evenings
Yes, Wednesday evening racing resumes this week – so spring must be upon us. First three Wednesdays, racing starts at 18:30. No change in race format from last year, so we're still second start. But beware – the interval between starts on Wednesday evenings remains at 3 minutes. (All Sunday starts now go off at 2-minute intervals).
Easter Salver
This year, the Easter Salver will be sailed on its traditional date (Easter Sunday, April 16th). Racing will be over just the one day, with three results to count from four races sailed. If we don't get four races in, then results from all races sailed will determine the outcome. As well as the trophy itself, chocolate eggs have been purchased for award to the first three teams. We sincerely hope they survive the attention of the office staff over the coming week!
Change of Address
I've been asked to notify you of the following changes to email addresses:
Carole Duke is now on cdmduke@gmail.com
Dave Philpott is on davekp3333@gmail.com. His old email account terminates on May 31st so please stop using it unless you're just doing it to annoy him!