Editorial
The long interval since the previous newsletter can be explained, at least in part, by the fact that we've moved house: somewhat inevitably, this led to a temporary change in priorities and sailing has been somewhat intermittent. However, Denise has just announced (for about the 15th time) that she's happy with the state of the new nest, so we've had a couple of Sundays when the adrenaline has been unleashed.
In the meanwhile, Tim's blogs have kept us all in the picture, so this time I've every excuse for brevity.
Further News from the Fleet
Ian Williamson
Earlier in the year, we heard from Ian Williamson that he had suffered a stroke. I understand that he is recovering but that his balance has been affected. As a result – and with considerable regret, Ian has retired from active (sailing) membership of the fleet – though he does wish to stay in touch. FF 3464 continues in the Grafham fleet under the ownership of Brian Appleyard.
Alan Eade
Alan Eade, who will be remembered by many of you who count yourselves veterans of Wednesday evening racing, had a minor heart attack in mid-June and has been at Addenbrooke's and at Papworth Hospital, where he has had two stents fitted. He was hoping to return home at the end of June. I'm awaiting further news on his recovery from Inger.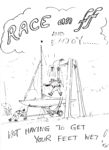 One of the many cartoons promoting the FF fleet at Grafham for which Alan achieved celebrity status
It goes without saying that both Ian and Alan are in our thoughts and I'm delighted to have this opportunity to convey our collective good wishes to them both for a full recovery.
Sailing Snippets
Sundays
Earlier in the spring, as a result of what is frequently referred to in correspondence with insurance companies as 'an unavoidable racing incident', I became the proud owner of the leading three inches of Alan Cave's boat (FF 3789).
Imagine my consternation therefore when, approaching the leeward mark last Sunday, I spotted the aforementioned  bow section of 3789 about to interpose itself between me and the mark. Fortunately, Bob had already established an inside overlap – and even Alan has by now come to realise that it's inadvisable to mess with Bob at the leeward mark! So Alan, deciding that discretion was the better part of valour, essayed a second (successful) attempt at rounding.
Aside from that, a fleet of seven boats enjoyed the sunshine and light, shifty airs. There had been misgivings when the RO announced that, because he was so short-staffed, he'd compress the fleets into a single start. Given that there were around 30 boats competing (ranging from a 49er to a Laser Pico, it took a while for everyone to clear the start line and for things to settle down. Thereafter, there were many opportunities to exploit wind shifts – both upwind and downwind. Some of us proved more successful (or fortunate) than others at this game but, come lunch time, everyone appeared to have enjoyed the morning.
Tim has already chronicled the events of the afternoon: three boats had the sense to find more productive means of employment, leaving four of us to contest the Ron Howard trophy. In a fading breeze, Alan & Ashley made a perfect start and sailed off into the distance. The RO had laid a windward-leeward course and, once round the windward mark, things became extremely tedious – especially for us tail-enders. In fact, 3789 crossed the finish line with the remaining three boats still some way short of the leeward mark. Unable to take much more of the tension, we all three headed for the shore, leaving Alan & Ashley to bask in the glory of their retention of the Ron Howard salver.
Wednesdays
Unfortunately, I've not been able to spend much time at the club on Wednesdays this year: however, looking through the results, I see that Peter & Simon are unassailable in the two-handed fleet – even beginning to discard first places! It appears that Simon has now been given the opportunity to show his prowess at the back of the boat – for the record, he too posted a first place this week. I guess he'll be allowed another five of these before Peter wants his toy back!
Behind them, it appears that Dave and Bob are locked in combat for second place – it will be interesting to see how that pans out.
I spent this Wednesday in a RIB – and quite enjoyed watching the battle develop. I had time to take a few photographs: for me this one epitomises what Wednesday racing is all about – at least for the Fifteens.