From our own Correspondent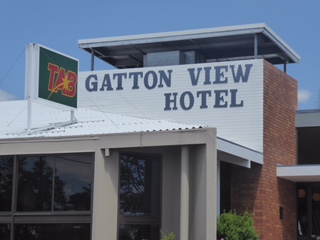 Herpetile Hibbert (a close relative of Crocodile Dundee) sends greetings from the antipodes, where he stumbled across the Australian equivalent of Fawlty Towers (see illustration). We understand that Freda drew the line at the prospect of a night chez Bob!
Jim regrets missing the glorious sailing we've been enjoying throughout January but has made the best of a balmy summer on both sides of the Tasman Sea.
Sunday Racing
January was saved from a complete FF washout by the rugged determination of two (fool) hardy crews on Sunday last (January 29th). Les returned from his Christmas break on the North Sea and Barry could no longer restrain his impatience to return to the water. They were, of course, ably abetted by regular crews Suzy and Katy and enjoyed a morning of close racing in extremely variable breeze – until the rain arrived, the wind disappeared and sense prevailed.
None of this silliness was enough to prise Allen and Ashley from the Series leadership that they'd stitched up before Christmas. Well done to them (albeit through gritted teeth!)
A new series begins this Sunday (February 5th). It now appears that the predicted gales will have passed through by then and conditions could be ideal for you to emerge from hibernation. The series has been christened 'Frostbite': I sincerely hope that this is a misnomer, since it runs through to the end of April. Arrangements are a little different from usual, so please concentrate at the back!
In February, the plan is to continue the three-race (back-to-back) pattern that was used for the previous race series. So all 12 races will contribute to the morning Frostbite Series. The default is to offer the full five starts for all these races, with FFs leading the way off Start 1. However, we're retaining the option to reduce the number of starts to three or, in extremis, to one on days when the number of competitors doesn't justify the full Monty. This variation will be signalled from the Committee Boat by flying three (3 starts) or one (1 start) club burgees beneath the orange flag. If there's just the one start, everyone sails the same course and only one course will be indicated. If there's three starts, FFs are assigned to Start 2 (Slow double-handed) and use the course shown on the port side of the Committee Boat. The starting interval is two minutes for both the five- and the three-start sequences. So that's all clear then?
In March and April we revert to the summer-daylight format. Two races before lunch contribute to the morning series (five starts at two-minute intervals), while two races after lunch form an afternoon series. So those of you who've not been drawing rude pictures in your rough books will have gathered that the morning series will comprise 28 races (12 in February and 16 in March-April), while the afternoon series consists of just the 16 races run during .March-April.
Afternoon races will be sailed off three starts (FFs are assigned to Start 2) but I believe Racing Committee is still deliberating over whether the start interval should be two- or three-minutes. Watch this space (or, as a last resort, read the SIs)
Oh – and please don't blame the messenger!
FF Open Meeting, June 10th-11th
Gosh, that seems a long way off – but Dave has just finalised the Notice of Race, which I'll publish when I've finished this Newsletter, so it's not too early to put the date in your diaries. The meeting is not a championship event this year, but Dave has persuaded the Class Association to designate it as part of the Southern Traveller's Series, so that should stimulate entries. Although we'd always encourage membership of your Class Association, there's no formal requirement for this, as there would be for an Inlands. This means that Club FF15 members who aren't members of BIFFA can enter, as can anyone else in a borrowed boat.
Annual Dinner
Finally, I've been asked to remind you that we're taking reservations for the social event of the year at Grafham and that spaces are rapidly filling up. So please send John Forsdike your menu choices and – most importantly – your cheques, made payable to "GRAFHAM FLYING FIFTEENS". It's customary and convenient to include your fleet membership subscriptions (Helm: £8.00, Crew £6.00).
John's contact details are:
JOHN FORSDIKE
14 MARLBOROUGH CLOSE,
OAKLANDS,
WELWYN,
AL6 0UG
If you've mislaid the menu that Tim sent earlier, click here to download a copy.
Oh, and please return last year's trophies as soon as possible to Jim Hibbert or to the Grafham Office.