Homage au petit Admiral!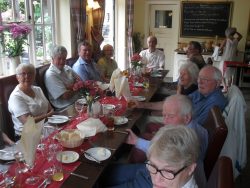 At regular intervals,those of us that John Clifton has successfully 'persuaded', over the years, to join him on his cruiser 'Jean Clair' meet up to relive the old times and to remember 'deeds long since forgot' (Tennyson, should you be wondering!) And so it was that the customary crowd gathered in the Wheatsheaf on 21st July, hopeful of slaking thirsts and filling stomachs that, if the truth were known, needed no extra sustenance. The celebration took place shortly after John's 99th birthday and it was particularly appropriate that Alan Eade had completed the latest in a long line of cartoons marking various significant chapters in the history of the fleet.
The latest masterpiece (see below) celebrates John's recent appointment to the French cavalry – and is set to join the earlier version that we presented to mark his 90th birthday.
Those of you with keen eyesight will be pleased to note the presence, at the head of the table, of course, of Alan Ward, who is in notably good spirits. It's really good to see Alan so far down the road to recovery.
Club Racing – July 24th
Six boats out on Sunday, under the watchful eye (on the Grafham Belle) of Allen Cave and Colin Burns. Great sailing in a fair – if shifty – breeze. Nick Taylor, sailing with Lithuanian crew Gedas, enjoyed a successful morning, spoiled only by Bob's imperious start in Race 1 that propelled him (and John!) into an unassailable lead.
Jonathan & Trish latched up an impressive 3 – 2 in the morning but, following lunch, decided to enjoy a more relaxing sail at the other end of the fleet. In Race 3, Nick & Gedas again roared off into the distance but showed poor navigational skills to allow Dave & Jenny an unexpected victory: Dave & Jenny made it 2 from 2 in the final race, with Nick & Gedas making sure of second place.
Wednesday Evening – July 27th
My coverage of Wednesday evening racing has been rather thin this year – mainly because I've only sailed two races so far. This week, we raced over a trapezoid course starting in about 10 knots of breeze from the North-West, though this had dropped to 7-8 knots by the end of the evening. The line was heavily pin-biased for our start. James MacGregor (2000) and Dave Philpott fought it out for pole, closely followed by Barry & Katy and (at speed) Bob & John. However, a packed fleet strung out behind, mostly on starboard tack, made it impossible to exploit the pronounced port-tack lift. The wiser heads in the fleet sacrificed the pin end for freedom to tack off – and boy, did it pay? Graham & Angela rounded the windward mark with a handsome lead that was never seriously challenged. Dave & Jenny did well to claw their way back, taking a well-deserved second place – though the passing manoevre that Dave executed on Bob at the final leeward mark rounding was not without controversy. And how good it was to see Paul Stevens & John Clifton out on the water again!