Christmas Greetings!
It's been a while since the last Newsletter – though most of you will, hopefully, have received Tim's rather more reliable communications throughout the autumn and early winter and will therefore be up to speed with recent happenings, both at Grafham and further afield in the Flying Fifteen fleet. One reason for my (relative) silence was the need to update the club website with the events of an unusually busy autumn. I wasn't especially successful in this task either and eventually resorted to compiling an overview of happenings at Grafham. FFs featured in this to some degree, and I'll not repeat myself here. So what you'll get (if you can be bothered to read this far!) is a summary of key events, in more or less chronological order.
Wednesday Evenings
Remember those long, balmy summer evenings? It's little more than 4 months until we resume, so it's a bit of a struggle to cast minds back to August – in fact, I see that I've already archived the race results! Seven Fifteens completed the necessary seven races to qualify: Peter Saxton & Simon Dabson were first in the two-handed fleet, returning a perfect seven first places: they were closely followed by Dave & Jenny Philpott. Geoff Floyd & Colin Gilbert, in 7th place overall, took the fleet's Wednesday Handicap trophy – annual dinner is a must this year, Geoff!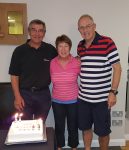 Dave & Jenny were also leading Fifteen in the Wednesday Pursuit race, taking 5th place. As well as celebrating this success, Dave marked Jenny's coming-of-age (well, a special birthday anyway) with a commemorative cake, that was demolished with alacrity and enjoyment by the evening's diners.
Sunday Series
Results for the Summer and Autumn Series are now up-to-date on the fleet pages. Julian Clarke / Colin Burns, Allen Cave / Ashley Painter and Dave & Jenny Philpott won the three Summer Series, with Mark Aldridge & Richard Ledger securing Aker's Anchor.
The Autumn Series was a truncated affair, partly as a result of the decision to re-structure winter racing (see below) and partly because of the intervention of the weather. Indeed, the second afternoon race series failed to secure any qualifiers. Simon Kneller & Graham Thomas took the 'Early Birds' trophy, while Allen & Ashley were winners in the 'Autumn Leaves' series. It's good to see some new names amongst the entries: Ian Dubock has been Nick's regular crew through the late summer and autumn, while Sam Neal is making a serious mark helming Tim's boat. Rumour has it that we shall see a good deal more of Sam in the coming months.
Those who sail the Winter Series – and anyone who reads notices posted around the club – will be aware that, from November to the end of January, the club is offering a winter series comprising three back-to-back races, each of just under an hour's duration. John Forsdike will unpick the results, so that the fleet will retain our three winter series.
We've now  enjoyed six weeks racing to this new format. We've lost the lunch-time socialising 😥 but there has been some good racing with slick turn-rounds. As the weather get's colder, both the race teams and the competitors will, I'm sure, welcome reduced exposure to the elements 🙂 .
For the record, we've completed all 18 races available to date. 12 crews have so far sailed in the series and we've seen an average of just over 4 boats per race, with a maximum entry of 7 and a minimum of 2. Allen & Ashley are current leaders, with Nick & Geoff in second place and Julian & Colin third – but there's a long way to go!
In January, SIs are being further amended to give the RO the option to reduce the number of starts from the usual five to three (essentially 'Wednesday Evening' format but with starts at intervals  of two minutes) or even to a single 'all-in' start. This will only happen when, in the judgement of the RO, the entry is too low to justify the usual 5-start format. The default will be five starts: if a 'condensed' format is chosen, this will be signalled by the Committee Boat displaying numeral '3' (3 starts) or '1' (1 start) under the Club pennant.
Racing Committee has yet to publish its plans for subsequent series – though it is likely that these will each run for three months from February – April (Spring), May – July (Summer), August – October (Autumn) and November – January (Winter). A decision will be taken at some point whether to make the present arrangements for winter racing permanent.
Duke of Edinburgh Club Championship
The fleet's string of successes in the Club Championship came to a halt this year and the event was won by David Summerville in his D-Zero. Allen & Ashley defended the honour of the Fifteens by recording a strong fourth and were closely followed by defending champions Mark & Ben Longstaff.
Ovington Inlands
This proved a breezy weekend. The Flying Fifteen fleet was the only one with entries from Grafham – and home crews made up 50% of the entry. Sam Neal and Brian Lambert, sailing Tim O'Brien's boat took 3rd place – an impressive result for someone relatively new to the class.
Belgian FF Championships
7-8 October 2016, Sports Nautiques de Lac de l'Eau D'Heure
Nick Heath (Cam Sailing Club) and Pip Noon (GWSC) made their annual pilgrimage across the Channel and inland to Hainault for the Belgian Flying 15 Championships hosted by SNEH, Lac de la Platte Taille, 8-9 October 2016. The pair competed in refurbished Classic Wych & Coppock FF2520 'Fighting Fit' with its striking red washboards. This year's event saw a diminished entry of only 11 boats, in parallel with reduced numbers attending the FF Europeans. There were no French travellers, malheureusement. There were however, teams from Ireland and Mallorca, the latter pair sailing in disguise in Tony Lee's former FF 'No FFrills' which now sports a BEL sail insignia. Its current owner, Veronique Hachez, is in rehabilitation and shorebound after fracturing her finger trying to restrain her over-enthusiastic dogs in the summer.
The Windguru forecast for Froidchappelle – NE approximately 10mph – held true for the weekend. Light, shifty winds challenged crews to find the best pressure across the Lake, beating towards the dam and its iconic tower. The Race Committee used a combination of different 'sausage and triangle' courses. Nick and Pip were a little rusty with the spinnaker handling. One poor drop became a complete tangle, causing the pair to retire from Race 5. More practise required! Debutant siblings Kevin Vincent and his sister sailed 'Zyppi' very well, often sailing a clear course near the front of the fleet, observed by their proud father who was helming a safety boat. Alain Van Houten, a new investor into the FF fleet, showed promise of being a future force to reckon with.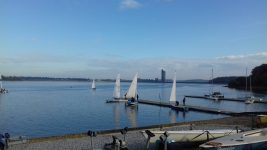 Lac de la Platte Taille, waiting for the wind to fill in on a Sunday morning. (Not so different from Grafham)
Positions overnight (1, 2, 3) after completing 5 races with 1 discard were held by the current Belgian Champions Desantoine/Van Peeterssen, followed by visitors Babbage/Walker and Heath/Noon.  Team Zyppi was still in strong contention, lying within 3 points of 'Fighting Fit'.
Saturday's fleet dinner was held in the SNEH clubhouse with sangria aperitif and fine Belgian fare: pate to start (naturally), an unusual beef and cherry stew and caramel pancakes, washed down with Belgian red wine. Regrettably, the Irish team bade the fleet farewell with some guitar and song. They were heading for Cherbourg early on the Sunday morning to catch their ferry back to Ireland.
The Mallorcan pair had a rude awakening on Sunday: a sharp frost and 2 deg C! The mist was boiling off the lake in the lovely sunshine and the AP flag was displayed until the wind arrived. This put the 10am race start backwards by an hour. At this stage, 4 boats were tussling for the podium positions. Three more races ran to complete the series, allowing visiting competitors good time to get packed up and ready to trail.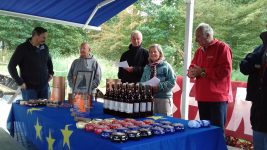 Belgian booty to be won – Chimay beer and cheese galore!
The prizegiving was generous as always, with sponsorship provided by the local Trappist brewery of Chimay. The young Belgians Desantoine and Van Peeterssen won overall for the second year in a row in spite of an accidental immersion in Race 6 at the leeward mark. Click through for full results.
Competitors left the Club clutching strong beer and smelly cheese with big smiles on their faces.
Pip Noon
FF Floating Crew
FF Worlds
We understand that, flushed with their success in Belgium, Nick and Pip have decided to contest the 2017 Worlds in Napier (New Zealand). I'm not sure if any other Grafham crews will be joining them – if so, please let me know and we'll make sure to follow your fortunes.
Grafham goes to Sydney
Log of the circumnavigation of Sydney Harbour by the Schooner 'Southern Swan'
Acting Commander: David Philpott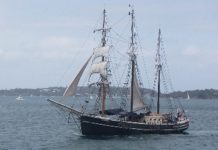 Whilst in Sydney this November Dave & Jenny joined Jen's sister and brother-in-law for a Tall Ship twilight cruise on the harbour. This sounds a bit touristy but the Tall Ship was in fact a traditional Baltic trader, built in Denmark in 1922. Rigged as a three-masted, topsail schooner, she was 130ft long with a draft of 10ft.
Once aboard, the skipper motored up wind, near to the entrance of the harbour, turned her downwind and got the guests to help hoist sail. Naturally, Dave couldn't hold back: "can I take the helm?"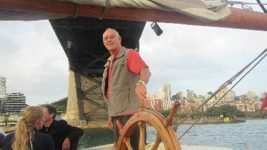 Dave was able to take the wheel for the last half of the sail. Memorably he took her under the Sydney Harbour bridge. It was a real pinch me moment, made more exciting by a huge liner leaving dock just as we were sailing under it. Surprisingly the skipper seemed very relaxed whilst all this was going on, despite an alert over his radio for "the Tall Ship to keep clear".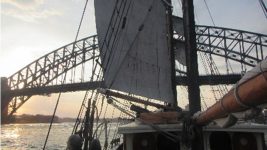 The voyage ended with a beautiful sunset – a great way to see the harbour!
Fleet AGM
This took place on December 4th. Tim will be circulating a note of the meeting – which is just as well, given my memory! Tim has agreed to continue his successful captaincy for one (final) year – so we really must find a 'volunteer' who we can begin to educate in the arcane workings of the fleet system at Grafham. Anyone with a penchant for herding cats is encouraged to express an interest in this prestigious (if ill-rewarded) post!
Fleet Dinner
The date for the 2017 Fleet Dinner & Prize Giving has been set for April 1st. Please make a note in your diaries – and help to continue the recent resurgence in participation.
UK FFA / FF International
The outcome of the recent UK FFA ballot on changes to class rules was that all proposed changes were accepted except for the proposed reduction of weight. Click through for further information. The amended rules come into force on 1st March – though the new (higher-aspect) jib will not be 'legal' for the World Championships in Napier.
Looking for a Partner?
Please make a note of the following contact details for people who have expressed interest in racing a FF15 at Grafham – either as helm or crew. This is a perfect opportunity to see more Flying Fifteens sailing on a regular basis……..