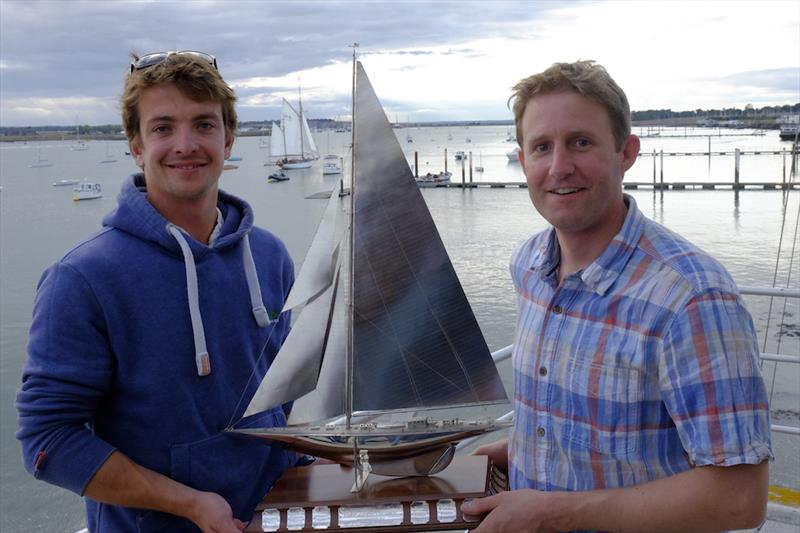 Ben Saxton and Toby Lewis retain the Endeavour Trophy (© Roger Mant / Yachts & Yachting)
Autumn Retrospective
Race teams and safety crews will attest to the fact that the autumn of 2016 has been a very active period for the club on the racing front. For various reasons, the events of the autumn have gone largely un-reported here, so it seemed appropriate to put together an omnibus edition, summarising happenings during September – November. I am indebted to a number of contributors – notably Bob Carter who, as always, has been a fertile source of information on the multi-hull front.
2000s, 4000s and D-Zeros
September 10th – 11th
This was a well-supported event that attracted 16 '2000's, 8 '4000's and 28 D-Zeros. Racing took place on Saturday in a light-to-moderate southerly breeze, while Sunday offered sunshine but wind.that was described (charitably!) in published reports as 'shifty and unpredictable'. Grafham at its most frustrating!
In the 2000 fleet, a small Grafham contingent was led home by James & Jenny Magregor: John Reynolds & Fran Howell won the 4000 event (recording three firsts and two seconds) and Daniel Wigmore won the D-Zero event (two firsts and three seconds!), with David Summerville claiming third place. Other Grafham results in a strong component of this fleet were John Aston (6th), Mandy Sweet (9th), Neil Washington (10th), Colin Glover (11th), Paul Murphy (14th), Stuart Brown (15th), Ben Stevens (17th), Joe Constable (18th), Alisdair James (22nd), Graham Tumber (24th) and David Whitrow (25th).
October 8th – 9th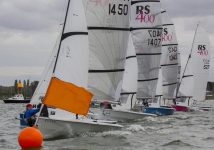 RS400 Inlands at Grafham © Tim Olin / www.olinphoto.co.uk
View (many) more on Flickr
Grafham welcomed 29 RS400s and 18 RS800s on a breezy weekend in early October. The racing was typically competitive, with thrills and spills galore. Race reports and the full results can be viewed on the Y&Y web site. It was great to see three Grafham RS400s and two home RS800s (that's more than we can normally muster for club series racing!)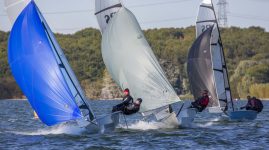 It was even more satisfying – not to say impressive – to note Tim Saxton's dominant performance with crew Fiona Hampshire. A 3rd place discard says it all!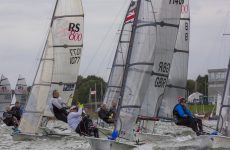 Royal Corinthian YC, October 7th – 9th
Ben Saxton and Toby Lewis, representing the Nacra 17 class, successfully retained the Endeavour Trophy that they won so convincingly in 2015 (See featured image above). While their individual race results were not quite as dominant as last year (they only recorded four firsts and two seconds out of eight starts!), this was a truly outstanding achievement, up there with the very best in dinghy racing.
Grafham Catamaran Open
October 22nd -23rd
Bob Carter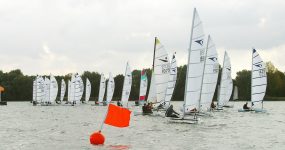 Sprint 15 Start © Nick Champion
A total of 80 boats took part in the Grafham Cat Open on the fine weekend of 22/23 October. Three races were run back to back on both days – Saturday was sunny with a F2-3 Northerly wind and Sunday was overcast with a F3-4 NNE wind. On both days, the winds were subject to big swings which made for interesting tactical sailing. Many classes used the event as their last traveller of the summer and several Inland Championships were also run in the event.
The Sprint 15s were the largest fleet with 31 entries for their Inland Championships. Grafham sailor, Stuart Snell, won the event (1,1,2,1.1) from Kevin Kirby (4,2,1,4,4) of Marconi and the two-up boat of Andy and Finley Webb of Harwich was third. This was the Webb's first open in a Sprint 15.
The Fast Double handicap class had 21 entries including 12 Formula 18s. The F18 of Simon Northrup and Caleb Cooper from Minnis Bay were the winners (1,1,2,2,1), the F18 of Will Sunnucks and Freddie White from Brightlingsea were second and the F18 of David White and Kyle Stoneham from Thorpe Bay were third.
The Fast Single handicap class comprised 9 A Class catamarans and a single Shadow X. The winner was the Shadow of Robin Leather (Gurnard) who won 4 races and took 2 second places. The top A Class sailor in second place was speed merchant, Paul Larsen (WPSA) in an A Class foiler and third place was taken by Mike Bawden of Rutland.
The Medium handicap class of 11 boats included 8 Catapults. The winner was the Catapult of Gareth Ede (2,1,1,1,1.) of Yorkshire Dales followed at some distance by John Terry of Rutland and Alastair Forrest, both also sailing Catapults.
The Spitfire Inland Championships had 7 entries and was won by Matthew McRobbie and Molly Desorgher of Rutland from David and Ian Wright of Grafham.
The Club was a buzz for the whole weekend and the sailors enjoyed an excellent dinner and a drink in the bar at the Club on Saturday night. Race Officers Peter Saxton and Nigel Denchfield were thanked for the good courses and quick turnarounds that have become customary at Grafham events and the sailors went away satisfied after an excellent regatta.
Download Event Photo Gallery (© Charlie Stacey)
Ovington Inland Championships
November 5th – 6th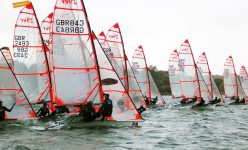 Ovington Inlands at Grafham © Nick Champion / www.championmarinephotography.co.uk
Another busy, breezy weekend. 50 29ers contesting the fourth round of their Harken Grand Prix series constituted the largest fleet. The total entry of 115 was completed by an impressive spread of 9 49ers, 3 49er FXs, 8 505s, 11 Flying Fifteens, 21 Musto Skiffs, 9 Phantoms and 4 Solutions. You could almost complete a parody of the Twelve Days of Christmas!
The Grafham presence was limited to the Flying Fifteen fleet, where home crews made up 50% of the entry. Sam Neal and Brian Lambert, sailing Tim O'Brien's new(ish) boat are to be congratulated on their 3rd place – an impressive result for someone relatively new to championship racing in a Fifteen.
The race teams are to be congratulated for their panache in handling the conditions, the diversity of boats and the freezing temperatures to deliver the slick racing for which Grafham is now the byword.
Noble Marine 420 End of Season Championship
November 19th – 20th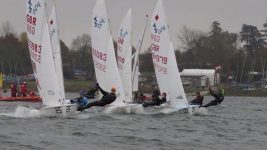 Nearing the finish – Noble Marine 420 End of Season Championship at Grafham © Mike Cattermole
42 boats enjoyed a bitterly cold but crisp 10 kts on the Saturday, followed by a wet and equally cold 18 kts on the Sunday. No local interest in this event – though it's always good to see this strong and competitive fleet who (we hope!) regard Grafham as a home from home at this time of the year.