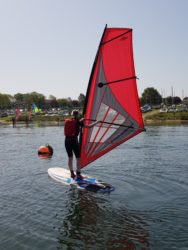 Our windsurfing courses are aimed at beginners and improvers, both adults and youths.
If you have any questions, just call the office on 01480 810478 or email training@grafham.org.
Courses and Other Training and Development Activities
We provide formal RYA Windsurfing Training Courses leading to the award of RYA certificates. We also offer many other development activities for windsurfers that are additional to the formal RYA sail training syllabus. The programme for all our Windsurfing Courses and Activities is available here, where you can also book any of the courses.
Further notes that apply to all courses
Courses are only available to club members, but we have a special three-month membership package available only for new members who book a training course.
We provide buoyancy aids but you will need to bring suitable clothing; details are available via the Joining Information link on the booking page of the website
Courses will take place if there is sufficient demand.
Gift vouchers are available for both course fees and membership subscriptions. Please enquire by emailing the office or by telephone (01480 810478).