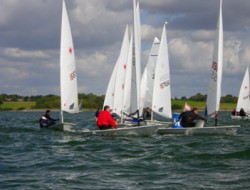 For more information email your Fleet Captain. You may also stay in touch with the fleet via our Facebook Page.
The Laser is without doubt, the most popular single handed dinghy ever with over 200,000 sold. It has three sail options, small, medium and large (4.7, Radial & Standard) to deal with different crew weights, ages and weather conditions.
It's ideal for a wide range of abilities; from near beginner to Olympic level sailor and is one of the strongest fleets at the club, both numerically and in terms of racing skills.
The fleet offers sailing for both recreational sailors and keen racers.
We sail on Friday and Wednesday evenings and Saturday afternoons during the summer and Sundays throughout the year.
On Fridays (Friendly Fridays) and summer Saturdays, the emphasis is on coaching, light-hearted racing and supper.
Wednesday is very popular, you can expect about 20 Lasers to be on the water and most head to the top deck for supper after sailing.
On Sundays there are four races, two back to back in both the morning and the afternoon, the lake is so large it's just not practical to come ashore between every race! Start times are 11am and 2pm with a race length of about 45 minutes for the leader.
The Sunday morning series is very popular with family sailors because it leaves the afternoon free and you can expect about 15 boats if the conditions are not at either extreme.
This still leaves options of two races in the afternoon or two races with a break for lunch, or if you are a serious racer, you can sail all day.
FLEET OFFICERS, 2016
Fleet Captain: Catherine Joce