Sailing Areas
Grafham Water has some 21 fixed marks which are used to designate sailing areas and as rounding marks in Club racing. Click on the thumbnail below for a map of the lake showing the location of the fixed marks. You may download here a printable (A4) version of the map.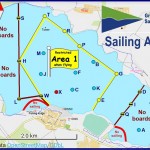 "Area 1″ is the area visible to the Coxswains, and is the only area normally permitted for sailing during the week. When sailing is restricted to Area 1, a yellow flag is displayed from the Club flagpole.
"Out of Bounds", "No windsurfing" areas are also indicated on the map.