Congratulations to the 30 Team Grafham members who took part in this year's Youth League run by the Cambridgeshire Schools and Youth Sailing Association.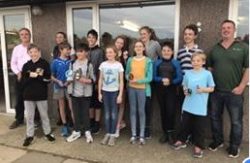 This annual series consists of five events across the season with the final event at Paxton SC on a very windy Saturday 13th October where 11 of the 23 entrants and 4 of the top 10 were Team Grafham members. The meeting at Paxton was eventful, with broken masts, masts stuck in the mud and boats stuck in the reeds!
Overall we came second in the club competition, with three TG sailors in the top 10.
It is fantastic to see such a great turn-out from our younger members in support of their club. Many thanks not only to the sailors themselves but also the parents who support and transport them and their boats and of course TG coaches Matt and Mandy whose enthusiasm and fun approach keep the youngsters turning up week in, week out.
Next year Team Grafham can win the series for certain. As soon as the dates are available we will publicise them to be sure everyone can get to the first event at Cam SC in April.
The full results can be seen here.