Boats for Sale
The Club is pleased to advertise details of boats that are for sale. This service complements existing arrangements via the Club notice boards. You are expected to make a donation to the Club in the same way as is customary for advertisements posted on Club premises.
Boats currently available
Note that Grafham Water Sailing Club accepts no liability for the following advertisements: responsibility for their accuracy lies entirely with individual advertisers.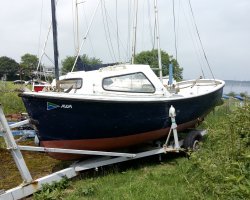 Class: Cheverton Motor Boat with Lister inboard engine
Built:
Length:
Price: £500
Location: Grafham Water SC
Contact: GWSC Office
Email: office@grafham.org

Following the arrival of our new Committee Boat we will be disposing of the AWA.  This would be of interest as a restoration project as the boat needs considerable work doing do it.  It is a Cheverton hull and has a Lister inboard engine.  Indicative price is around £500.  Picture attached.  If interested please contact the Office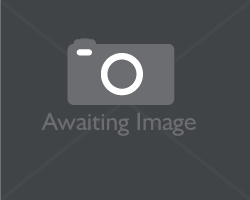 Class: Mirror dinghy
Built: 1973
Length:
Price: Free to a good home
Location: Souldrop, Nr. Rushden
Contact: Michael Mills
Email: Michael.g.mills@btinternet.com

A complete with oars wooden version of a Mirror dinghy which the owner bought as a kit and built in 1973. He is now 91 years old and it has remained unused in his garage for several years. It is still in a very good condition and he is prepared to donate it as a gift to any club or person that will collect it at their own expense from my home in Souldrop which is about 5 miles south of Rushden.

It has been used mainly for seaside family holidays once a year in Devon or Cornwall and never been damaged or needed repair in any way other than occasional fresh coats of paint and varnish. When not in use, storage of the hull and spars has always been in a dry garage, the sails and other removable items were taken into the house.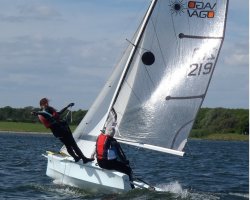 Class: Laser Vago
Built:
Length:
Price: £1200
Location: Grafham Water SC
Contact: Kevin Pryke 07889255269
Email: k_i_p@btinternet.com

Boat is in good condition. It comes with a furling jib, standard mainsail, mylar XD mainsail and yellow spinnaker (has pin hole that has been taped but perfectly sailable). comes with standard Trapeze set up and harness.

Includes cover in good condition, launching trolley but no road trailer. All lines are in good condition with 60% of them being replaced in 2017.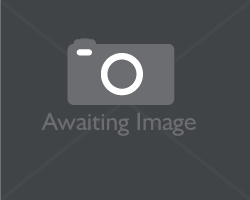 Class: Topper
Built:
Length:
Price: £650
Location:
Contact: Nick Aikman 07733447854
Email: nickaikman@yahoo.com

Topper Sail Number 44351. Full race rig, centre main, top cover, bottom cover, 2 sails and collapsible launching trolley. Boat is in good condition and is ready for racing or fun.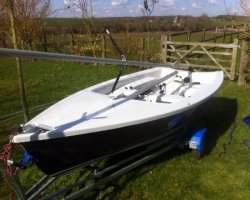 Class: Wanderer
Built: 2016
Length:
Price: £7,500
Location: Cambridge
Contact: Simon Draper
Email: srdraper_bios@hotmail.com

Sail number 1760. Complete (2016) ready to sail package by Hartley Boats with the new Phil Morrison updated hull configuration. Genoa furling and many extras including launching trolley and matching combi trailer. Current list £11,600. Very lightly used for a few summer months only. Located Cambridge.

Contact: Simon Draper

01223 262842 or 07981922365.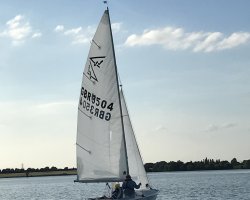 Class: Flying Fifteen Ovington Mark 9 Smoothy.
Built:
Length:
Price: £4500
Location: Grafham Water SC
Contact: John Clifton, 01234 352189
Email: johnclifton@dsl.pipex.com

Sail number 3504.

Very lightly used and in first class condition.

Pinal and Bax sails.

Road Trailer and two good top covers.

A perfect starter boat that is competitive with the newer marks.