Boats for Sale
The Club is pleased to advertise details of boats that are for sale. This service complements existing arrangements via the Club notice boards. You are expected to make a donation to the Club in the same way as is customary for advertisements posted on Club premises.
Boats currently available
Note that Grafham Water Sailing Club accepts no liability for the following advertisements: responsibility for their accuracy lies entirely with individual advertisers.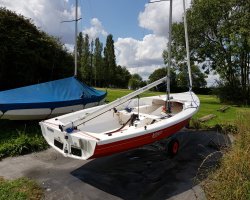 Class: Wayfarer
Built: 2007 by Hartley Laminates
Length:
Price: £3,750 o.n.o.
Location: Grafham Water
Contact: Edward Norton 07775 795633
Email: edward.norton142@btinternet.com

Wayfarer Mark 4 - No.10510 'Viper' – Built by Hartley Laminates in 2007

Good example of a Wayfarer Mark 4 built by Hartley Laminates in 2007. A stable well-constructed dinghy which can be used for either racing or cruising.

Specification includes original Harken racing fittings and internal specification, furling genoa, toe straps, mast ram, 'Highfield' lever genoa tensioner, cascade type kicking strap, swivel jammer mainsheet block, adjustable bridle, metal self-bailers, and transom flaps.

Single main sail, genoa, spinnaker and all sheets are in good condition.

Original Selden mast, boom, and spinnaker pole. Rudder, tiller with extension, and centreboard also in good condition. Removable stern storage box, road trailer mast support, outboard mounting bracket, and cockpit tent also included.

Launch trolley with jockey wheel, dark blue boom on cover (approximately two years old). The original road trailer is included however this has not been used for some years therefore may require attention if required for road use. Hull finished in red with gold stripe. Overall, the gel coat is in good condition for the age of the boat.

Exceptionally light use only over the last two years hence reason for sale.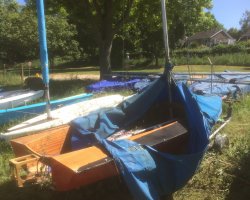 Class: Cherub
Built: 1984
Length:
Price: Sealed bids by 22/6/20
Location: GWSC
Contact: GWSC Office
Email: office@grafham.org

Foreman 8 design, dating from 1984.

Hull, spars, foils and combi trailer only. There are no sails and the cover has split.

Sealed bids to be submitted to office@grafham.org by Monday 22nd June 2020.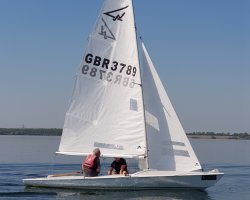 Class: Flying Fifteen
Built:
Length:
Price: £8000 ono
Location: GWSC
Contact: Allen Cave 01604 411147 07802 953662
Email:



Ovington hull. Pinell & Bax fitted out

2 mains 2 spinakers 1 jib

Road trailer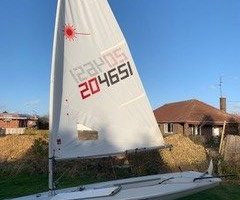 Class: Laser Radial
Built: 2012
Length:
Price: £3495
Location: Grafham Water/ Rushden
Contact: Stephanie Harding
Email: steph2808@hotmail.co.uk

1 owner since new. Very good condition with only a few light scratches

Full harken XD kit. 1 Good radial sail suitable for racing – always kept rolled. 1 Top section. 1 Radial bottom section. 1 full set of GRP foils in excellent condition, plus a spare rudder that is slightly damaged. 2 carbon tiller and tiller extensions- 1 has hardly been used. All control lines replaced, December 2019. Just had a brand new toe strap fitted- only used once

Comes with bottom and top cover, top cover could do with small repairs. Also comes with spar holders and foil bags. Stackable Launching Trolley. T Framed laser road trailer

Extras available to buy:

Brand new radial only used once - £250
Brand new dagger board bought but never used, still in original box - £250
Top section only used a handful of times-£100
Extra Boom with Harken blocks- £100

Delivery possible please DM to discuss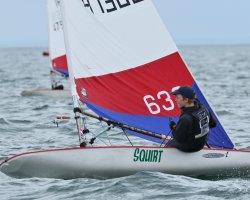 Class: Topper
Built: Abt. 2014
Length:
Price: £1500
Location: GWSC
Contact: Andrew Evans mobile 07940 597066
Email: aw_evans@btinternet.com

Now both our daughter and son have moved out of Toppers, it's time to pass on this fantastic Topper to another sailor. She's a 'Sprint XL', sail No. 47386 (5.3) and is fully race rigged with Harken 6:1 downhaul and Harken 3:1 kicker, lightweight trolley, top and bottom covers (top cover has a few holes), transom protector, good foils, foil bag, carbon tiller extension, padded adjustable toestrap etc. You can find newer boats, however 'Squirt' is still fast - she's taken both her last two sailors into National squads, with multiple race wins, consistent top 10 finishes in National series and 4th place at last year's worlds. £1500. Available now in North Beds /Grafham area.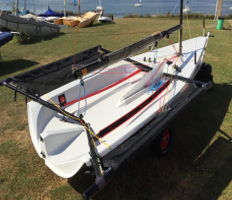 Class: Blaze
Built: 2018
Length:
Price: £8495 saving 3.5k v new
Location: GWSC
Contact: Steve Pantry 07786190411
Email: spantry@sky.com

New March 2018 as new

Carbon spars and boom, all Harken fittings, North sail as new, Carbon tiller and extension, all control lines lead to racks. Light grey hull with mid grey boot line, Includes Aluminium launch trolley and top cover.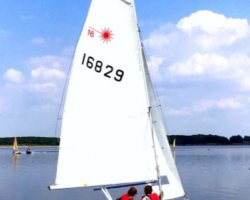 Class: Laser 16
Built:
Length:
Price: £3995
Location:
Contact: Keith Douglas, Mobile Tel No. 07976738079
Email: keith@tdcl.co.uk

Picture August 2018
Ideal Family Sailing Dinghy. Literature indicates that it will take five to six adults, I have had four adults and there was plenty of room. This dinghy has had two owners and has been sailed only in fresh water. This Laser 16 is in very good condition. Spinnaker has seldom been used. Main sail has two reefing positions and Jib has a furler. Approx. 27kg (60lb) alloy centerplate for good stability, fitted on a pulley system. Swim Ladder, Stern Locker & Outboard Fixing Position. Dinghy cover is just over one year old. Launching trolley and road trailer in very good condition. Sold as seen.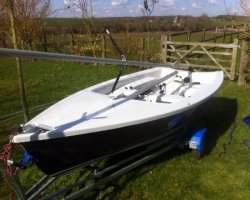 Class: Wanderer
Built: 2016
Length:
Price: £7,500
Location: Cambridge
Contact: Simon Draper
Email: srdraper_bios@hotmail.com

Sail number 1760. Complete (2016) ready to sail package by Hartley Boats with the new Phil Morrison updated hull configuration. Genoa furling and many extras including launching trolley and matching combi trailer. Current list £11,600. Very lightly used for a few summer months only. Located Cambridge.

Contact: Simon Draper

01223 262842 or 07981922365.