Working Party 5th June 2018
The continuing story of our new Committee Boat and Searider 7
The new committee boat, which arrived last week, has now been installed outside the Coxswain's shed so that work can start on refurbishing her.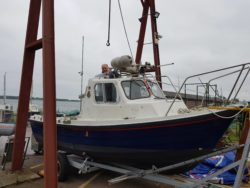 Meanwhile, the new Searider was steam-cleaned. While we have the steam-cleaner, all the Seariders and the new committee boat will be treated too.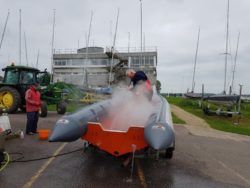 Many thanks to the Working Party volunteers who do so much behind the scenes to keep the club running. If you can contribute to working parties, please contact the office.
Once Searider 7 is complete, the committee boat can move into the tent for further work.