Youth & Junior Racing
Team Grafham Racing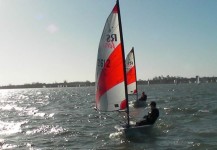 On the last Sunday afternoon of each month from May to October we run Team Grafham Racing for our young sailors. There will be two races; the first at 2pm.  The intention is to build on the Team Grafham experience and take the next steps into organised racing.  The racing will be run in conjunction with the Club Sunday afternoon racing sessions, but with a separate start and quite possibly a separate course and in-race coaching. Meet in the Cafeteria from 13:00.
Youth and Junior members are also encouraged to take part in Club racing, which takes place on summer Wednesday evenings.  All boats sail the same course and all fleets are handicap: pick the start appropriate to the boat you sail.
On Friday evenings, our summer programme includes a "friendly" pursuit race, while on Saturday afternoons, we offer handicap racing: both these popular activities provide friendly competition in an environment that is sympathetic to newcomers to dinghy racing.
Cambridgeshire Youth League
Grafham is a member of the Cambridgeshire Youth League; this is a series of five events over the summer for members of local clubs. Participating clubs in addition to Grafham are Ely, Cam, Hunts, Paxton Lakes. The events are open to junior and youth sailors up to the age of 19 who are members of the participating clubs. Our junior sailors are encouraged to sail, both at Grafham and at the other events and on those dates Team Grafham is incorporated into the Cambs Youth League event. There are individual prizes at each event and for the series, and a team trophy for the overall wining club.
Full details can be found on the CSYSA web site which gives details of other events on the Cambridgeshire and National Youth and Schools Sailing Associations calendars.