Online Event Noticeboard
Gill Flying Fifteen Inlands 28th-29th May 2022
This noticeboard will be updated with any important information for competitors. Please check it regularly.
Click for: Notice of Race and Sailing Instructions
Race Officer Briefing
The intended race area is the western end of the lake. So long as launching goes to plan, we will start on time. However, if there are hold ups due to the launching conditions, we will delay.
You are all starting together. We intend to use flag U as the prep signal for the first attempt at each start. If there is an AP or general recall caused by a wind shift, we will still use U for the next attempt. Otherwise we will move to black flag. We will also switch to black if we are in danger of running out of time.
Do check the course display before each race.
When finishing, if you are in a bunch, please note the sail numbers around you in case you are obscured from view. We will use whiskey flag finishing if necessary to speed up turn around time. If you do not finish a race, or do not start a race, please try to tell a race committee vessel. Otherwise, when ashore, tell the office.
Notices to Competitors:
Notice # 1. Change to Sailing Instructions: The orange flag display will be not less than 1 minute instead of 5 minutes before the warning signal.
Course Areas (see map below): Intended to be NW/SW
Latest protest times: Sunday 15:30
Prize Giving: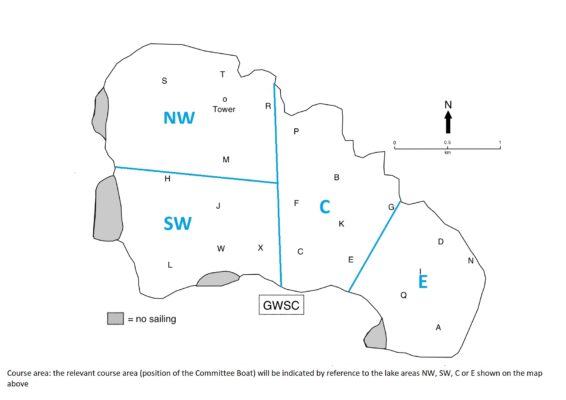 Please read the following before coming to the Club: