News
Keep an eye on the Coronavirus Blog which is being regularly updated (last update 30th June).
Wednesday Evening Competitive Sailing
Here are the NoR and SSI for the Wednesday Evening Series.
Strimmers are now available to be borrowed
Full details are in the Coronavirus Blog and Covid-19 Operating Procedures.
AGM Documents
The AGM will be on 19th July (see notice below). Here are links to the AGM Booklet, Final Accounts and Proxy Voting Form.
Chandlery
We are now able to offer a Chandlery service. Please email coxswains@grafham.org with your order. It can be collected from the Coxswain's shed the following weekend. Please pay by card or exact money only. There is a link to the Chandlery Catalogue here.
Restarting Coaching for Club Members
We are very pleased to announce that we are planning to restart club coaching for adults and juniors with two experimental sessions, on Saturday 4th July and 11th July. See all the details here (updated 30th June with Covid-19-specific risk assessment)
Reminder about Safety on the Water
Safety cover continues to be very restricted. In the event of emergency, priority will be given to people over boats/equipment. Only go on the water if your sailing skills are of a standard commensurate with the red & white flag i.e. you are able to right your boat unaided and return to the shore under the prevailing weather conditions on the day. Before going afloat check your equipment to minimise the chance of breakages. You may see safety boats manoeuvering on the water. Do not assume they are providing any type of normal safety cover; it is important that safety crews train and practice to retain their skills.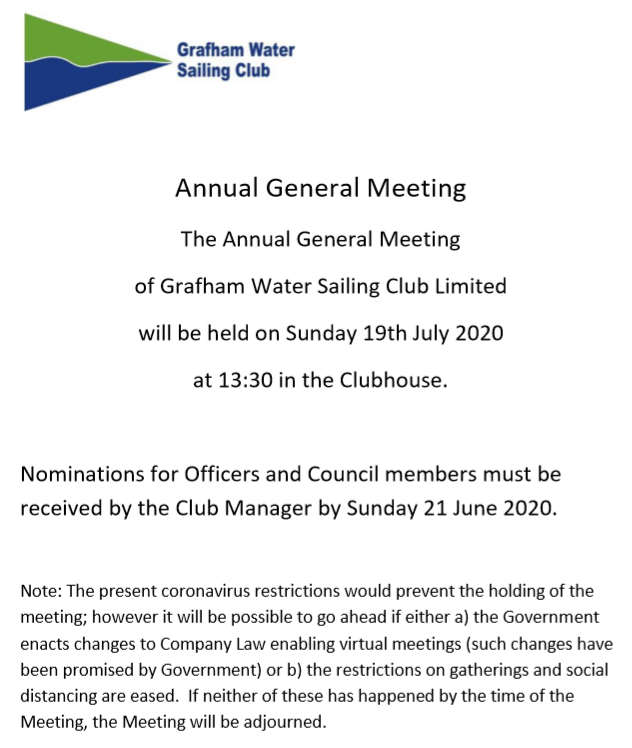 Forthcoming Events
Click here to view a complete list of forthcoming open meetings at Grafham with links to documentation.
All Open Meetings scheduled until the end of June have been cancelled due to Coronavirus. We will update the list as the situation changes.
Online entry, camper van and camping booking is now via the WebCollect system.