News
Briefing: Racing – when to restart? 
We know that many of you are keen to get back to racing so this is an update on the current position.  
 In the short term simple informal competition is the order of the day. Initially this will take the form of a Tower Dash, either to the Tower or a suitable mark depending upon the weather. If you wish to record a time, the office will record and publish the results. The RYA have published a suitable list of apps to help comparison with your peers. Up to six single handed boats at any time could sail this together whilst recognising the social distance rules. 
There are suggestions that rabbit style gate starts organised by yourselves in groups of six boats (single handed) are possible. If you wish to try this you need to remember the 2 metre distancing regulations which makes the gate start difficult, possibly very difficult. 
 Alternative versions of organised racing are being considered with the objective of restoring some form of competition as soon as practical. An early possibility is handicap racing around a one lap course using the fixed club marks. The lap should last 40 minutes or so. Starting is the problem. There could be a starting window of 10 minutes and with the Race Officer recording both a start and finish time. An alternative is to start in groups of no more than six single handed boats with a two minute separation between starts. The starting line will be between a fixed club mark and the shore and managed from the shore.  
 With regard to the weather, we are taking a conservative approach to opening the water as the coxswains are the only safety support available.  
 Allow a lot of time to launch. Launching and recovery is proving to be a problem whilst the water level is so high. It is taking a long time for people to queue so far apart whilst waiting to launch their boat, moor it to the buoy and return the trolley to land. The water level is falling which will reduce this problem. 
Meanwhile keep watching the website. It is likely that the decision to provide organised racing as mentioned above will be made at 24 hours' notice. Notice of Race and Sailing Instructions will be published soon. 
 An online entry process (to replace signing on) for each day's racing has been designed, using WebCollect, to avoid queues in the Club house. We would like you to use it now in order to test and evaluate the process. Please log on using your normal email address and password. There are dates for each day that club racing could occur. Please enter your details as if the racing series is already underway. We will then be able to measure the capability of WebCollect and the office can test the processes they will need. 
 Ian Rawet, Vice Commodore 
Chair Racing Committee 
Keep an eye on the Coronavirus Blog which is being regularly updated (last update 5th June). There is also an FAQ page (last update 29th May), and a dedicated eSailing blog (last update 21st May).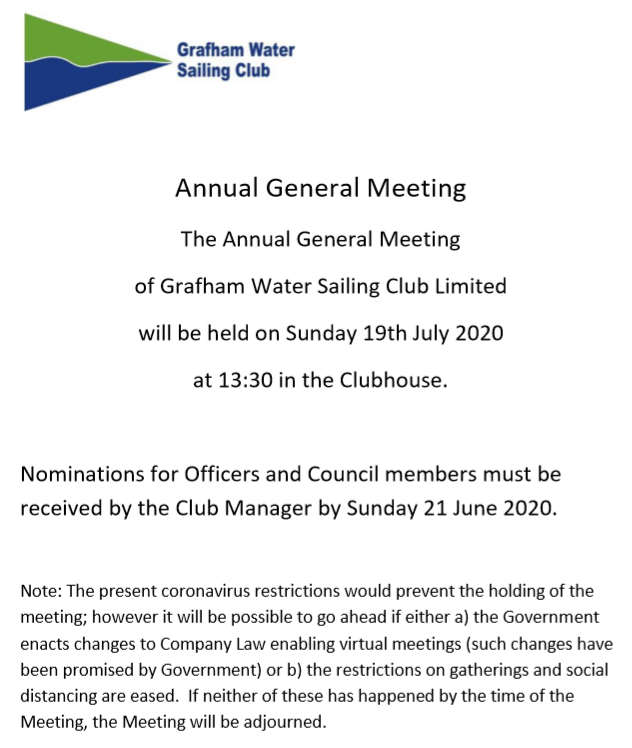 Forthcoming Events
Click here to view a complete list of forthcoming open meetings at Grafham with links to documentation.
All Open Meetings scheduled until the end of June have been cancelled due to Coronavirus. We will update the list as the situation changes.
Online entry, camper van and camping booking is now via the WebCollect system.