News
Stephen Clemmet is stepping down as Principal of our Training School.  We would like to thank Stephen for the commitment and enthusiasm he has brought to the role in the two years he has been in post. Hilary Talbot is taking over as Principal, including representing the Training School on Club Council.
Please note that the site is still waterlogged.  It is advisable not to drive or park on the grass, as it is very likely that you will get stuck.
The new Huntingdon Southern Bypass (part of the A14) is now open. For details on how this affects journeys to/from the club, click here.
Laser Performance have lent the club a couple of Arc rigs for Laser fleet members to try out. If you are interested in trying one, please ask in the office.
Coming up at the Club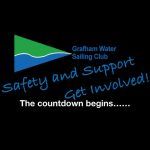 Saturday 14th March is the Safety and Support/Race Team Day. This replaces the previous Safety seminar and includes a day of activities followed by a meal. Click on the graphic to view a video all about the day on YouTube. If you would like to come along please register on WebCollect here. #S&S
The Spring Sunday race series starts on 1st March. There will be two morning and two afternoon races. Please note the start sequence for the morning races has changed – check the sailing instructions.
Forthcoming Events
Click here to view a complete list of forthcoming open meetings at Grafham with links to documentation.
Online entry, camper van and camping booking is now via the WebCollect system.