Chandlery

The new Club Chandlery is now located on the top floor of the Club House opposite the office. Our aim is to provide members and visiting sailors with a wide range of competitively priced repairs / replacement parts so more time can be spent on the water.
We hold stocks of commonly used items and aim to cater for those unexpected breaks by selling quality items from big brands such as English Braids, Holt, RWO & many more.
Our rope stock alone has more than 50 different products from Shock Cord, Dinghy Dyneema, D-racer, Sprintline & Whipping twine.
We also sell a wide range of screws, machine screws (nuts/bolts/washers) and nyloc nuts from M3 – M10.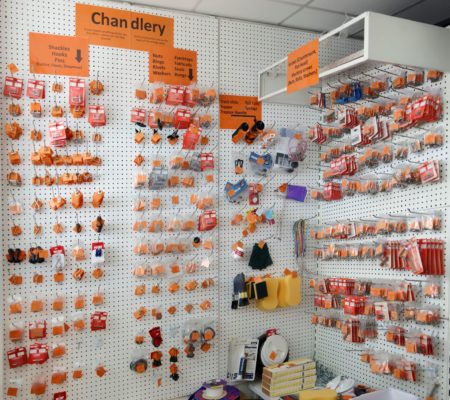 Other products include:
D shackles (standard, bow, extended, twisted, wide)
Hooks (carbine, open, with keeper, nylon)
Rivets
Pins (clevis, drop nose, cotter)
Washers (penny, stamped, shim)
Bungs
Burgees
Electrical tape
Trolley wheels
To see our full range come up and visit the display and our Office staff will be more than happy to help you find what you're looking for. Currently we are accepting card or exact cash payments.
Coming soon for club members only, the opportunity to source one-off larger items (from one of our existing suppliers) at our discounted price.