The following procedures may be varied from time to time. This is current as of 19 May 2021.
Disclaimer:
Whilst GWSC continues to make every effort to comply with both the letter and the spirit of government guidance, members and visitors must accept that they attend the site, and sail, at their own volition and risk. GWSC will not be liable for any illness or other impairment arising from Covid-19 infection. This is without prejudice to wider, non-Covid related liabilities to which the Club is normally subject.
General precautions to ensure the safety of yourself, other club members and the general public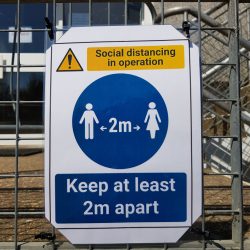 Here are the links to the latest Government guidelines on social distancing and staying safe. Please take the time to ensure you are absolutely familiar with them before visiting the Club site.
https://www.gov.uk/guidance/covid-19-coronavirus-restrictions-what-you-can-and-cannot-do
https://www.gov.uk/government/publications/staying-safe-outside-your-home
The RYA have published an updated FAQ document
If you are unwell with the symptoms of Covid-19 do not attend the Club.
If you have had contact with a family or household member who is unwell with the symptoms of Covid-19 do not attend the Club for a minimum of 14 days.
If you have been instructed by Test and Trace to quarantine do not attend the Club.
Please adhere to any specific guidance in force and do not travel to the club if this would be against the guidance.
Wash or sanitise your hands after touching common surfaces – and always after coughing, sneezing and before and after arriving and leaving the Club. Hand sanitiser is available at various points around the club.
Cover your mouth and nose when sneezing or coughing, and avoid touching your face, nose and eyes.
Keep your distance and avoid being face to face with people from outside your household.
Maintain the two metre rule and the limit on gatherings of thirty people outdoors
You may mix with six people or two households indoors, this includes the club cafe
Do not share water bottles or food with people from outside your own household
Bring your own tools. Do not share anything.  You may wish to use personal disposable gloves.
You are advised to bring some disposable gloves with you and use them if touching common surfaces.  Also consider bringing a first aid kit with you so you can attend to minor cuts and injuries yourself.
Arrival and Parking:
Opening times are listed here
The club is required to enable a record to be kept of everyone who visits the site for Track and Trace purposes.  Please download the NHS Covid-19 App to your smart phone and use it to scan the QR code displayed on posters around the site, every time you visit the club. If you can't scan the QR code, please fill in a registration slip at the entrance to the cafe and post it in the box supplied. Slips will be held securely for 21 days and then destroyed.
We are fortunate to have a large site so parking even with the current restrictions should not be a problem.  But please make sure you park well apart from the next car, sufficient to ensure social distancing when getting in or getting out.  That may mean you need to park further away from your boat than normal.  If we have a lot of people on site it may also necessitate using the top (visitor) field. Please do not park in Shrimp Alley.
Rigging and access to the water: adhere to the social distancing principle of 2 metres separation.  If somebody in the adjacent berth is rigging their boat at the same time, come to an arrangement with them whereby you can both do this safely. At this time the Government guidance to be followed allows groups of six people or two households, adhering to the 2 metre separation guideline.  Larger gatherings are not permitted and this must be observed in the boat park.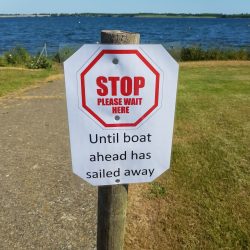 When launching be sure to adhere to the 2 metre separation guidelines. Remain away from the slipway until the person in front has returned their trolley to the grass area and is afloat. Do not stack trollies on top on each other. Windsurfers should be careful to maintain the 2 metre separation when using the steps.
As a guiding principle you should avoid touching other persons' boats or trollies at any time.  If you have to do so, e.g. to help somebody launch where otherwise it would be impossible for them to do so, wash your hands (or gloves) immediately afterwards.  Please avoid queueing on slipways and please do not park trollies for others unless it is unavoidable.
Procedure for Launching and Recovering Keelboats:
the Coxswain can provide launching assistance
when asking for help maintain 2 metre distancing
only the Coxswain will drive the tractor, to prevent the possibility of cross contamination from others getting in the cab. Sailors should hook the trailer onto the hitch themselves.
sailors will unhitch the trailer themselves
if assistance is required when coming back to the jetty , this should be worked out amongst the fleet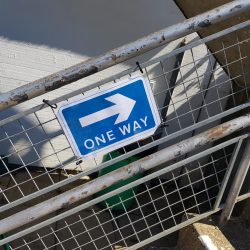 The Clubhouse is partially open: access is limited to the toilets and hand-wash basins, the changing rooms and showers (from 24th April) and the office. The one-way system devised to maintain social distancing must be used. There will be signage at the toilets indicating the procedures to follow.  You should enter the toilets by the outside doors on the half landing facing the roundabout and leave by the fire-escape door in the changing room. Do not attempt to enter via the fire-escape or leave by the front door.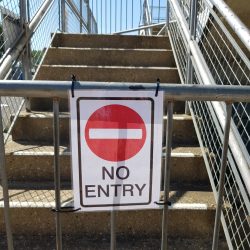 There is no access to the Coxswain's shed or the other club buildings.
Changing Rooms:
The changing rooms are reopening on 24th April. We continue to ask members where possible to change at home or in their cars. There is limited access controlled by a token system. Before using the changing rooms, please watch this short video and review the guide to use of the changing rooms.
Cafe: 
The Café is operating a take-away service with a one-way system. If entering the cafe you must wear a face-covering unless you are covered by an exemption.
Ordering: Menus are on display on the windows. To place an order enter through the door on the West side of the Clubhouse. There is hand sanitiser available by the door.
Only one person in the café ordering at any time. Place order at the servery – stand behind line on floor. Move forward to pay when asked – card payments only. 
Or you can text your order to Lisa on 07738 401190. 
Food Collection: Follow the one-way system to the collection point. Only one person in the café collecting food at any time. Collect your order from the table. Exit through the door on the East side of the Clubhouse. There is hand sanitiser available by the door.
Eating: Please move away from the vicinity of the Clubhouse. Respect the guidance on social distancing (2 metres) and the regulations on gatherings (no more than two). Rubbish – please place in the bins. 
The table service in the cafe has been reinstated due to the current Covid-19 restrictions and you may meet with up to six people or two households in the cafe.
Top Deck Bar:
From Wednesday 19th May food and drink will be served upstairs after racing. Apart from this the top deck remains closed. You must wear a facemask except when seated at a table. There will be table service only. Please watch a three minute video explaining how the food and drink service will work.
On the Water:
Single-handed sailing, or sailing in the same boat by persons living together in the same household or within the same support bubble, is permitted. 
Beyond that double handed sailing may be possible in accordance with the following: 
As a Club our policy is to follow Government and RYA guidance.  Double handed boats at Grafham come in many shapes and sizes and it is not appropriate for the Club to issue blanket guidance covering all.  Double handed sailing is clearly consistent with Government guidance for those living in the same household or within the same support bubble.  In other cases individuals will need to make their own judgements as to whether they can sail their boat in a way that is compliant with Government guidance.  Before making a decision to sail together we would expect individuals to have considered all the issues concerned, and be in a position to justify their actions if challenged.  The RYA issued updated detailed guidance on the possibilities for double-handed sailing on 16 March 2021 and this should be taken into account deciding on double-handed sailing.
In addition, where a particular class has issued guidance specific to that class, we would expect individuals to adhere to this guidance. 
Safety Cover:
Following the government's further relaxation of Covid regulations, applicable from Monday 17th May, Grafham Water Sailing Club has reviewed it's current arrangements for providing Covid-secure safety cover for sailors. It is important for members to recognise the need for continued discipline and good practice in the use and application of measures to minimise risk of transmission – the virus has not gone away, and the new variants which are now predominant in the UK are considerably easier to transmit and catch. That said, we believe it is now possible to make incremental steps towards a more recognisably 'normal' level of safety boat provision, as part of a progression towards the further relaxations signposted for later in June.
Two specific changes will be implemented from the 17th:
1. Safety boat crewing
Volunteers will be given the choice to double crew if they wish, as an alternative to the current position of single crewing or crewing within their own household bubble only.
2. Tasks undertaken by safety boats
2.1 Volunteers and coxswains will be given the discretion to provide more assistance to sailors if they deem it safe to do so. This will extend the assistance they can provide to sailors from the current 'in extremis' cover that has been in place since sailing resumed.
2.2 The duty coxswain to have the decision on flying the Red/White flag, dependent on conditions and availability of rescue boats – so, for example, if we have a Sunday with a forecast for stable, unshifting wind direction/strength and double crewed safety boat(s) on the water, the coxswain may decide not to raise the Red & White. By contrast, if it's midweek, with no on-water safety boat crew and gusty variable winds, the Red & White may be the obvious choice.
All changes are predicated on continuing to maintain good Covid-secure discipline – separation, facing away from each other, disinfecting controls between users, gloves and masks when handling casualties, etc.
Club members should remember that sailing events are only possible through the willing support freely provided by volunteers, who give up their time and own opportunity to sail to crew safety and committee boats. The regrettable instances of abuse directed at them by sailors does nothing to help make up the shortfall we constantly face in finding enough volunteers. Members may wish to reflect on their own behaviour in the event that racing has to be cancelled or curtailed due to lack of volunteers. Any members that can put themselves forward for training to crew safety and committee boats will be most gratefully welcomed aboard!"
Safety Drivers: please watch the Covid-19 Safety Procedures Training Video  In addition to these instructions all RIBs are now equipped masks to be given to any individuals when being rescued where possible.
Safety is paramount: the flags displayed by the Coxswain must be observed. If your equipment has not been used for some time, be sure to check everything before going afloat. RIB support is limited so the sailing area may be restricted. The Coxswain is entitled to impose limits based upon people's level of skill which will vary according to weather conditions; these limits will be applied more conservatively than usual.  It is suggested that boats (excluding keelboats) that normally are crewed by two, when sailed singleton use mast head floats.
Casual sailing:  Boats should maintain two metres distance on the water.  Be careful of people hiking or out on the wire especially when crossing tacks.
Racing: Racing will restart on Sunday 4th April 2021.
Open Meetings: Open Meetings may be held subject to limits on entry numbers.
Day Sailing: day sailing can be booked online via WebCollect.
Club Boats: Club boats and windsurfers are now available for hire by members. Please contact the office on 01480 812752 or 07943 196522, it is essential that you book in advance. Stand Up Paddleboards will be available for hire by members soon. These can be booked online via WebCollect.
RIBs:  RIBs are currently only in use by the Coxswains and specific RIB drivers who have been given additional training.
Staff on site:
There will be a coxswain on site all the time the site is open, based in the coxswain's shed. To talk to him, do not enter the shed and do not cross the 2 metre line marked at the shed entrance.
The Office is now open. Please wear a face-covering, follow the one way system and observe all signage. The hours when the Office is open are shown on the website. They can be contacted on 01480 810478 or  07943 196522.
The Chandlery is also available, please do not try to enter the chandlery, give your order details at the desk in the doorway. You can also place an order by emailing coxswains@grafham.org and collect/make payment (card or exact cash only) from the coxswain's shed. Orders will be available for collection following the Thursday after ordering.
Strimmers: Strimmers are now available for members to borrow to strim their boat berths.  You should arrange with the coxswains and collect from the coxswain's shed.  You will need to bring your own PPE (safety glasses, gloves and ear protectors) and will be responsible for sanitising the contact areas of the strimmer both before and after use.
For hygiene reasons tools other than strimmers may not be borrowed from the coxswains.  If you need anything, please bring it with you.
Risk Assessment: click to access the Club's Covid-19 risk assessment.
Compliance:
Compliance with these Operating Procedures is a requirement of the Club Regulations.
In the unlikely event that there are observed misdemeanours, a member of staff or Club Officer may ask the person(s) concerned to desist.  If a further request is not complied with, the matter will be reported as a disciplinary matter and be dealt with in accordance with the Club Rules.