Boats for Sale
The Club is pleased to advertise details of boats that are for sale. This service complements existing arrangements via the Club notice boards. You are expected to make a donation to the Club in the same way as is customary for advertisements posted on Club premises.
Boats currently available
Note that Grafham Water Sailing Club accepts no liability for the following advertisements: responsibility for their accuracy lies entirely with individual advertisers.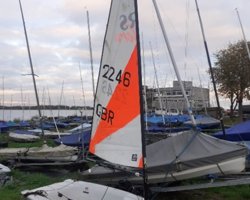 Class: RS Tera
Built: Sail number 2246
Length:
Price: Offers over £900
Location: Grafham Water SC
Contact: Pete Emeleus 07751289191
Email: ging30@hotmail.com

R.S Tera Ideal starter boat for 8 to 12-year-old`s
• In good working order
• New cover
• Including launching trolley
• Kept at G.W.S.C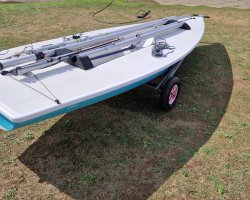 Class: Laser
Built:
Length:
Price: £1400 ono
Location:
Contact: Gareth Russell
Email: russell.gareth@live.co.uk

Laser 141040 good condition for age. some marks and scratches as expected for age as you can see in the pictures.

Deck has some age crazing but fully water tight.

Full and Radial Rigs

Sails, 1 Mk2 full , 1 Rooster full, 1 folded laser full. 1 radial.

Full Harken XD fit out including new ball bearing mainsheet blocks

Carbon Tiller and extension

Foils in good condition

Fairly new Hyde Top Cover and Undercover

Trident gunnel hung trolley in good condition

Viewing available near Huntingdon / St Neots

Delivery to local Sailing Clubs can be arranged

Tel / Whatsapp: 07956 107615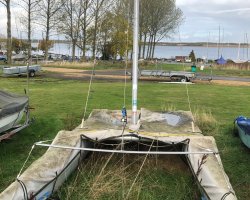 Class: Dart 16
Built:
Length:
Price: Bids
Location: Grafham Water SC
Contact: Natalie
Email: office@grafham.org

Sold as seen; no sails or rudders. Launching trolley, mast and cover included. For sale as per Rule 15 to recover outstanding subscription dues.

Sealed bids to the office, for the attention of Natalie please - bids close at 10:30am on Friday 4th November 2022.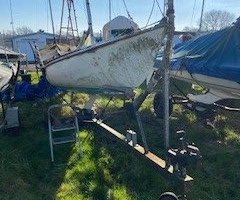 Class: Flying Fifteen
Built:
Length:
Price: £250
Location: Grafham Water SC
Contact: Tim O'Brien
Email: tim.obrien@metasphere.co.uk

FF2470– Femella Fusca - a Classic Flying Fifteen, lying at Grafham Water – not sailed for more than 7 years; in reasonable condition as can be seen, but needs TLC (pressure washing!) with good Main and Gib; over the boom cover is fine– trailer will need attention before towing. Selling on behalf of GWSC – reasonable offer accepted – please contact Tim O'Brien 07831 179584; or tim.obrien@metasphere.co.uk.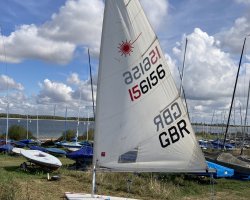 Class: Laser 1 - 156156
Built: 1995
Length:
Price: £1250
Location: Grafham Water SC
Contact: Alex Martin
Email: alexmartin715@gmail.com

I'm selling my Laser as I don't get enough time to use it unfortunately. It sails well, although I don't race so no idea how competitive it is. Hull has usual wear and tear for its age and no leaks. Mast step is good. Recently fitted a new rooster toe strap and cover is about a year old. Comes with two daggerboards but one needs some repair.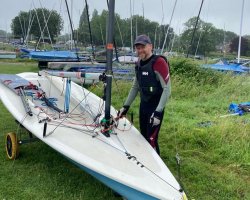 Class: Supernova Mk1
Built: 2008?
Length:
Price:
Location: Grafham
Contact: Tom Holbrook
Email: holbrook.t@gmail.com

In the interests of rationalising my sailing, I'm thing of selling my lovely Giles-build Mk1 Supernova. It has a high blue hull, is all in good shape with lots of mods and refinements (Harken blocks, etc). It comes with an older sail and a newer branded sail, a launching trolley and rather worn cover.

A great fun boat – sensible offers over £1,000 will be considered. Contact Tom on 07711 314967 or holbrook.t@gmail.com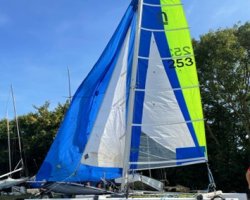 Class:
Built:
Length:
Price:
Location: Grafham Water SailingClub
Contact: Julie
Email: 07557 684110

Ideal for solos sailing but will comfortably accommodate 2 adults

SHE COMES WITH THE FOLLOWING:-

3 MAIN SAILS – 2 OF WHICH ARE CRISPY NEW (PERFORMANCE SAILS)
HARKEN MAIN SHEET 6/1
BESPOKE STAINLES STEEL LOCKABLE SAIL BOX
1 SPINAKER IN GOOD CONDITION WITH A FEW SMALL REPAIRS
2 JIB SHEETS (1 RACING – 1 TRAINING)
MAGIC MARINE RUDDER COVERS
DOUBLE TYRE LAUNCHING TROLLEY
TELESCOPIC TILLER
GALVANISED ROAD TRAILER WITH FOLDING WING SUPPORTS
TRAMPOLINE IS IN PERFECT CONDITION
BOAT COVER IS USED BUT IN SERVICEABLE CONDITION
HULLS DO NOT LEAK
WE HAVE RECENTLY REPLACED THE TRAPESE ELASTICS
MAST HEIGHT 26.25ft
MAINSAIL 143.16ft2
JIB 37.14ft2
SPINNAKER 134.55ft2
OVERALL LENGTH 15.75ft
BEAM 8.04ft
DISPLACEMENT 308.65lb
MATERIAL GRP

ANY QUESTIONS OR TO ARRANGE A VIEWING PLEASE POP OVER A MESSAGE or call Julie 07557 684110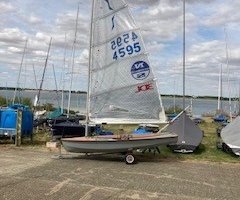 Class: Solo
Built: 2005/2006
Length:
Price: £1,495
Location: Grafham Water SC
Contact: Alan Powell
Email: alan.swimwise@gmail.com

A nice looking all wood Solo, built by Alister Raynard. JP Foils, North Dacron Sail in excellent condition. Combi trolley/trailer. Undercover, flat trailing cover and boom up cover, all in good condition.

A good sound boat, which has given good service. An ideal starter/return to sailing boat. Unfortunately, health issues force sale.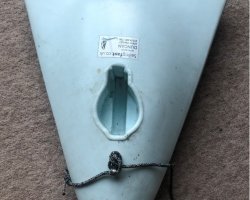 Class: Laser Vago and Bahia Mast Head Float
Built:
Length:
Price: £40ono
Location:
Contact: Nige
Email: nige.morse@virgin.net.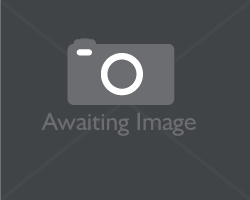 Class: Topper Sport 16
Built:
Length:
Price: £1300
Location: Grafham Water SailingClub
Contact: Izzy Bishop
Email:

Other details: purchased last year but found to be too heavy for us to get in and out of water. Brand new cover.

Contact details: 07484 123753