Boats for Sale
The Club is pleased to advertise details of boats that are for sale. This service complements existing arrangements via the Club notice boards. You are expected to make a donation to the Club in the same way as is customary for advertisements posted on Club premises.
Boats currently available
Note that Grafham Water Sailing Club accepts no liability for the following advertisements: responsibility for their accuracy lies entirely with individual advertisers.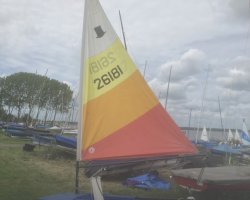 Class: Topper
Built:
Length:
Price: £250
Location: GWSC
Contact: Chris Waters
Email: chriswaters51@hotmail.com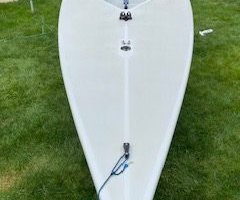 Class: Laser 1
Built: 1999
Length:
Price: 2100
Location: Ely, Cambridgeshire
Contact: Kirk Stamford
Email: stamfordkirk@gmail.com

Excellent condition: Rudder, Dagger board, Carbon fibre tiller, Main sheet, Downhaul, Outhaul, Harken kicker XD, Launch trolley (only)

Good condition: Cover, Sail (not for serious racing). Sail number is different to hull number

Hull has few signs of wear but please see pictures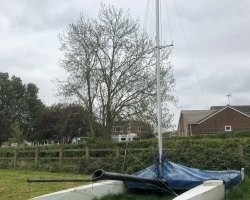 Class: Tornado
Built:
Length:
Price: £800 ono
Location: Grafham Water SC
Contact: Office 01480 810478
Email: office@grafham.org

Sold as seen. No rudders or sails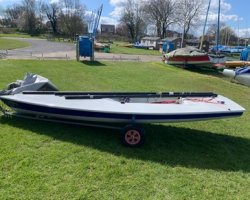 Class: Laser
Built: Sail: 171897
Length:
Price: £2250
Location: Grafham Water SC
Contact: Steve
Email: 07940328767

Laser Race Blue xd with Full and Radial Rigs.

Hull is very good and little used. Has standard and radial rig with cover and metal launch trolley. Radial sail is ok and newer than the full sail which is past its best! It also comes with a double stack West Mersea road trailer with a storage box underneath. Foil has a small chip on the bottom which can be easily repaired. Rudder good and carbon tiller. Laser foil bag and spare mainsheet.

Road trailer has two spare wheels and spare set of wheel bearings.

Price £2250
Or if a Grafham Youth Sailor or start to sail sailor £1500.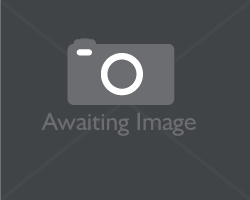 Class:
Built:
Length:
Price:
Location:
Contact: John Laxton
Email: laxtonja@gmail.com

Wanted: a solo rudder and stock, any condition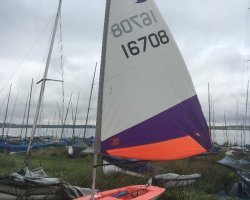 Class: Topper
Built:
Length:
Price: £375
Location: GWSC F40
Contact: Rick Screaton
Email: rick.screaton@gmail.com

Sail no 16708

Topper sailing dinghy 'Topsy Turvey'. Includes centre main rig, plus 6 to 1 downhaul, launch trolley (non-standard) and boat cover. Good condition - a good starting boat for a young sailor.