Boats for Sale
The Club is pleased to advertise details of boats that are for sale. This service complements existing arrangements via the Club notice boards. You are expected to make a donation to the Club in the same way as is customary for advertisements posted on Club premises.
Boats currently available
Note that Grafham Water Sailing Club accepts no liability for the following advertisements: responsibility for their accuracy lies entirely with individual advertisers.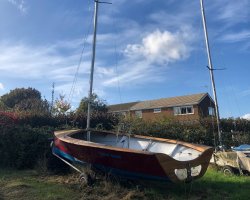 Class: Merlin Rocket
Built:
Length:
Price: Open to offers
Location: Grafham Water SC
Contact: Natalie
Email: office@grafham.org

Merlin Rocket for sale as a result of Rule 15 process. Beautiful wooden boat; needs a lot of work. A project for someone?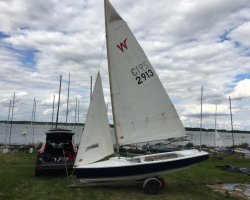 Class: Wayfarer
Built: Mid 1970's
Length:
Price: £500
Location: Grafham Water SC
Contact: Paul Kersley
Email: paulkersley@ymail.com

Good boat to learn in, very forgiving and comfortable for taller sailors.  Put a lot of time and effort into refurbishing a few years ago so in pretty good condition for her age (needs a clean but will be done).  New Trident cover last year ready for winter.  Sail has a buoyancy bag at the top to prevent from inverting (very comforting).  Has a launch trolley and road trailer which needs new wheels but can be sorted.  More photos and info on request – tel: 077808 305776.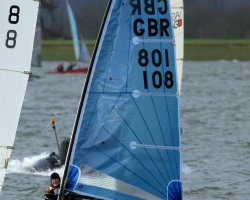 Class: D-Zero
Built: 2014
Length:
Price: £3900
Location: Hunts SC/Cam SC
Contact: Graham Cox
Email: morris@cox93.co.uk

GBR108 from first production batch, epoxy glass hull well maintained by Phoenix.  I am now too old for such an exciting boat.

8.1m² grey laminated Mylar sail with carbon fibre spars
6.8m² blue laminated Mylar sail with corresponding carbon lower mast
Dagger board, cassette rudder and pivoting rudder.
12:1 kicker, 5:1 Cunningham, fixed limit on traveller but would be easy to revert.
Aluminium launching trolley from Suntouched Sailboats Ltd.
Boom up overcover in Weathermax and Mast anti-UV cover in PVC coated canvas, both made by Ian Morgan.  Devoti boom down overcover and undercover for trailing.  Devoti Ripper covers for all spar sections, dagger board, cassette rudder and corresponding tiller assembly but not for pivoting rudder & tiller assembly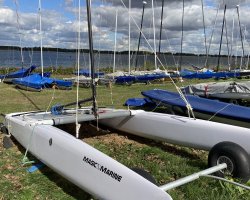 Class: A Class Bimare V1R
Built: 2012
Length:
Price: £4400
Location: Grafham Water
Contact: Frank Sandells
Email: frank.sandells@ix250.com

Length 5.5m
Beam 2.3m Carbon sandwich hulls Carbon, mast, beams, boom, dagger boards & rudders. Curved dagger boards 13.94m2 Mainsail Harken / Ronstan fittings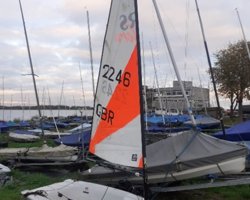 Class: RS Tera
Built: Sail number 2246
Length:
Price: Offers over £900
Location: Grafham Water SC
Contact: Pete Emeleus 07751289191
Email: ging30@hotmail.com

R.S Tera Ideal starter boat for 8 to 12-year-old`s
• In good working order
• New cover
• Including launching trolley
• Kept at G.W.S.C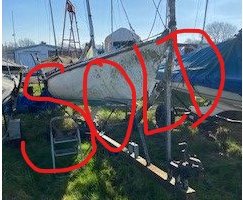 Class: Flying Fifteen
Built:
Length:
Price: £250
Location: Grafham Water SC
Contact: Tim O'Brien
Email: tim.obrien@metasphere.co.uk

FF2470– Femella Fusca - a Classic Flying Fifteen, lying at Grafham Water – not sailed for more than 7 years; in reasonable condition as can be seen, but needs TLC (pressure washing!) with good Main and Gib; over the boom cover is fine– trailer will need attention before towing. Selling on behalf of GWSC – reasonable offer accepted – please contact Tim O'Brien 07831 179584; or tim.obrien@metasphere.co.uk.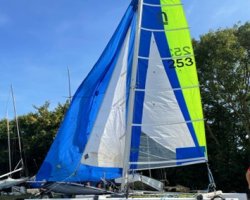 Class:
Built:
Length:
Price:
Location: Grafham Water SailingClub
Contact: Julie
Email: 07557 684110

Ideal for solos sailing but will comfortably accommodate 2 adults

SHE COMES WITH THE FOLLOWING:-

3 MAIN SAILS – 2 OF WHICH ARE CRISPY NEW (PERFORMANCE SAILS)
HARKEN MAIN SHEET 6/1
BESPOKE STAINLES STEEL LOCKABLE SAIL BOX
1 SPINAKER IN GOOD CONDITION WITH A FEW SMALL REPAIRS
2 JIB SHEETS (1 RACING – 1 TRAINING)
MAGIC MARINE RUDDER COVERS
DOUBLE TYRE LAUNCHING TROLLEY
TELESCOPIC TILLER
GALVANISED ROAD TRAILER WITH FOLDING WING SUPPORTS
TRAMPOLINE IS IN PERFECT CONDITION
BOAT COVER IS USED BUT IN SERVICEABLE CONDITION
HULLS DO NOT LEAK
WE HAVE RECENTLY REPLACED THE TRAPESE ELASTICS
MAST HEIGHT 26.25ft
MAINSAIL 143.16ft2
JIB 37.14ft2
SPINNAKER 134.55ft2
OVERALL LENGTH 15.75ft
BEAM 8.04ft
DISPLACEMENT 308.65lb
MATERIAL GRP

ANY QUESTIONS OR TO ARRANGE A VIEWING PLEASE POP OVER A MESSAGE or call Julie 07557 684110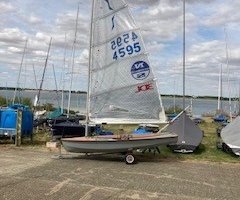 Class: Solo
Built: 2005/2006
Length:
Price: £1,495
Location: Grafham Water SC
Contact: Alan Powell
Email: alan.swimwise@gmail.com

A nice looking all wood Solo, built by Alister Raynard. JP Foils, North Dacron Sail in excellent condition. Combi trolley/trailer. Undercover, flat trailing cover and boom up cover, all in good condition.

A good sound boat, which has given good service. An ideal starter/return to sailing boat. Unfortunately, health issues force sale.