Boats for Sale
The Club is pleased to advertise details of boats that are for sale. This service complements existing arrangements via the Club notice boards. You are expected to make a donation to the Club in the same way as is customary for advertisements posted on Club premises.
Boats currently available
Note that Grafham Water Sailing Club accepts no liability for the following advertisements: responsibility for their accuracy lies entirely with individual advertisers.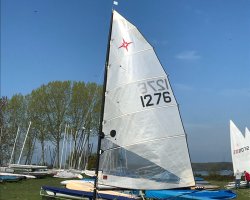 Class: MK2 Supernova
Built: 2020
Length:
Price: £7,500
Location: GWSC
Contact: Mark
Email: 0787 999 8175

Hartley Built 2020 - Sail No. 1276
Excellent condition. Well equipped & maintained boat. Hardly used.
9th position in 25th Anniversary Nationals.
- 2x Main Sails, Jeckells (1 is new)
- 1x Storm Sail, Jeckells (new)
- Foils excellent condition
- Top & Bottom covers
- Go Pro Mount
- Bottle Holder
- Launching Trolley

Reason for sale : changed Class to K6.

Contact : Mark 0787 999 8175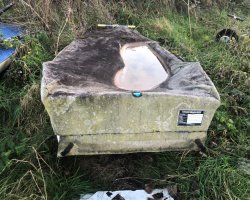 Class: Optimist
Built:
Length:
Price: Sealed Bids
Location: GWSC
Contact: Office
Email: office@grafham.org

Selling under Rule 15 of the club, the boat can be seen in the dead boat area.

Sealed bids need to be made to the office by 27th November 2023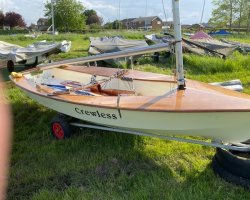 Class: Solo
Built:
Length:
Price: 950
Location: Grafham Water SC
Contact: Paul Kersley
Email: paulkersley@ymail.com

It comes complete with 3 sails, one of which is a North Sail, and a launch trolley. It is a Winder and c/w composite hull and wooden deck (freshly and professionally varnished).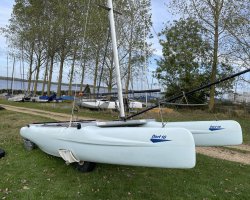 Class: Dart 16X
Built:
Length:
Price: £1500 or nearest offer
Location: GWSC
Contact: Eddie
Email: eddiecmcc@gmail.com

Dart 16X complete with road trailer, launch trailer, main, jib and gennaker sails.

It will need a replacement gennaker tube plus a few new ropes/sheets particularly trapeze shock cord.

Price £1500 or nearest offer.

More photo's available on request.

Contact no 07977 221279 email eddiecmcc@gmail.com.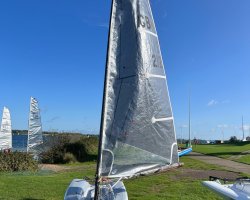 Class: D Zero (GBR 212)
Built: 2016
Length:
Price: 3500
Location: Grafham Water
Contact: Steve Lodge ~ 07758212686
Email: stephenlodge@live.com

Two tone grey hull
8.1m race sail ~ good condition
8.1m training sail (Morgan Sails) ~ good condition
Alloy launch trolley
Boom up and boom down covers

Really lovely boat, used but not abused. Some small cosmetic marks after seven years of fun.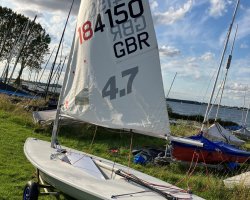 Class: Laser
Built: 2006
Length:
Price: Any Offer Considered
Location: GWSC
Contact: Olivia Kinnear Lewis
Email: oliviakinnearlewis@gmail.com

Includes:

- Hull - in very good nick (184150)
- all foils/sheets
- Laser 4.7 sail (Original number 195168, changed to 184150)
- Laser Radial sail and sail bag (184150)
- 4.7, Radial and full rig lower mast
- Foil bag
- Trailer (just put on new wheels)
- Cover

Selling as going to uni.

Asking price: £2990

All offers appreciated

Contact: Olivia Kinnear Lewis - 07921 335491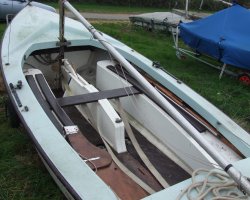 Class: GP14
Built: 1970
Length:
Price: Any Offer Considered
Location: GWSC
Contact: Frank Bellingham
Email: frankqb5@outlook.com

GRP with wooden trim. Complete set of sails including main, genoa, jib and spinnaker. AI mast and boom. Launching trolley and road trailer. Cover (old).

Reason for sale: reluctantly due to ill-health and age.