Windsurfing Fleet
Windsurfing on Grafham Water
Grafham Water is an oval shaped reservoir nearly 9 miles in circumference surrounded by a flat landscape with no wind obstructions giving good sailing conditions in nearly all directions with no  cross chop.
The sailing club is located on the southern shore of the reservoir and has two main launch sites:
The Eastern Area is the large grass area that you see in front of you as soon as you enter the club. Plenty of car parking and huge grassed area for rigging. Enter water via slip way.
The Cat Park is found at the far western end of the club, turn left as you enter and follow the perimeter road right to the end. Again there is plenty of car parking and grass rigging area. Enter the water down a set of steps into the reservoir.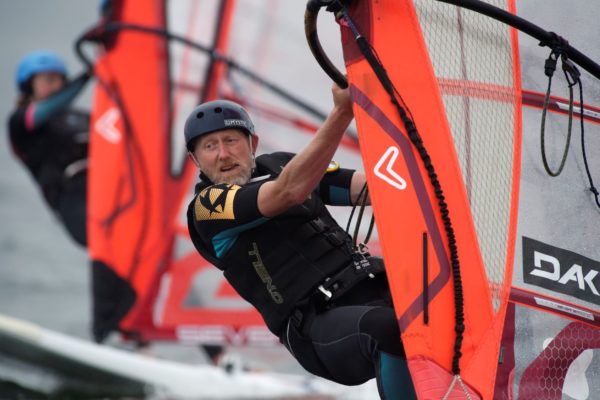 The club is now accredited by the RYA to provide windsurfing courses for adults and youths at beginner and improver level. Details are available here.
Where and when to sail
South to SW is off shore at the Eastern end of the grounds so there is a wind shadow. The best place to launch is from Cat Park as this gives easy access to clean wind and great sailing.
South to SE is off shore at both Cat Park and Eastern area and the least friendly wind direction for windsurfing due to the wind shadow giving gusty launch conditions. Either go big with floaty slalom kit and blast off shore in flat water or there is excellent sailing by the dam as the wind funnels through with 300m of good clean wind once clear of the wind shadow. Launch from the Eastern area and sail to the dam as this is also best to work back up wind.
West and East winds give cross shore so launch from either site and the sailing is epic with waves in the middle of the lake but flat on the inside for gybing.
North is on shore and it is best to launch from the Eastern area as it is slightly easier to tack up wind from here. Again excellent sailing.
Fleet Officers