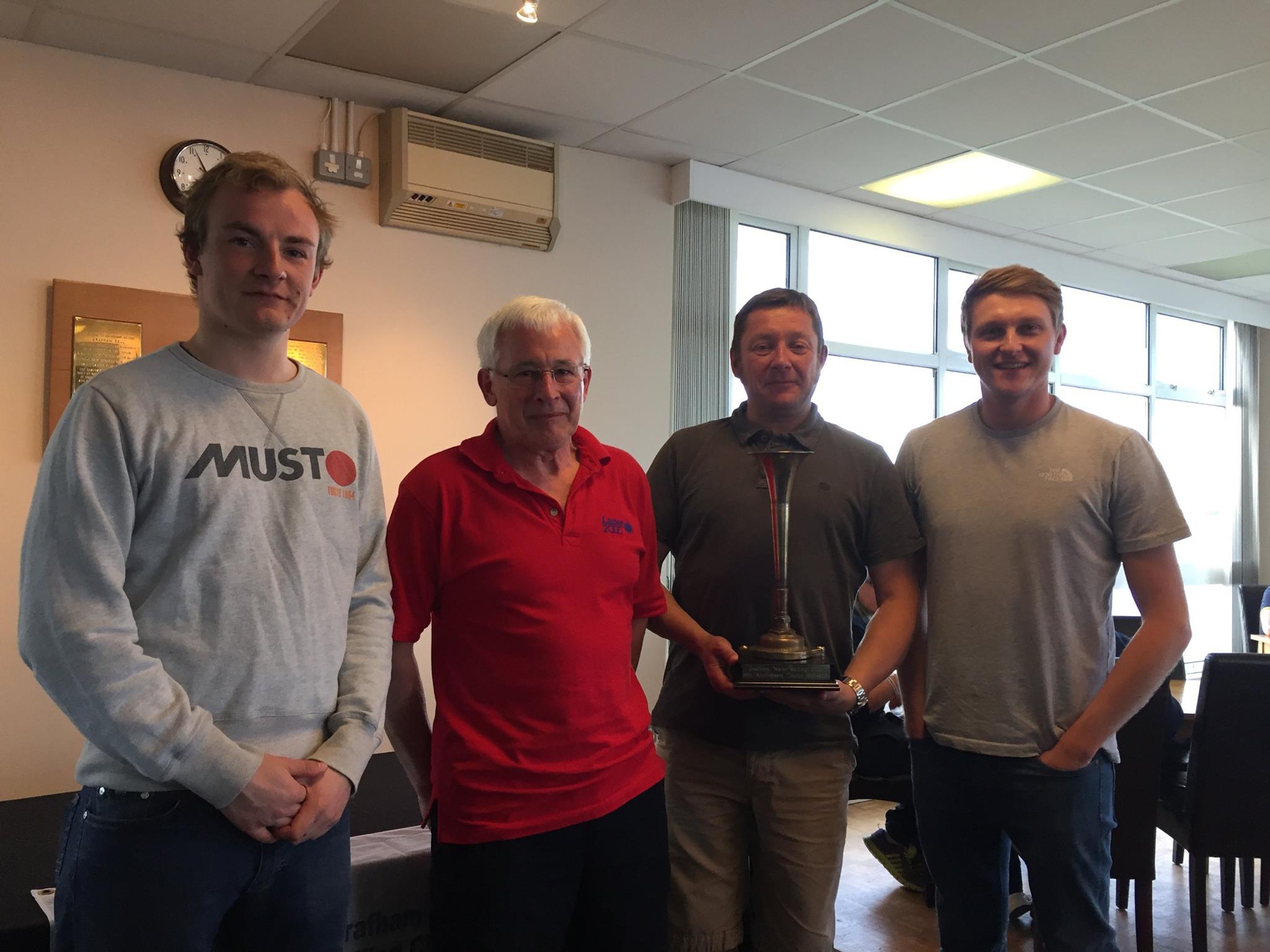 There were some epic performances in the 50th anniversary nine hour race yesterday. The wind varied from mainly around 20 knots, gusting to 30 and dropping to 6-8 for s short while, but it stayed mainly dry, apart from one vicious squall.
Thirteen teams took part, and overall winners were the Flying 15 team of Mark & Jacob Aldridge, Andy Baldwin and John McNamee. They were the only boat not to capsize, and sailed 60 miles – that's 11 laps of the 5.4 mile course, taking in 13 of the club marks around the lake, from Lymage in the west to Inlet in the east.
Second overall were Sam Rowell and Nick Swain (Felixstowe Ferry) in their Spitfire, who sailed the whole nine hours without a crew change, covering a distance of 87 miles – and that's without taking account of extra distance sailed zig-zagging upwind and downwind.
Third overall were the D-Zero threesome of John Aston, Dan Wigmore and Richard Major, who also covered a distance of nearly 60 miles.
The other finishers were two Sprint 15's (including one with two young teenager crews – James Cummerson and Jack Mash) and an RS400, and last but not least was the well-reefed Kimbolton School 2000, who took a two-hour pitstop to race in the match against the OKs (former pupils) – which they lost, but the OKs team did include 2016 Olympian Ben Saxton!
Many thanks to Peter & Judith Baldwin for their race management and real-time results processing, and the thirteen safety crew, managed by Dave McNamee, who provided excellent cover thought the event.
After the prize-giving, about thirty competitors and supporters stayed on for an evening meal in the clubhouse.
There is no gallery selected or the gallery was deleted.