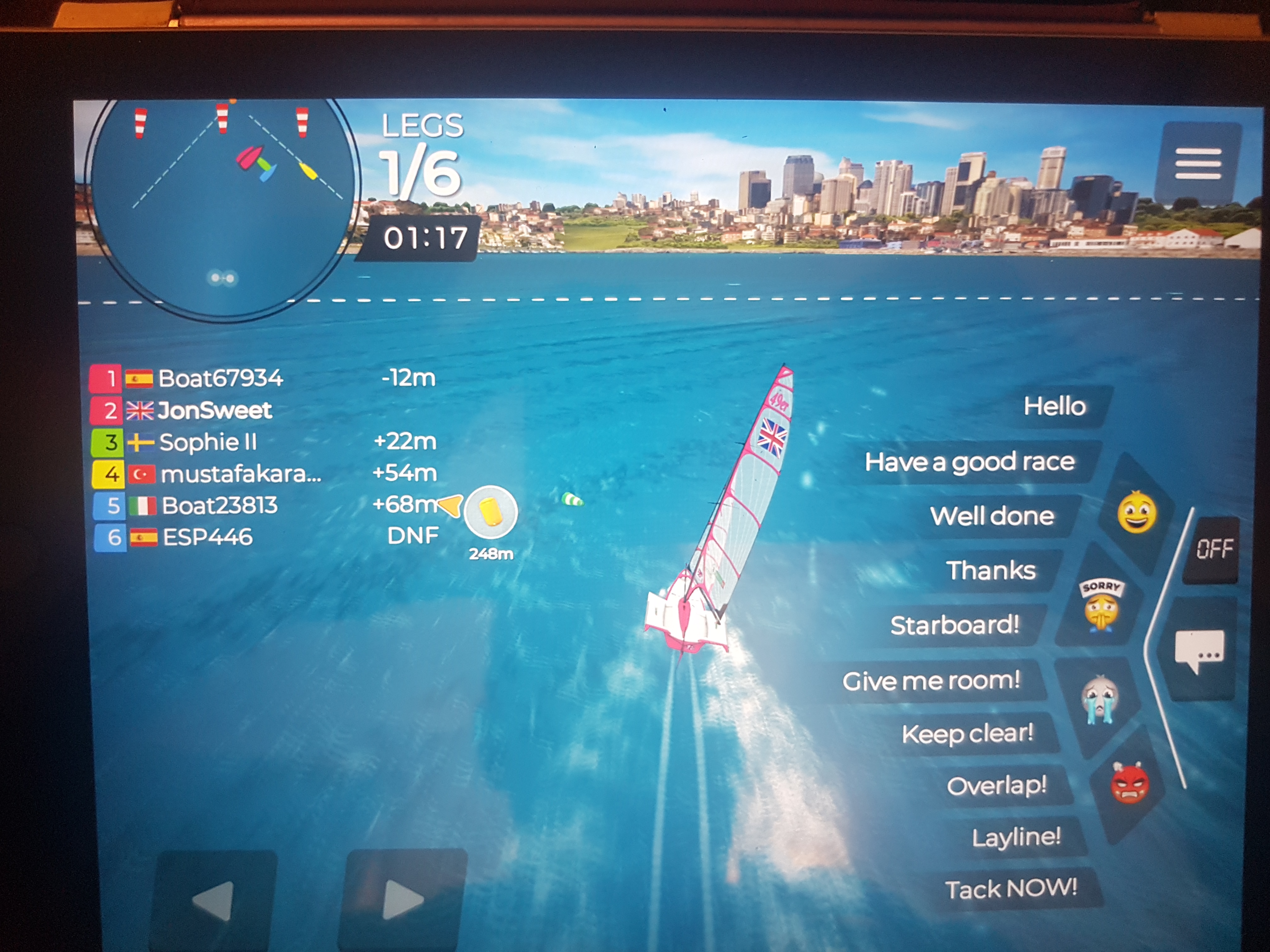 Missing your racing fix? Then eSailing is the answer. Several Grafham fleets are now running eSailing races using Virtual Regatta. Click here to access the eSailing Guide.
eSailing Schedule and Contacts
eSailing is now in abeyance as real sailing has restarted. Look out for more eSailing in the autumn. Newly appointed eSailing fleet captain is James Curtis. Watch for more information.
Results are on the club website here.
End of Wednesday Lockdown until the Autumn
The Wednesday Lockdown series has now finished following the start of Wednesday night sailing at the club. Virtual Racing will be back with a new series in the autumn. The Lockdown series was a great success with 22 sailors taking part and intense competition on the start line every week. A total of 30 races were sailed with 10 discards allowed.
The final results are:
4th Andy Seal 97 points,
3rd Jonathan Powell 91 points,
2nd Matt French 63 points,
And the winner………….
1st Colin Glover 45 points
Well done to Colin and thank you to everyone who took part.
A special mention goes to late joiner Craig Russell who won 8 races but did not have enough results to get a podium place. Many thanks to Hilary for processing the final results which are now on the club website. I look forward to meeting you all in person at the club-Please come over and say hello. I am sailing Laser 215416 or 144777. Peter (VRO)
Wednesday Lockdown Racing 10th June
Seventeen 49ers made the startline for the Wednesday Lockdown series on 10th June. As an experiment, a Zoom call was run in parallel with the race but everyone was too focused to talk and it overloaded the RO's multitasking skills so might not be used again. The first race was won by Matt with a narrow margin from Craig. Race 2 was Craig first and Jonathan second and the third race was again won by Craig with Pete W second. The fun race in F50s was won by Colin. The overall results show Colin in the lead with Matt in second place.
Sociable Saturday 5th June
This event now combines Team Grafham and Sociable Saturday. A variety of races in a variety of venues initially saw 9 competitors take to the virtual water. Pete got a good start at the pin end in race 1 and managed to stay ahead for the whole race. Ian was in 2nd on the first beat, but Jon Q tacked inside him at the windward mark. He then took a penalty for hitting Craig which pushed him back down the fleet. The final positions in race 1 were: 1. Pete, 2. Jon, 3. Craig, 4. Mandy, 5. Andy, 6. Boo, 7. Gary 8. Ian. Unfortunately Adele was kicked out of the race so scored DNF.
Race 2 saw Matt and Tera Tower (will Skye never run out of names?) join in. Pete had another good start and came into the windward mark on port in first place. Mandy got a penalty and allowed Gary into second place. There were penalties aplenty with Pete managing to get clear air on the final leg to take the win again. Mandy and Craig were in a battle to the finish, with Mandy just taking 2nd. The lower places were: 3. Craig, 4. Andy, 5. Matt, 6. Jon, 7. Gary, 8. Adele.
Race 3 was sailed in Nacras at Cowes. Mandy got a good start but Pete was soon ahead with Matt moving up to 2nd and Gary into 3rd. Gary managed to get ahead but then took a penalty. Mandy came into the windward mark on port and hit Matt, putting her down into 5th place. Matt had a storming final downwind leg to take the win ahead of 2. Pete, 3. Mandy, 4. Jon, 5. Craig, 6. Andy, 7. Adele, 8. Skye, 9. Gary.
The fun race in F50s saw many place changes and was won by Matt, ahead of Andy with Mandy 3rd and Pete 4th.
Wednesday Lockdown Racing 20th May
After 6 weeks and 18 races races held, the Lockdown fleet is now being led  by Colin with a lead of 16 points over Matt with Jonathan 3rd and Mandy 4th overall. 49ers were being sailed last night, with fifteen boats taking to the startline.
The three races were won by Pete W, Colin and Craig. The fun race, held in F18 cats was very close with Matt leading Colin by 3 seconds. A full startline is expected next week with 2 or 3 newcomers signing up to the action.
RYA Eastern Region Championships Final
James has won the Regional final with three first places and will be representing GWSC in the National final. Great work James!
RYA Eastern Region Championships
Congratulations to James Curtis who is representing GWSC in the RYA eSailing Championships. He won the heats of the Eastern Region Championship on Monday evening and will be racing in the final on Wednesday (20th May). Good luck James!
Team Racing Monday 11th May
Seven sailors took part in the second e-Team Racing session held in Stars on Monday. Seven is not the best number for either 2 or 3 boat team racing so it was decided to run 3 boat teams with someone sitting out each race. 3 boat team races are won by the team whose score is 10 or less. So 1,2,6 (=9) beats 3,4,5 (=12) etc. The Race Officer was having too much fun to keep results and the teams were different for every race. The tactics for 3 boat teams can become quite complicated with much covering, luffing and going back to help team mates going on. Some of the races were decided in the closing seconds of the race. Overall the Red team won the most races. Another session is planned for next Monday at 8pm; if anyone would like to join, please contact Peter Gee.
Wednesday Evening Racing 6th May
Team Grafham and the Lockdown fleet both had their regular races on Wednesday 6th May.
Only a few Team Grafham sailors made it to the start line and there seemed to be more instability than usual with people being kicked out of the game or struggling to get in. Eventually Dom, Adele and Sam raced, plus Skye with yet another new name: Teradactyle. Dom is currently dominating (sorry couldn't resist!) with four firsts, followed by Adele then Skye. In the F50 fun race, only Adele joined Matt and Mandy. The race was won by Matt.
In the Lockdown series two new sailors joined the fleet to challenge the current pecking order. Newcomer Craig scored 2 wins and Peter Guttridge scored a third on their first Wednesday outings. Stars were being sailed, which although slower and lacking spinnakers provided close tactical racing for the sixteen boats. The first race was won by Craig, with Phil second and Colin third. In the second race Colin won, Craig was second and Peter Gee third. The third race was won by Craig, Colin was second and Peter Guttridge third.  Matt did not get a podium place this week, which means Colin is now leading by 1 point, Matt second and Jonathan third overall.
Experimental Team Racing
8 sailors joined in some experimental virtual team racing organised by Peter Gee on Monday evening. Four two-boat teams competed in six races in Stars. Some close tactical racing including much covering and luffing was experienced. Matt and Mandy showed off their knowledge of team racing tactics and Matt was especially skilled at pushing people over the line and luffing them downwind. It was very useful for refreshing tactics and rules knowledge. Jason won his first race and the results were 1st – Team 01 Matt and Jason, 2nd Team 02 – Mandy and Andy. Pete W and Steve's team were unlucky to experience connection problems. It has to be mentioned that Mandy's team beat Matt's team in the final fun race. Peter is happy to run this again if there is demand, so please contact him if you would like to join in.
Club Championship Final
Twenty boats lined up for the start of the first race of the eSailing Spring Club Championship on Sunday 3rd May sailing in J70s. Race officer Jon Sweet was unfortunately not able to do anything about the heavy pin-end start line bias, despite having stern words with the mark laying boat. Before the start, Jon reminded all competitors to stay hydrated, eat and remember to wear their buoyancy aid, prompting Matt Reynolds to post this photo showing he was fully prepared..
As expected with such a large fleet, there were plenty of collisions and penalties. RS500 world champion James Curtis led from the start of race 1, to take the win by 7 seconds ahead of young Cat sailor Julian Bosch, with Matt French coming third. These three were clear ahead for the whole race, although Jon Sweet managed to recover from a penalty on the first leg to come fourth.
In race 2 James once again got a good start and led to the finish. Craig Russell and Julian were second and third at the windward mark, with Jules eventually taking second place ahead of Craig. Behind them several boats were involved in crashes, sending them well down the fleet. Ivan Bosch, having been thrown out of the game (a fairly common problem) in race 1, took fourth place. Ben Longstaff asked on the WhatsApp race chat for tips on avoiding collisions. Among several suggestions, James's reply of "the one that's really good is just sailing ahead of everyone" was obviously working for him.
Race 3 started with Team Grafham sailor Dom Atherton and Mandy Sweet having a good first beat, followed at the windward mark by Jon and Matt Reynolds, who had been disconnected in the previous race. This race saw a number of place changes, but Dom managed to hold onto his early lead, taking the win ahead of Jon, Matt R and Mandy, with James only managing fifth, his worst result.
Several boats were over the start line in race 4 and had to dip back, allowing Matt F to get a good start after crashing out in the previous race. Again there were lots of collisions on the lay line coming in to the windward mark. James and Julian avoided trouble out in front, with the two Matts and Craig battling for position behind them, eventually finishing with Craig third, Matt R fourth and Matt F fifth.
Having secured the series with three wins, James could relax going into the last race but went on to take third place anyway. Julian was also assured of second place with three seconds, so was able to discard his 14th place in this race.  Behind these two, Craig and Matt R were in contention for third overall, with 6 and 7 points respectively from their best two results. At Mark 1 Dom was in the lead followed by Craig and Matt R. At the leeward mark Dom was still ahead, with Craig inside Matt R unfortunately hitting the mark. Matt had a good rounding, moving up into the lead. At the windward mark Matt came in on port and tacked clear in front of the rest of the fleet, many of whom were involved in multiple collisions. Matt R took the final gun ahead of Craig, with Dom holding on to fourth place. This left Matt and Craig tied on 8 points, giving Matt with his first place the overall third and Craig fourth. Jon finished in fifth overall with Dom sixth.
James also posted a photo of his pre-race preparation, looking rather relaxed. Clearly he was trying to lull the rest of the fleet into a false sense of security. His win means that James will go on to represent GWSC at the RYA Eastern Region final. The prize winners are: Club Champion James Curtis; 2nd and 1st Youth Julian Bosch; 3rd Matt Reynolds; 1st Junior and 6th overall Dom Atherton.
Many thanks to Jon Sweet for organising the event. The full results can be seen here.
Qualifying Heats for the Club Championship
Two qualifying heats were held on Saturday 2nd May for the eSailing Spring Club Championships.
Heat 1, starting at 11am, included 12 competitors although only 11 came to the starting area. Many of the competitors have already been sailing in the various club eSailing series, but there were also some newcomers. Clearly most of them have been practising elsewhere though! As seems to be a regular feature of Virtual Regatta, all the start lines were heavily pin-end biased. Race Officer Jon Sweet (picture left) even tried changing venues but to no avail.
Jon suffered badly from VR's noted instability and was thrown out of three of the races. Fortunately scoring 3rd and 2nd in the two races he did manage to finish saw him into 7th place overall. The RYA have decreed two discards from five races to reduce the impact of the game's flakiness.
The heat was dominated by Craig Russell who scored four firsts and one 2nd, counting 3 points to take the win.  Andy Seal was always there and finished on 7 points, one ahead of Ben Longstaff. Team Grafham sailor Gabriele Geuns sailed consistently to take 4th place two points behind Ben. Mandy Sweet also sailed consistently, finishing 5th, two points behind Gabriele.
In Race 5, Jon as usual started at the pin end with the line so biased, while Craig started at the committee boat end. Jon was leading up the beat, then Ben got ahead, but hit Gabriele so got a penalty. Craig stayed right and reached the windward mark first, holding onto his lead for the rest of the race, to finish ahead of Jon.
Heat 2 got underway at 1pm, with 11 entries; although as race officer Jon had to be there, he stayed at the back out of everyone's way. Somehow, Matt French had got confused about the start time and missed the first three races. He managed to make the last two and scored well enough to qualify for the final (the start is at 11am on Sunday, Matt!).
James Curtis won the first three races convincingly. He took advantage of the port-end bias, getting good starts, including a port tack flyer in race three crossing ahead of the fleet. Team Grafham sailor Dom Atherton also got a good start in this race, finishing in second place behind James, who had a screaming final downwind leg.
Young Cat sailor Julian Bosch sailed consistently, finishing only one point behind James with two firsts and a 2nd. His brother Ivan with a 2nd and 3rd finished in 4th overall. These two have been leading lights in the Cat fleet eSailing April series. Just like the real thing, in eSailing practice makes perfect. 3rd place went to Raffaele Geuns, who was always towards the front of the fleet taking three 3rd places.
Fifth place went to Robbie MacDonald, sailing all the way from Argentina where he has been trapped by the virus outbreak. So the top 10 from each heat go through to the final. There will certainly be some interesting start line action, and we can expect a lot of penalties at the windward mark, as many of the competitors are not used to sailing in a big fleet.
Many thanks to Jon for organising the event.
Want to watch the Club Championships Action?
There are 23 entries for the eSailing Spring Club Championships. This means there will be heats on Saturday 2nd May, at 11am and 1pm to decide the 20 sailors who will race in the final on Sunday 3rd at 11am. Each heat and the final will consist of 5 races on a windward-leeward course, with three results to count.
If you would like to spectate go to virtualregatta.com/en/inshore-game/, click on custom race, then the green camera and then find the race called gwsc. Click on it and then click the green camera again. The best sailors from the Cat fleet, Wednesday Lockdown fleet, Sociable Saturday and Team Grafham will be competing against each other.
Cats April Series
The Cats April series came to an exciting end on Wednesday. The 13 race series on Sundays, Wednesdays and Fridays was competed for by 14 sailors and saw very close racing and an epic battle between Jon and Jules, who were always within a point or two of each other at the top of the stqndings. Good technique by both of them, in getting good starts, especially on the heavily biased lines that Virtual Regatta can throw up, and in spotting the wind shifts and close mark roundings allowed them to steadily pull away from the rest of the fleet in the series. Third place was taken by Ivanwindsurf. Click for the final results and last installment of the blog.
The May series starts on Friday 1st May.
Wednesday eSailing 29th April
Two fleets raced this evening. Team Grafham had 5 juniors plus Matt, Mandy and Denise. Gabriele is leading the series, one point ahead of Boo who is two points ahead of Sam in third place. The prize for inventiveness goes to Skye who has variously sailed as Little Tera (very apt), Fat Fis Tera Skye, Evil Tera Sport and today Skye Atlantic. After the 3 series races there was a fun whizzy race in F-50s. Mandy won that, followed by Matt then Gabriele.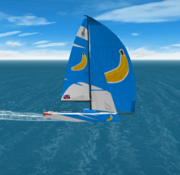 Next up was the Wednesday Lockdown fleet. They were sailing J70s in San Francisco harbour in preparation for the Club Championship on Sunday. 14 boats took to the line. The first race had to be rerun due to technical issues and led to Robbie scoring his first win, with Colin second and Matt third. Some huge windshifts were experienced in the second race which was won by newcomer Will, with Jonathan second and Colin third. Matt comfortably won the third race with Robbie second and Mandy third. The series is now being led by Matt, who is counting only firsts and seconds and is three points ahead of Colin.
Peter commented: "Strangely, the huge investment that I made in customising my boat (above) had no impact on my results at all". Mandy said it looked good though
Cat Fleet 26th April
Nine sailors joined the Cat fleet racing on Sunday, sailing two races in F18s and two in Nacra 17s, followed by a fun race in F-50s. Jules and Jon continue to battle for the lead in the series. With only one more April event to go, Jules is currently two points ahead of Jon. Click for latest results and blog.
Team Grafham 25th April
Six TG sailors plus Matt, Mandy and Denise joined the racing in J70s. The competition was hot at the front with Sam, Gabriele and Boo all taking top three places. Sam consistently got good starts and sailed the beats and runs well, but his mark rounding let Matt and Mandy get past him a couple of times. Gabriele has sailed consistently so far in the series and is in the lead overall, tied on points with Mandy. Boo sailed a strong second race, lying in third place at the second windward mark rounding, she sailed past Matt on the final run to take second place behind Mandy.
After the serious business was done, there was a fun race in F-50 catamarans. Those boats are crazy fast! Gabriele's dad joined in and was doing very well with a storming first beat. However after missing a mark he slipped down the fleet allowing his son again to take first place. Several people took penalties for going out of bounds.
Sociable Saturday 25th April
Nine people took to the virtual water in J70s, getting some practice before the club championships next weekend. Once again the racing was dominated by Craig, winning the first two races, although Andy managed to push him down to second place in the third race. There was much debate about the pros and cons of using the Auto VMG function, with Craig declaring that he used it when learning bur doesn't now. There was also discussion as to whether the red boats are slower as they always seemed to be at the back. As I was sailing a red boat I would put it more down to incompetence!
Cats Wednesday Evening 22nd April
The Cat fleet continue to sail three times a week with good turnouts. Today saw very biased start lines and those who spotted the windshifts getting to the front of the fleet. Jules and Jon continue to battle it out at the top of the results, with Jules currently 2 points ahead of Jon.
Announcing the eSailing Spring Club Championships – using Virtual Regatta
The GWSC eSailing Spring Club Championships will take place on Sunday 3rd May, first start 11am and all club members are welcome to enter. If you have yet to renew your membership, please do so before entering.
If there are more than 20 entries, qualification heats will take place on Saturday 2nd May. We will race the 'Dayboat Racer' (J70) on a windward-leeward course, 2 laps per race. 5 races, 3 to count.
Full details, including Notice of Race and Sailing Instructions can be found here (under RYA esailing Spring Club Championship): https://www.rya.org.uk/pages/virtual-regatta.aspx
To enter, please email the following information to jonosweet@hotmail.com by Thursday 30th April:
Your name
Your VR pseudo name
Your dayboat boat colour/design
Your email address
Your phone number (Or a parent's number for under 18s)
Ideally, communication will take place through a WhatsApp group, by entering you agree to being added to a WhatsApp group for the duration of the Club Championship.
Winners from the Club Championship will go forward to an RYA regional final with the top regional competitor going forward to an RYA national final.
Wednesday Lockdown eSailing 22nd April
Sixteen 49ers raced in a variety of locations. In race 1, Phil benefitted from a major windshift which took him from the back to 4th place. The race was won by Colin with Matt second, just 1 second behind and Jonathan third. Colin also won race 2,  with Matt second and Phil third. The third race was hotly contested between Colin and Matt, with Matt winning by 2.7 seconds, Colin second and Robbie (sailing from Argentina) third. Next week the fleet will be sailing J70s in preparation for the Club Championship on Sunday. Thanks to Mandy for standing in as Race Officer, due to Peter's village returning to the dark ages of no internet.
The picture shows Colin powering up the beat in Race 3 with Matt just 22m behind.
There are still a few places left for the Wednesday Lockdown series; if anyone would like to join just email Peter at laserfc@grafham.org. Newcomer Peter H said 'Fantastic fun, see you next week'.
The latest results can be seen here.
Team Grafham Wednesday eSailing
There was a great turnout of 9 boats for the first full session: 6 TG members, plus Matt, Mandy and Denise. They must all have been practising as the standard has improved since their practice event on Saturday. Gabriele (OpiWanKenobi) is currently leading counting a first and second, with Boo in second place counting a first and third. In race 3, Skye, Gabriele and Dom were battling for the lead up the first beat and down the first run, with Sam coming up fast behind. Dom took several penalties after being hindered by coach Matt, despite Mandy's attempts to stop him, meaning he is counting a second and fourth. He is currently tied on points with Matt and one point behind Mandy. Mandy said Skye had some great starts but needs to keep it up through the race. The results are here.
After the serious event, there was a fun race in 49ers, including spinnakers. This was won by Matt, followed by Mandy, then Dom, who was the only TG member to finish. The software was a bit unstable and others were thrown out.
Cats Sunday eSailing
Sunday's racing saw a slightly less impressive turnout than on Friday, however the excitement and close racing prevailed nonetheless. 8 boats entered the races overall and claimed a variety of results. Jules was the overall winner for the night, with Jon Sweet in second and Stephen in third. Click for latest results and updated blog.
Team Grafham take up eSailing!
Team Grafham have now started racing in Virtual Regatta too. They will be racing at 4pm on Wednesdays and Saturdays. Yesterday was their first event with 4 races sailed by  Boo, Adele, Archie, Poppy and Denise Plant. Quote from coach Matt: "as you can imagine it won't be long till they're pretty good!"
Sociable Saturday/Cake Club
Mandy Sweet organised six races under the Sociable Saturday banner on 18th April. Before the start, Pete's virtual chocolate brownie was admired, sadly only visually.
Your faithful blogger ventured out for the first time and found it was great fun. It does take a bit of getting used to though. A variety of boats were sailed, ranging from the relatively sedate Stars up to crazy 49ers and Nacras, in a variety of coastal venues round the world. However, there was no time to look at the lovely backdrops as too much concentration on the action is needed, especially in the fastest boats. I did spot Sydney Harbour bridge at one point though.
Well it is certainly competitive and Pete demonstrated his prowess in the fast boats winning in the 49ers. The accompanying Whatsapp chat shows two things: it seems to be taken much more seriously than real Social Saturday racing; and you can still learn a lot through virtual sailing. Between races 4 and 5 Matt could be seen giving Craig a lecture on the racing rules, specifically Water at the Mark.
Click for latest results
Friendly Friday 17th April
The Cat fleet (not only Cat sailors, anyone is welcome) Friendly Friday was well attended with 12 boats and a lot of fun was had. Jules and Jon continue to battle it out at the top of the fleet, equal on points, with Ivanwindsurf not far behind. Click for latest results and blog.
Cat Fleet Wednesday Evening
The Wednesday evening series failed to disappoint on 15th April with some incredibly close racing and drama on the course. The Final race of the evening saw the whole fleet finish the race, as well as further battling for points between Jules and Jon. Jon now needed a first place to win the night, however Jules sailed exceptionally and managed to claim the win. Jon was close behind though and finished in second place, leaving Jules and Jon tied on points. Ivanwindsurf had made a comeback and finished third, narrowly beating Smasher at the end. The fun f-50 race was used as a tie breaker between Jules and Jon, which saw Jules, after a good start, get ahead at the first mark and hold the position. Jon was rapidly catching up though and soon towards the end of the race was only metres behind. Despite his efforts, Jules still managed to win the race, allowing him to take the overall win on Wednesday, leaving Jon with second. Third overall was Ivanwindsurf. 
The results of the April series so far are on the website, here. Read more in the latest instalment of Julian Bosch's Cat Fleet eSailing blog, which you can follow here.
Wednesday Lockdown eSailing 15th April
The Wednesday Lockdown Virtual Regatta series is getting competitive with a very busy start line. Boat handling skills have improved since last week and it looks like everyone has been practising though no one will admit to it! A few people had access problems to the first race which is one of the issues with the platform. A total of fifteen boats took to the start line, competing in Offshore Racers in Aarhus. Pete W had a flying start in Race 1, but finished 3rd after letting Jonathan (1st) and Colin (2nd) past him. Race 2 was won by Matt with a huge 25 second lead with Steve second and Andy S third. The third race was again won by Matt, with Jonathan second and Ian H third. Full results can be seen here.
There are still a few spaces on the start line so if you want to join in next week's just email Peter at laserfc@grafham.org.
Sociable Saturday eSailing
Mandy Sweet organised the first Sociable eSailing event on Monday 13th April. There were three races, race 1 in Offshore Racers, race 2 in Dayboats and then throwing all caution to the wind, race 3 was in 49ers. Several people had technical problems, the software doesn't seem to be that stable, but it looks like it gets easier once you get a bit of practice. In the end 8 people managed to compete, it maybe that the system is getting overloaded because so many people are now playing around the world.
Comments from some of the successful competitors:
I liked Mandy's choice of boats. From sedate to crazy
But good fun and it even has wind shifts implemented, got a good lift during the 2nd race before I messed it up again by crashing into another boat
The 49er was nuts downwind
Wish I could sail like that in real life! Bet I would be swimming more than sailing in that 49'er – this was from Craig who was the winner of all 3 races
The results are on the website here. There will definitely be more events in this series
Cat Fleet eSailing
The results of the April series so far are on the website, here. Julian Bosch is now writing a Cat Fleet eSailing blog, which you can follow here.
Wednesday 15th April – Lockdown Virtual Sailing
From Peter Gee: If you would like to sail in the Lockdown Virtual Sailing event being held this Wednesday 15th April at 7.30pm, please make sure that you enter/re-enter if you have not already done so. To manage entry numbers, we are using new access codes for each event. The codes will be sent out on Tuesday evening.
If you would like to enter please send me an email at laserfc@grafham.org
This week we will be racing Dayboats at Aarhus. Three races again starting with a preparatory signal at 7.29pm.
This event is open to all Grafham sailors of any class and ability. No prior experience required. Come and race against your old Wednesday night rivals!
Spectator Option
If you would like to watch the Lockdown racing, there is a spectator option.
From 7.20pm on Wednesday night:
* Go to https://www.virtualregatta.com/en/inshore-game/
* Login as a guest user or create an account
* Click on custom race
* Ignore the 'VIP' popup and click elsewhere on the screen
* Click on the camera icon (see screenshot on the left)
* This will show you a list of races about to start/ in progress.
* There is no easy way to identify which is the Grafham race. Click on all of them until you find the race with the 'Grafham Water' boat sailing in it.
Update 11th April
The Sociable Saturday sailors are also starting racing, Mandy Sweet is organising and they will have their first event on Monday evening.
From Peter Gee (Laser Fleet Captain):
Thirteen boats entered the Laser Lockdown Virtual Sailing Event held last night, 8th April.
We were racing Star boats around a windward-leeward course in Kiel, wind gusting 20 knots.
It was a lot of fun. There were many penalties, some technical issues, and a lot of user error. Even better, no one got wet and we did not need to drive home afterwards.
What's Next?
By popular demand, we will be holding another Virtual Sailing event at 7.30pm next Wednesday 15th April. This time we will be sailing Dayboats at Aarhus (spinnaker practice required!). Three races again starting with a preparatory signal at 7.29pm.
If you would like to enter please send an email to Peter Gee, Laser Fleet Captain at laserfc@grafham.org. This event is open to all Grafham sailors of any class and ability.
From Jon Sweet:
The Cat fleet are also racing – in F18s and Nacra 17s of course! We race every Wednesday, Friday and Sunday at 8pm. 4 races, 1 discard. Followed by a fun race in F50s. Last night (Weds 8th) we had 9 boats out in perfect champagne sailing conditions, using various venues. We also didn't get wet and find our sofas are warmer and much more comfortable than being on the water.
Friendly Friday on 10th April was enjoyed by 10 eSailors.
All are welcome to join in, you can contact Jon at jonosweet@hotmail.com or 07764184488.
RYA Virtual Regatta Club Championship
Grafham is planning to enter the RYA Virtual Regatta Club Championship. This is being co-ordinated by Jon Sweet.
The Club Championship will consist of 5 races (with 2 discards) in Dayboats. The winner of our Club Championship will go forward to a Regional Final. The top competitor from each RYA Region will go forward to a National Final.