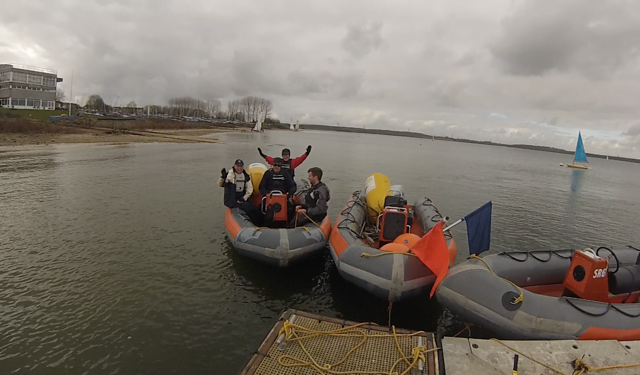 35 people and 6 instructors participated on Saturday 14th March in the day which was aimed at Safety and Race Management teams and run by Andrew Lawman and Nigel Denchfield.
It was quite a calm day weather-wise, in fact the green flag was up for a change! We covered some Pico and Laser 2000 rescues, mark laying of all kinds, committee boat driving, and recovering casualties from the water. On shore we had a general knowledge quiz, a throwing line competition and a Fitness race!
Afterwards we retired to the top bar, to talk through a Lost at Sea exercise, discuss the general knowledge questions, and receive updates from the RYA, the club, and other sources.
Finally, everyone enjoyed an excellent meal from Lisa and team!
Everyone said how much they enjoyed the day and want it run again next year.
Andrew Lawman (Safety Fleet Captain)
Below is a take on the day from one of the participants (Sarah):
We had a really enjoyable day for the Safety and Support fleet. Upon arrival Andrew told us the agenda and we were promptly ordered to get changed and head to the RIBs. Initially we all had a go at picking up a mooring to test our boat handling skills, when suddenly, we had a radio call from Andrew that a stray Pico had miraculously launched itself and was now in need of rescuing! After watching us rescue the Pico the club's 2000 decided that it must've looked like fun and decided to trundle down to the water's edge, launch and capsize so that we could rescue her too.
During our lunch break Andrew passed around a quiz for us to fill out, deciding two heads were better than one David and I teamed up and did our best!
After lunch I thought it would be fun to learn from our First Aid Instructor, Roy Harold, how to deal with casualties in the water! As we were all dressed in our wet gear a few brave volunteers jumped in the water (not me) to be our casualties so we could practice getting them out of the water using a few different methods and the floating stretcher.
To finish the day off we marked our quizzes and put our heads together for a lost at sea exercise. Lastly some talks from important people at the club before Lisa made us all a delicious dinner.
Thanks to Andrew and the others for making the day really enjoyable!