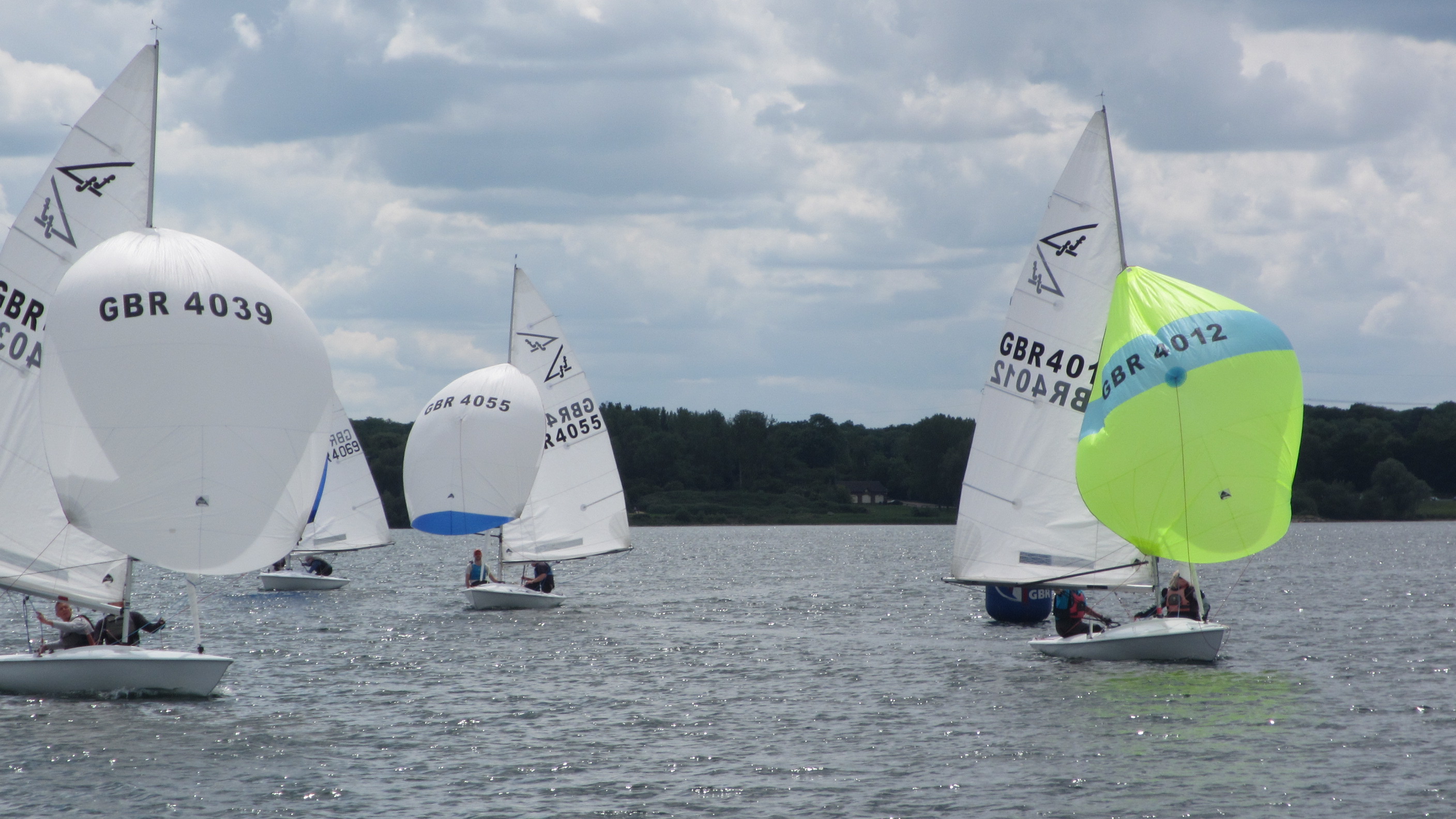 Grafham Water SC FF15 Open 8/9 June 2019
Saturday's forecast on Thursday of 40+ gusts certainly dampened down the entry but on the day the wind had moderated to 22mph with 30+ gusts. After a mutually agreed delay of 30 minutes the afternoon racing was set on a sausage/triangle/sausage course. The first race got underway with a reduced fleet of 8 boats and was led all the way by a considerable margin by Ian Cadwallader and Steve Graham but regrettably they rounded the wrong leeward mark on the second lap so were DSQ, promoting Simon Kneller and Dave Lucas to first place with Mark and Ben Longstaff making it a Grafham one-two. The wind in the next two races began to moderate somewhat but the leading group was substantially unchanged with Mark and Ben winning Race 2 and Simon and Dave re-asserting their authority in Race 3. Ian and Steve recorded 2nd places in both races.
Sunday was a different kettle of fish altogether with a variable 5 – 12 mph wind so the Race Officer set three windward/leeward courses. This provided some very close tactical racing: after Ian and Steve took the fourth race, it was all to play for as they were tied on 5 points with Simon and Mark after the discard came in to play. Simon and Dave sailed a superb fifth race, not only winning it but, with three bullets under their belt, ensuring that they could no longer be caught for overall first place.
In the final race Jonathan and Trish Knight sailed brilliantly leading the fleet until the final reach to the finish when they were just pipped to the post by Mark and Ben.
Many thanks are due to John Aston and his team for a superbly run event.
The top three boats were only separated by one point the final top placings were:
1st 4024 Simon Kneller and Dave Lucas GWSC 9pts
2nd 4039 Mark and Ben Longstaff GWSC 9pts
3rd 4055 Ian Cadwallader and Steve Graham Chew Valley SC 10pts
Dave Philpott