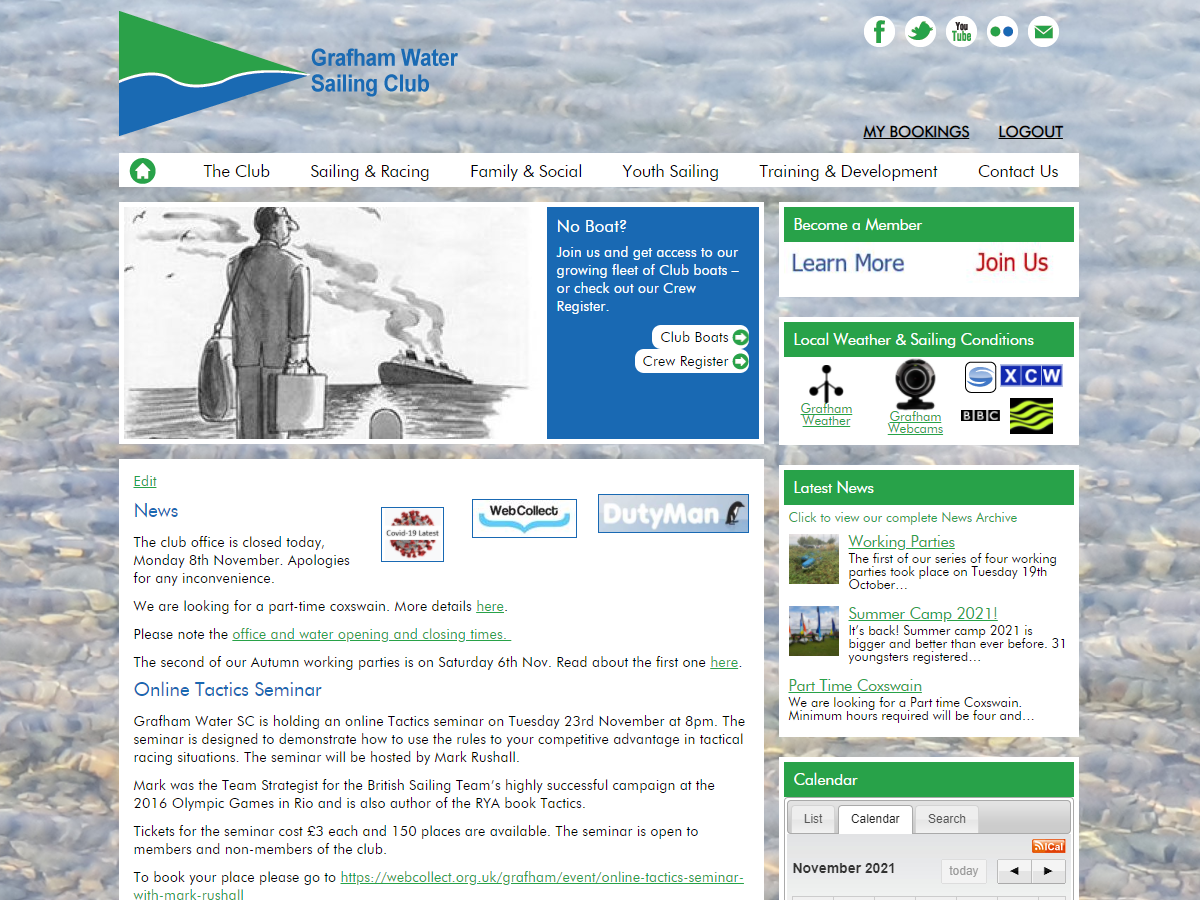 Welcome to the new Grafham Water SC website. The site has been entirely reorganised with the aim of making it:
Visually stunning, taking advantage of the fantastic photos by our professional photographer Paul Sanwell / OPP
Easier to find what you are looking for, by structuring it around "journeys" for the different target audiences
It features a completely new layout with improved navigation, a members' dashboard to take members directly to the things you use most, a search engine, large photos and full integration with WebCollect. Our previous website has served us well since 2013 but we are now coming right up to date and taking advantage of recent advances in technology.
Latest updates and reminders appear top right of the home page, with links to further information, so you are always alerted to what's coming up.
We hope you will bear with us while you get used to the new layout and where to find things. Here are a few hints for users who were used to the old website:
if you are a club member who uses the site mainly to access weather data, webcams and latest news, go to the Members' Dashboard which you can find under the On The Water drop down menu or via the blue button on the right hand side of the home page. This is intended to be the go-to place for all your regular needs. If there is something you use regularly that is not there please let us know. From here you have direct links to entering racing and signing up for coaching and volunteering as well as other useful pages.
If you are a visitor who wants to book day sailing, enter an open meeting or see the results and photos from a recent open meeting go to the Visitors landing page (click on Visitors in the menu bar)
If you are interested in finding out all about our club, go to the Join Us area
If you want to find out about our Training Centre and the courses we offer, go to the Training landing page (click on Training in the menu bar)
There is a new search function so that you can search for information and articles by keyword. We have simplified the menu structure so there is only one level of menus. Each top-level menu item has a 'landing page' which contains a lot of information about that area of interest, with links to all the important pages related to the subject. If you can't find the information you are looking for, check out the links on the landing page.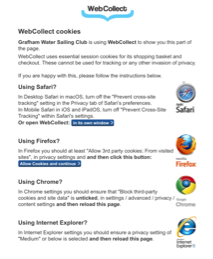 The integration between the website and WebCollect means that you may see this message the first time you open a page that has a WebCollect window within it. If you do, then follow the instructions on the screen appropriate to your browser. You should only need to do this once.
We would like to thank our club photographer Paul Sanwell, OP Photography, for the stunning images which have made a major contribution to the website. The website development team of Hilary Talbot and Peter Gee launched the project in March and welcome any feedback you may have; please email webmaster@grafham.org.