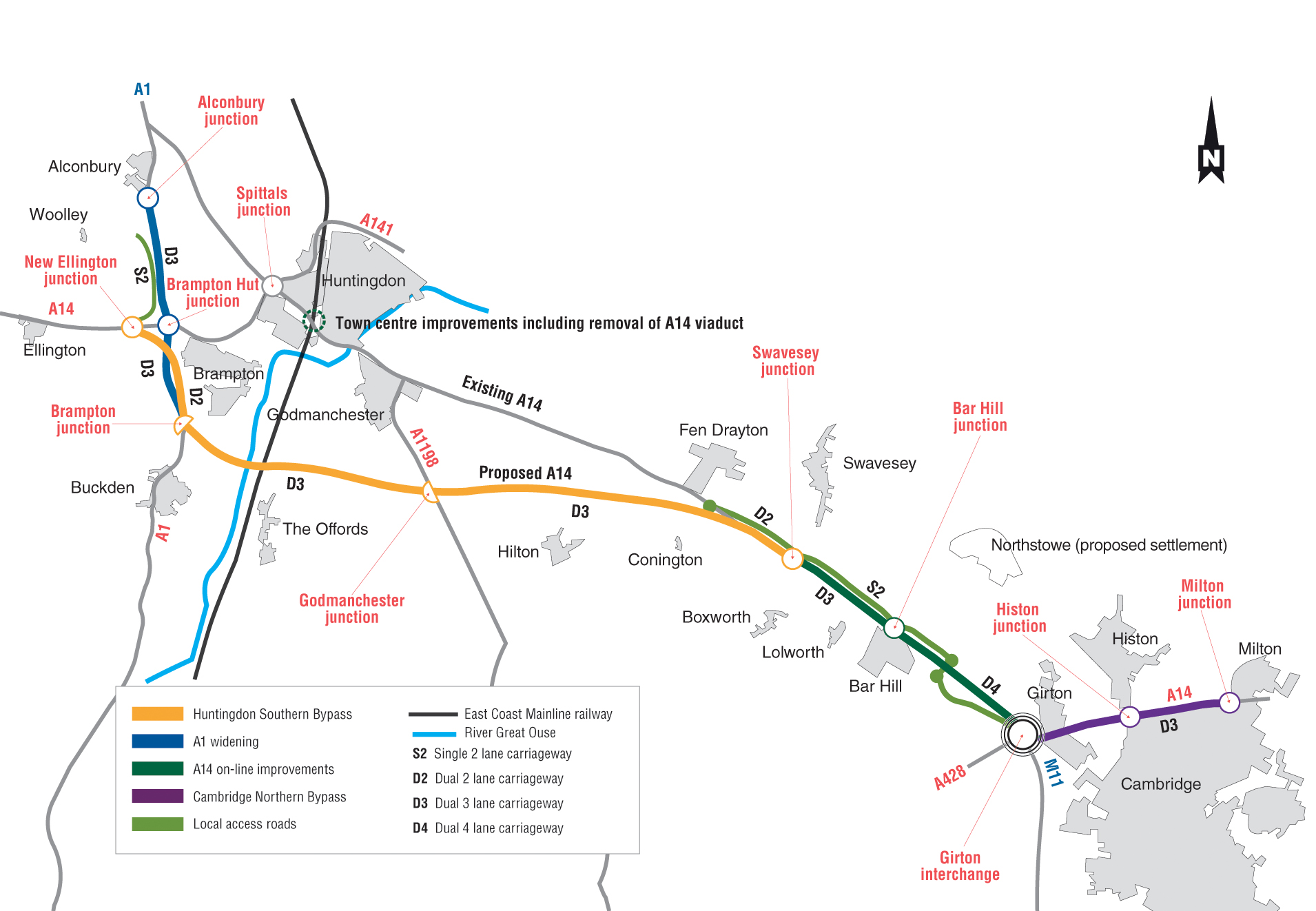 Graphic © Highways England
The new Huntingdon Southern Bypass, which is part of the A14 improvement scheme, opened on 9th December. The new 12 mile long bypass runs between Ellington and Swavesey and is part of a £1.5 billion project to upgrade 21 miles of the A14 between Cambridge and Huntingdon.
What does it mean for members and visitors coming to the club?
There are some important points to note if you plan to use the new road to travel to and from GWSC, or if you currently use the A14/A1.
The interchange between the new A14 and the A1 is restricted so that, from the A14 travelling westbound, you can only get onto the northbound carriageway of the A1. There is no access to the southbound carriageway north of Buckden. Likewise, you can only join the A14 from the A1 to travel eastbound from the southbound carriageway of the A1, not the northbound.
The new section of road joins the old A14 at the 'New Ellington' junction just west of Brampton Hut. This junction also provides access for A14 traffic from the west to Brampton Hut services and the A1 (north and southbound) via the original roundabout. There is no access onto the A1 southbound from the new section of the A14. This junction also allows access onto the westbound A14 from the A1 (north and southbound) via Brampton Hut interchange.
If you plan to travel to Perry from the Cambridge direction via the new road you have two choices. You can join the A1 northbound and then leave almost immediately at Brampton Hut, go right round the roundabout onto the A1 southbound to Buckden roundabout and join the B661 there. Or you can continue on the A14 past the 'New Ellington' junction to the 'old' Ellington junction which has always been there, where you can leave the A14 and travel via Ellington and Grafham, turning right onto the B661 by the dam. This is not recommended if you are towing a trailer, as there are traffic calming measures through the villages. The return trip via either method is the reverse.
Or you could continue to use the A428 (which itself is scheduled for upgrade sometime in the future).
If you are coming from the west (Midlands/Kettering direction) and you previously turned onto the A1 southbound at Brampton Hut, you will need to remember to leave the A14 at the 'New Ellington' junction (junction 21)  to access the A1 via the Brampton Hut interchange. Do not continue onto the new section of the A14; the next exit is the Godmanchester/A1198 junction which is a long way!
Now that the new road is open, the old A14 between Godmanchester and Spittals interchange is closed as the viaduct over Huntingdon station is being demolished. Access from the old section of the A14 is only possible via Huntingdon.
All the details of the scheme, including maps, can be found on the Highways England website, here.