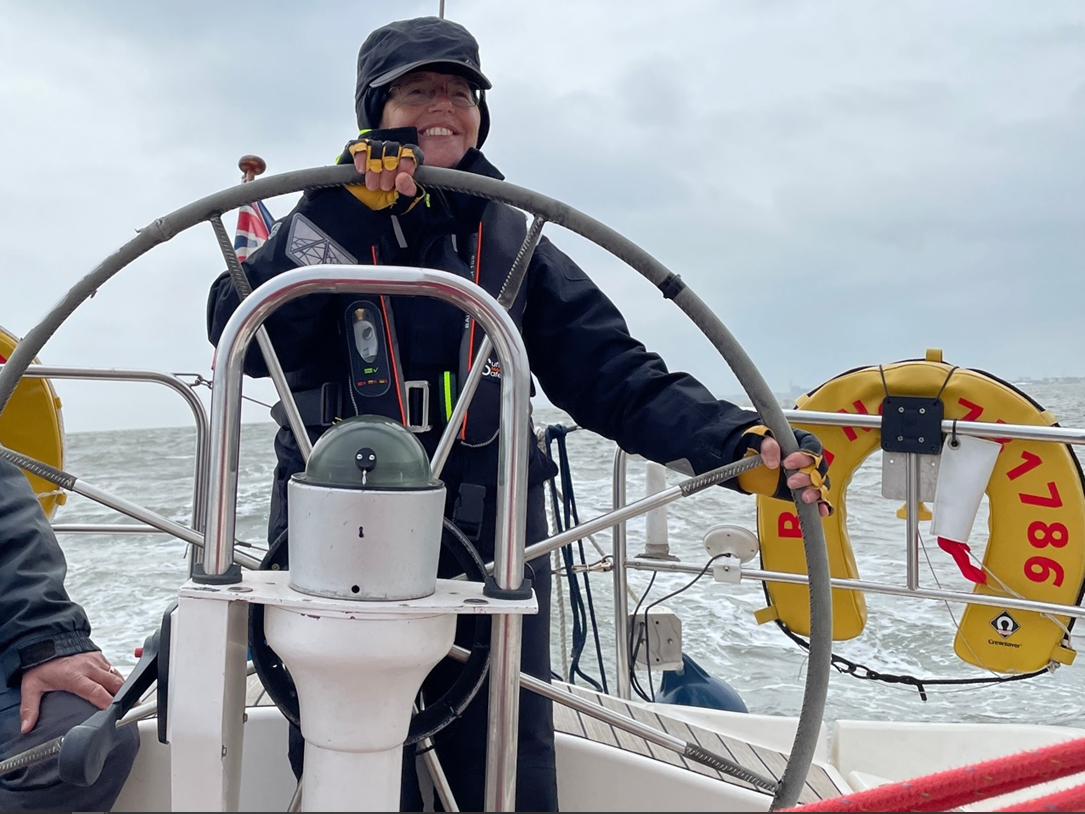 Sue and Andy Rhodes (Flying Fifteen fleet captains) are on a 7 week venture sailing around Britain on a Sigma 38 raising funds for Macmillan Cancer Support, the background to which is at https://www.justgiving.com/fundraising/premier-sailing2.
Final Report
A different type of week again for leg 6. We started early from Milford Haven with a full crew of four again, no wind and poor visibility. Then just as we were leaving the estuary, a range control boat caught us up and told us that there would be live testing on the nearby artillery range. We made a short detour to stay clear and then we were able to resume our passage across the Bristol Channel to Padstow. We were accompanied at various points by the sound of artillery shells and multiple dolphins who were enjoying the sun and smooth seas. They seemed to want to show off as they flew above the waves, swam alongside and crossed under the bow. We did get some sailing when the wind picked up and got into Padstow avoiding the Doom Bar but sadly after closing time for the pub that sold Doom Bar.
The next passage was to be round to Newlyn, but with a forecast of SW force 6-7 wind and rough sea state around Lands End, we spent two days in Padstow waiting for more favourable conditions. By Thursday, the wind had eased to SW force 4-5 and the sea state softened to moderate to rough. With a deadline to meet for crew change in Plymouth, we set out for Falmouth. Matching tide requirements for exiting Padstow and getting favourable currents round Lands End meant this would be a noon departure and overnight passage round Lands End. So, with rain falling and some very confused seas we set off on a fourteen hour beat along the the North Cornwall coast before rounding Lands End in the dark, Lizard Point at 8am and into Falmouth for 10am.
Saturday we had sun and wind, SW force 4-5, which gave us a great broad reach up to Plymouth, making too much speed, so the fantastic end to another great week finished too soon. We would have liked to sail longer.
Rather than photos this week, we have a video of dolphins for you to enjoy!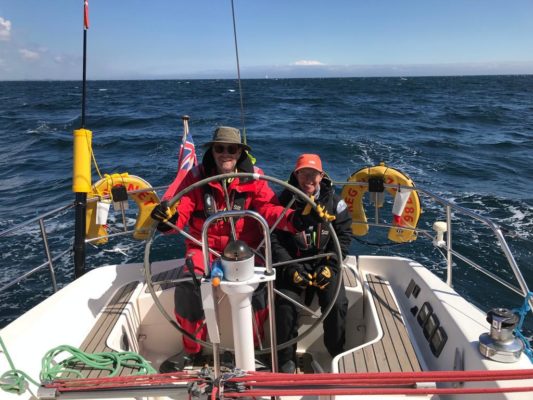 After last week's weather being low dominated, our 7th and final week was high dominated, with light winds, blue skies and lots of sunshine. The week started even better as it was decided that we would have an extra 8th passage on the final Sunday so that we could have a timed return at 3pm to support sponsorship and fund raising!
We set out from Plymouth for a gentle sail to the picturesque Dartmouth with SW 3 and smooth seas – quite a change from last week. Tuesday forecast was for the wind to drop during the day, and with favourable tide round Portland Bill in the afternoon, we left early from Dartmouth heading to Portland and had a glorious sail until the wind dropped and we had to motor round "the Bill".
Wednesday we had the first of our 5am slips to get favourable tide for both Anvil Point and the Needles which we managed with another glorious sail, and although the wind dropped as we passed Hurst Point it recovered as we passed Cowes allowing another great beat down to Gosport.
Thursday was the second of our 5am starts to get favourable tide at both Selsey Bill and Beachy Head and into Eastbourne. Unfortunately, no wind so a long motor. At least we could catch up on some sleep as we took turns at the helm.
Friday, a more leisurely start with a lock out of Eastbourne at 0800 heading to Ramsgate, motoring first but happily sailing after Dungeness and all the way up to Ramsgate.
Saturday was our 3rd 5am start to get across the Thames estuary before the forecast 5-7 on the nose and into Bradwell. We made such good progress, we actually had to slow down to get enough height of tide to enter Bradwell, so we dropped the main and part furled the headsail for the run across Spitway. In Bradwell all the teams had supper together in the clubhouse.
Sunday, 0700 we exited Bradwell before low tide. We put in 1 reef with a forecast N 3-5. A smashing speedy sail back down to Burnham, achieving 10 kts over the ground. We were safely onto a mooring a mile down river from Burnham for brunch, final packing and time for a nap before the final mile with the three boats together into Burnham.
Our overall thoughts? We'd happily have carried on and gone round again!
We'd like to thank you all for your support to us and to Macmillan,
Week 5 Report: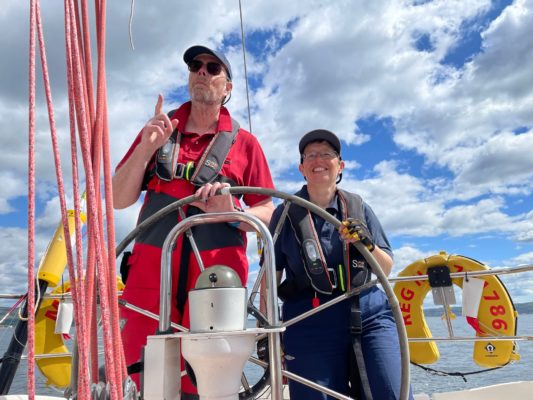 Back to just us as crew and long passages with lots of sailing last week for the longest leg to date.
From Rhu, we had a first stop at Troon to allow new crews on the other boats to get settled before crossing the Irish Sea to Bangor and a taste of Irish Guinness in Bangors oldest pub. Then a long reach / run down to Dun Laoghaire with a glorious sunset over Dublin Bay to greet our arrival but too late for a visit to the Guinness Centre. Thursday brought wind on the nose, so a long beat down to Arklow and the opportunity to compare the Guinness before a long reach back across the Irish Sea to Neyland, Milford Haven for a rest and the next crew change.
It's hard to pick favourite legs because they are so different, but this one was right up there with fair weather, fair seas and sunshine allowing a lot of fast comfortable sailing and wonderful scenery from the West Coast of Scotland, the East Coast of Ireland and the Pembrokeshire Coast.
Weeks 3 and 4 Report: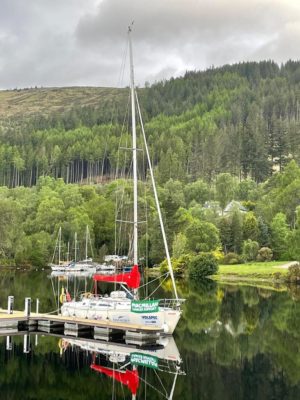 After 600 miles in the first two weeks, week 3 was very different – 60 miles through the Caledonian Canal with 29 locks to negotiate and sailing the length of Loch Ness and Loch Lochy with 15-20 knot wind on the nose. Beautiful scenery and while we didn't see Nessie, we're sure she did go under the boat when we recorded 18m depth instead of the expected >180m. Crew mate for the week (Liz) brought a number of sponsorship challenges including dancing the hornpipe and paddling in Loch Ness, which Sue helped her with.
Week 4 brought us out of the Caledonian Canal and into Loch Linhe for a lovely sail down to Oban and then onto to Crinan passing by many islands, including Kerrera and Jura, while keeping well clear of Corryvreckan. After passing through the Crinan Canal (15 locks, mainly self service), sailing resumed to Port Bannatyne on the Isle of Bute via the Kyles of Bute and then onto Rhu. Too many islands to mention, but definitely a target for a return with more time to explore.
Weeks 1 and 2 Report:
The trip started on 1st May and is due to finish 19th June, with the 7 legs going from Burnham on Crouch to Newcastle, Inverness, Fort William, Rhu, Milford Haven, Plymouth and back to Burnham. Crew changes happen at the end of each leg, but we're going all the way.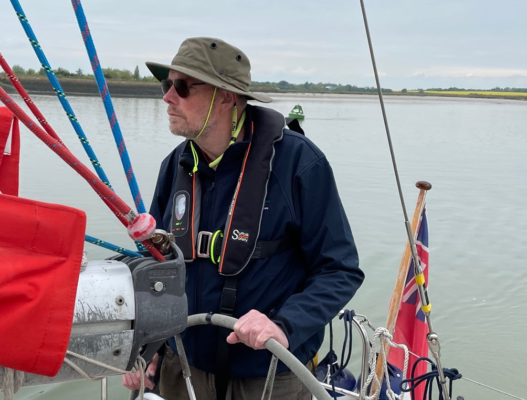 Week 1: Just us and a skipper on board, so lots to do! No wind on Monday from Burnham to Shotley, but good sailing Shotley to Lowestoft on Tuesday, and most of the way on the 30 hour passage up to Whitby Wednesday/Thursday and a walk around the town and abbey. Finally, a gentle sail up to Royal Quay marina at North Shields – an opportunity for laundry, an explore of the town and taking on provisions and new crew.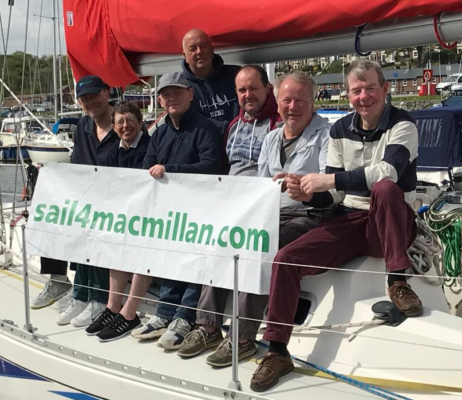 Week 2: The forecast for the week was showing strong winds, so it was a bit of a race to get ahead of the worst of the weather. An early start Monday and 26 hour sail to Arbroath, with a short anchorage at Holy Island, Lindisfarne, for supper and rest before the night passage, saw us arrive early enough to get freshly smoked salmon hot off the barrel for breakfast. Wednesday was a hoot – broad to beam reach, double reefed main, 70nm to Peterhead in 10 hours. Thursday was harder work tacking into strong winds to get to Whitehills, where we stayed through Friday as the forecast 30-40 knot winds came through. This left a long passage to get into Inverness and a lovely evening sail into the River Ness and the Inverness Marina. More laundry, provisions and a crew change before we set off on the leg through the Caledonian canal.
If you want to follow us, our boat name is Monet (MMSI 235027298), and we're accompanied by Galliver II and Florence Agnes II, and tracking information is normally available at https://www.vesselfinder.com/vessels/MONET-IMO-0-MMSI-235027298 or on MarineTraffic https://www.marinetraffic.com/en/ais/details/ships/shipid:6312440/mmsi:235027298/imo:0/vessel:MONET