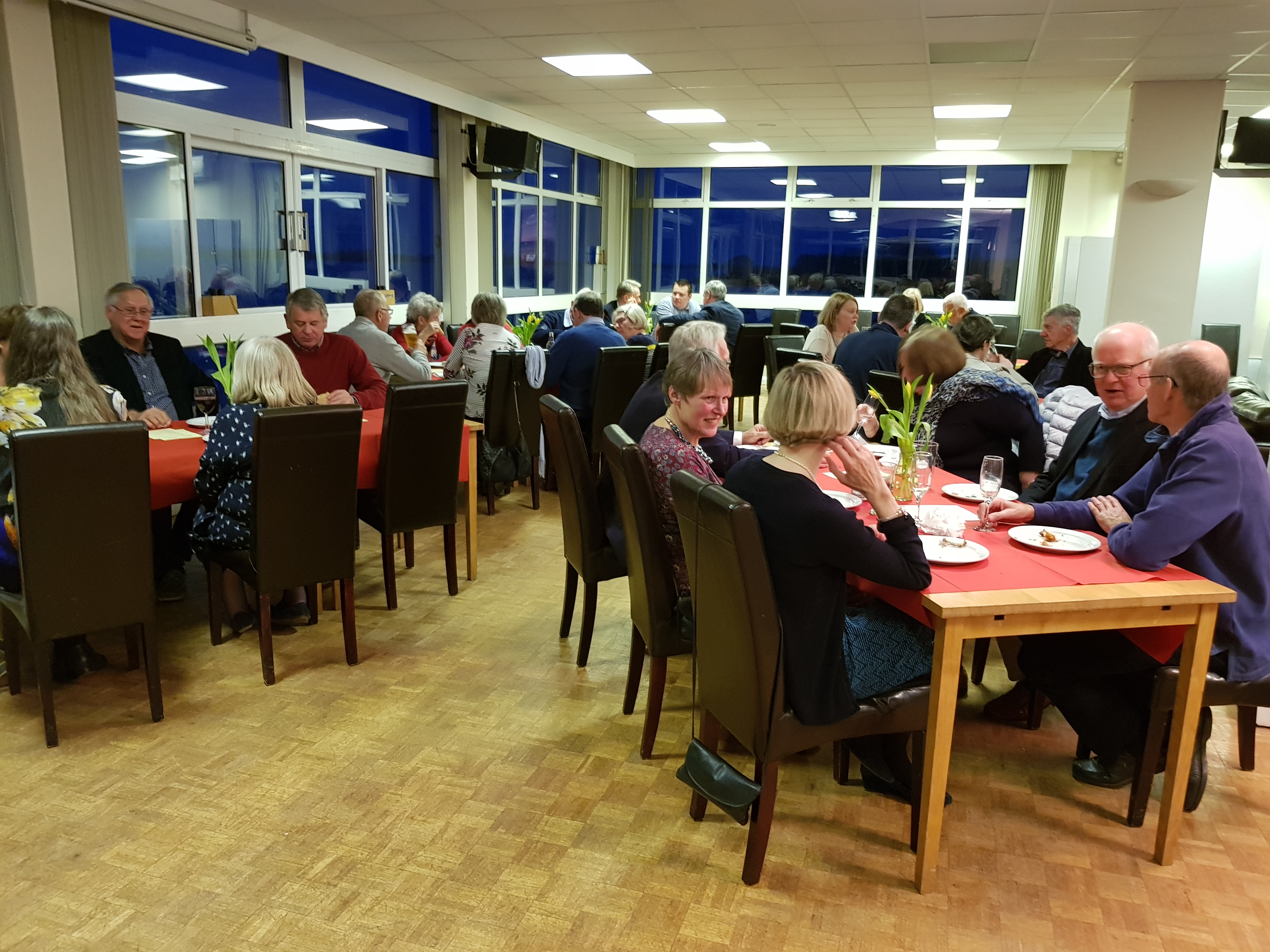 The annual Flying Fifteen fleet dinner and prize giving took place on Saturday 6th April in the top deck bar. Fleet captain Barry Wyatt officiated and thanked Lisa and her team for an excellent buffet.

Allen Cave needed a wheelbarrow to carry off the 10 trophies that he and crew Ashley Painter won in 2018, including the Grafham Fox.
Dave Philpott, with various crews, won the Frostbite series, with Katy Wyatt won the Ron Howard trophy and with Pip Chapman won the Bob Grubb Grand Prix trophy.
Barry and Katy Wyatt won the Spring Series Handicap and Jonathan and Trish Knight the Easter Salver.
Susie Sonntag collected the five trophies won by Les Rant and her.
Geoff Floyd and Colin Gilbert won the Betty Howard trophy for the most improved team. Gordon Oscroft and Alaster Gray took the Wednesday Handicap Trophy.
Nick Taylor and Ian Dubock won the 2017 Cameron Trophy and the 2018 Winter Series Cup. Mike and Jean Wilcznski took the 2017 Ann D Cup and the 2018 Brass Monkey.
Peter Wolstenholme and Cameron Torbett won the Akers Anchor.
Peter Saxton and Simon Dabson won the Sweepstake for the first Flying Fifteen in the Wednesday evening series. Richard Ledger and Mark Aldridge took the 2017 Brass Monkey and 2017 Winter Series Cup. Simon Kneller and Dave Lucas won the Brigg's Trophy. Tim O'Brien and Sam Neal won the Falmouth Flyer.
The Wakefield Trophy for services to the fleet was presented to John Forsdike.