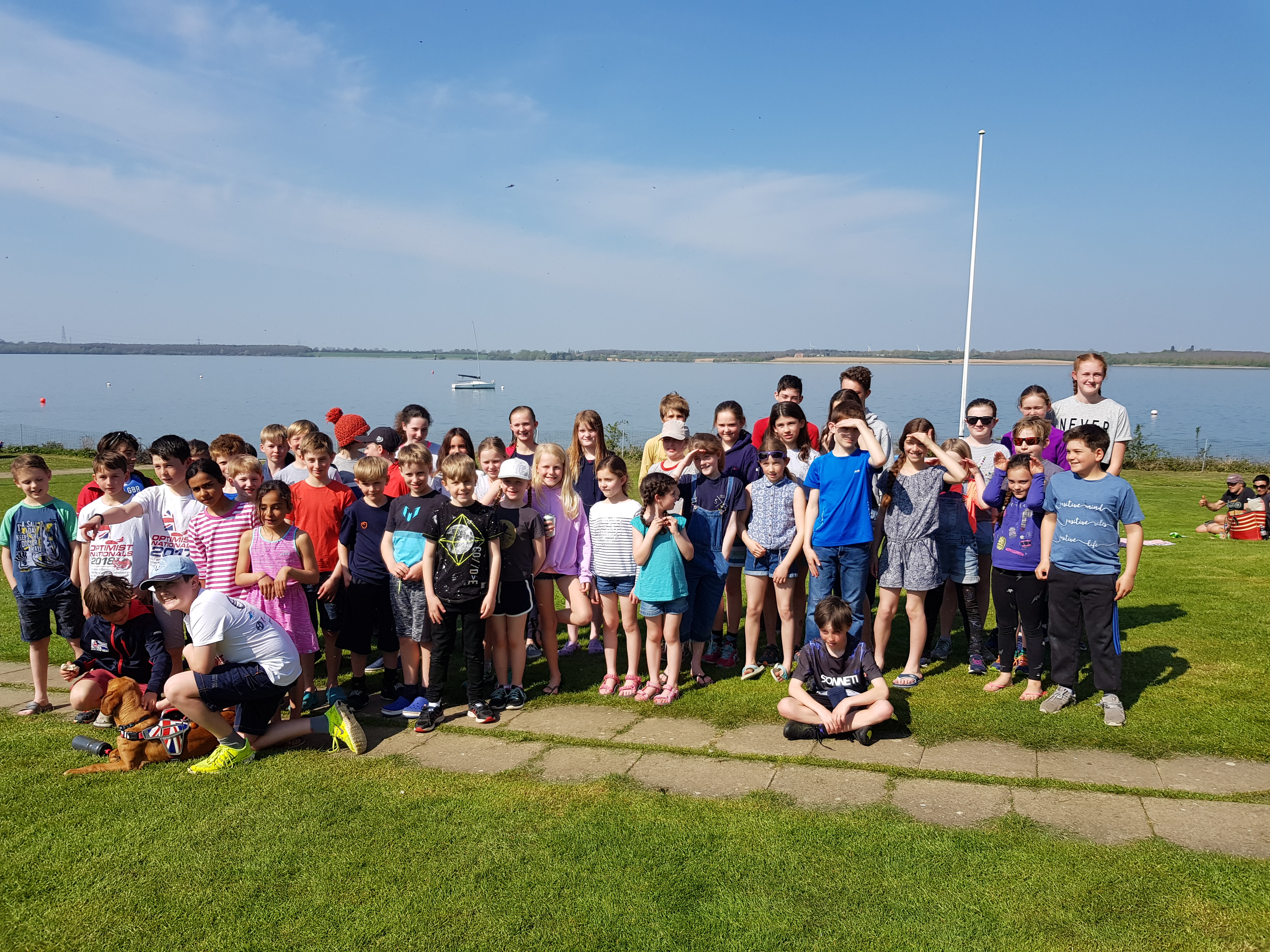 The 5th Grafham Easter Egg, held on 19th-20th April, was a great success. 62 young sailors enjoyed warm sunny conditions, with wind that became lighter as the event went on, finally dying just after the finish of the final race. This annual event originally started as an Optimist Open Meeting, but this year was opened up to all youth classes, with starts for Toppers and a Handicap fleet, as well as the Optimist Main and Regatta Fleets. 17 Toppers, 3 Topper 4.2s and 1 Pico joined the 40 Optimists for six races run by Race Officer Nigel Denchfield and his team. Visitors travelled from as far afield as Guernsey and North Wales.
After racing there was an Easter Egg hunt for all competitors, although some of the eggs didn't survive the hot sun very well! All agreed that the new format had worked well and that the Optimist and Topper sailors both benefited from a joint event.
The winner of the Handicap fleet was Matthew Donley from Grafham in a Topper 4.2.
In the Optimist Regatta fleet, Ella Cumming from Warsash SC was in 1st place.
2nd in the Optimist Regatta fleet was Tom Peace from Warsash SC and 3rd was Felix Ridley Whittle from Draycote Water SC.
Poppy McEwan from Grafham and Olivia Elliott from Guernsey YC received Endeavour Awards in the Optimist Regatta fleet.
Derin Con Soyer from Draycote was the winner in the Optimist main fleet.
Lila Edwards from Parkstone YC was 2nd in the Optimist main fleet and also first under 11, and Cameron Bignold from Royal Lymington YC was 3rd.
Eliana Edwards from Parkstone YC received the award for Sportsmanship.
Alexander Maclay from Grafham Water SC was the winner in the Topper fleet.
Henry Smith from West Riding SC was the second placed Topper and Archie McEwan from Grafham came third.
Lotte Post from Grafham Water SC was 4th Topper and Oscar Bell from Cam SC was 5th.
The Endeavour Award for the Topper fleet went to Josh Donley.