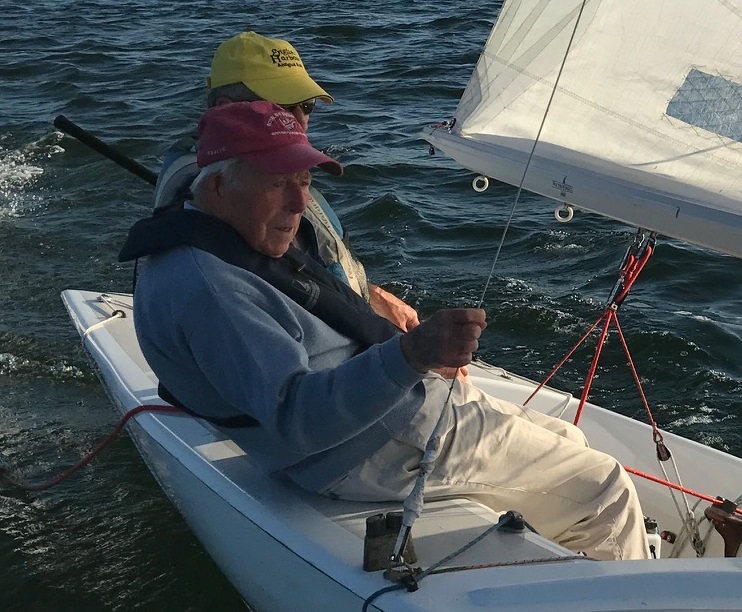 John Clifton, whose GWSC membership number is 10, a founder member instrumental in setting up GWSC more than 50 years ago, for the benefit for us all to enjoy today, celebrated his 100th birthday on July 2nd.
Unsurprisingly to many of us in the Flying Fifteen fleet, John was out racing his Flying Fifteen, the Flying Swan (FF3504), on Wednesday evening (July 5th) with Paul Stevens – the wind came good on a beautifully sunny evening and you can see John is in his element in the pictures attached – FF3504 was even 1st to the windward mark! Download photo gallery here
Afterwards at supper and with a pint to hand, John was presented a cake from all at GWSC by John Aston, Commodore; and an initialled Flying Fifteen Polo shirt by the fleet as part of his ongoing celebration….. John, whose genuine interest is in all those around him remains as sharp as a tack(er), and can spin(naker) a yarn or two to keep all those in his presence totally captivated – a true inspiration to us all.
Happy sailing John!
Tim O'Brien
07 07 '17
---
Message from John via Tim O'Brien to all well-wishers
Hi Tim
Splendid  racing at Grafhan yesterday evening.  I really enjoyed the sailing but am afraid we were a bit rusty.
Thanks for letting us in on the start so we were able to be first round the first mark but we did not keep it up. At least I can say I was still racing my F/F Flying Swan when I was 100.
Thanks for the Fifteen shirt, card and cake (from the Club!)
A great evening for me so would you please let the members know  in the club news letter how much it was appreciated.
Happy sailing
John