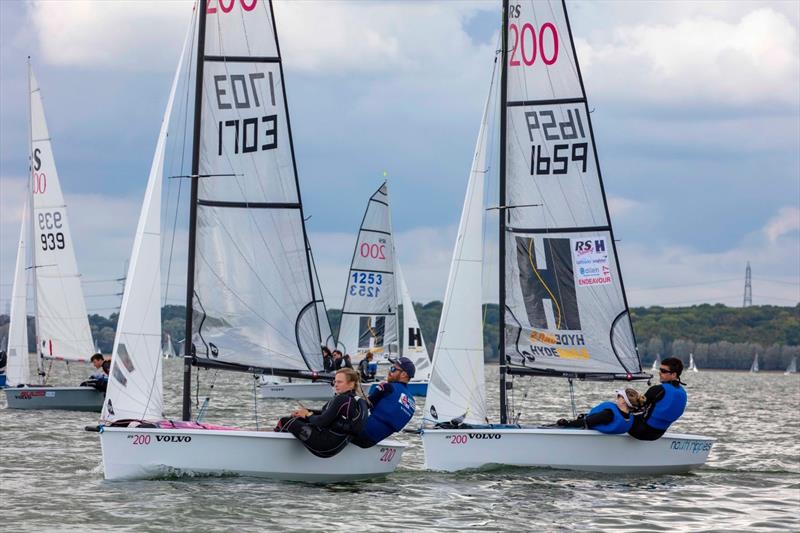 Photo © Tim Olin www.olinphoto.co.uk
On Saturday 5th October Grafham Water Sailing Club welcomed 216 RS sailors for the very successful RS200, RS400 and RS800 Harken Inland Championships. Although racing wasn't due to start until 1pm, many England rugby fans arrived by 8:45 to watch the England-Argentina world cup match. This was shown in both the cafe and the top deck bar, and with perfect timing the match finished in time for the competitors' briefing, with all the fans happy to see England through to the next round.
Lighter than forecast winds of 6-8 knots on Saturday saw many competitors finding the shifty, gusty conditions challenging. The three scheduled races were completed in good time for tired sailors to repair to the club bar for a drink or two before dinner. The 110 diners were very appreciative of Lisa and her team's excellent meal and afterwards the RS200s held their customary Annual Awards, which culminated in them drinking the bar dry of beer.
Sunday dawned wet and with a lighter breeze than forecast. The fleets having been lulled into a false sense of security, the breeze then built steadily into race 5. With gusts of more than 30 knots both race officers took the decision to abandon race 6.
The RS200 fleet of 53 boats included Olympic silver medallist Luke Patience as well as several national champions from other classes, all keen to get experience in the boat ahead of the Endeavour Trophy next weekend. The final winners and new Inland Champions were Luke Patience and Mary Henderson.
The 33 RS400s saw a wide variation of results through the final top ten places and the RS800 fleet were very happy with their record turnout of 22 boats.
Winners of the RS400 Inland Championships were Jack Simms and Mike Holden, who were tied on points with second placed Steve Cockerill and Sarah Cockerill and beat them on most firsts.
In the RS800 fleet, clear winners with three firsts and a second place were Tom Morris and Guy Fillmore.
The fleets were very appreciative of Grafham Water SC's race management, catering and on-shore support.
Click on these links for the full Yachts & Yachting reports, with lots of excellent photos by Tim Olin: